Serbia
Serbia
Arkabarka is a boat hostel & guest house in Belgrade at the river Danube. It is a contemporary wooden building situated in one of the most beautiful central parks of Belgrade. It is unique because it combines the exotic and the urban with its floating rarity, the welcoming architecture and the amazing location.
8 views
Submitted Jul 15, 2012
Belgrade adventure tours - Your Belgrade experience starts here… historical and adventurous tours that will take you into magnificent areas in the heart of Belgrade.
13 views
Submitted Aug 7, 2012
Belgrade City Hotel is a new four star garni hotel conveniently located in the downtown of Belgrade, Serbia's capital. The hotel is situated in the beautiful neo-renaissance building opposite the main railway and bus station.
8 views
Submitted Jul 15, 2012
We introduce you to Belgrade hotels, independent hostels in Belgrade, offer you free online booking of accommodation in Belgrade, and present you the ultimate city guide. In addition to letting you book accommodation online at hotels and cheap hostels free of charge, these pages will help you plan your trip to the city and make the most of your time. If you want to rent a car in Belgrade, eat in the best Belgrade restaurants, see great Belgrade photos - you name it, we've got it.
13 views
Submitted Jul 15, 2012
We are working with gay and gay friendly tourists visiting region but particularly Belgrade and Serbia, offering gay rooms in gay guest houses and apartments. We are also providing our guests with all useful information important for your comfortable stay in Belgrade.
7 views
Submitted Jul 15, 2012
9 views
Submitted Jul 15, 2012
ZIM Tours is pleased to offer competitive rates for accommodation, rent a car and limo transfers.
9 views
Submitted Jul 15, 2012
This specially prepared site you are visiting right now has been developed to offer extensive information on sightseeing tours, excursions, walks, multi-day tours, guide services and much more. As a Web based service it offers everything you need to explore, plan, and organize your stay in Belgrade, i.e. all the elements necessary for a meaningful and memorable travel experience:
9 views
Submitted Jul 15, 2012
See main city attractions on totally different and funny way of sightseeing. Experience real spirit of Belgrade and find out best party sights. We will be glad to show you all places of interest and you will have possibility to hear secrets and interesting stories that you could not hear them on regular tours. And, the important thing is that we created this tours for knowing and meeting which allow individual differences, simple and friendly atmosphere, and all that for FREE, so join us right now.

13 views
Submitted Jul 15, 2012
the ultimate take on Belgrade!
12 views
Submitted Jul 15, 2012
BS tours is transporting passengers within Serbia and abroad. Modern and comfortable buses let you travel safely to your desired destination.
10 views
Submitted Jul 15, 2012
Chillton Hostel is in the 'Belgradest' part of the Belgrade - Vračar, and it provides budget accommodation with great facilities including a large common room with free internet, WI-FI, satellite TV, music and a guest kitchen with everything you need in it...
8 views
Submitted Jul 15, 2012
Crossroad Belgrade Hostel is located in the tourist core of the city, famous Dorćol, on the very crossroads of the four most important city areas. Only three blocks away, lies the main pedestrian zone (Knez Mihajlova Street) and central city square (Republic square).
8 views
Submitted Jul 15, 2012
Crystal Hotel Belgrade is located in the very heart of Vračar, a prestigious district of Belgrade. Situated only 300m from the St. Sava Temple, the symbol of the city, 400m away from the highway and a few minutes away from the city center, this brand new 4* garni business boutique hotel represents a perfect choice for business and leisure travelers who seek for personal service 24h.
8 views
Submitted Jul 15, 2012
Hostel Captain is the leading hostel in Belgrade (Beograd) with its superb location in the city center. We provide a unique experience which offers you safe, comfortable budget accommodation and great facilities: including bar, internet, chill out areas and of course a great atmosphere where you can meet other like minded people.
29 views
Submitted Jul 15, 2012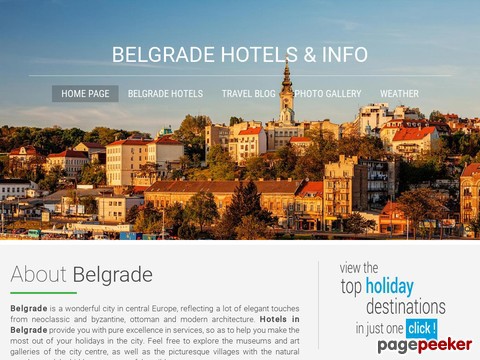 Our Hotel Belgrade guide offers 12 selected hotels where you can stay and enjoy your vacation in Belgrade Serbia.
10 views
Submitted Jul 15, 2012
In the surroundings of the very heart of the city, one of those building whose façade has been one of the Belgrade ornaments for more than a century now, telling the story of its charm and the metropolitan-ism, houses Hotel "Evropa".
6 views
Submitted Jul 15, 2012
The historic Hotel Excelsior Beograd offers you a modern environment in the heart of the Serbian capital.
6 views
Submitted Jul 15, 2012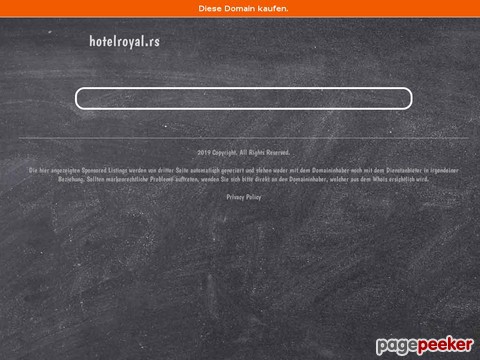 The ROYAL hotel is one of the oldest hotels in Belgrade. The hotel was built during the last century (1885) and was named "ROYAL". The hotel changed its name to "Toplice" in the year of 1953 but in the year of 2001 the hotel restored its original name "ROYAL"
8 views
Submitted Jul 15, 2012
The Hotel UNION is located in the very heart of Belgrade - the center of administrative-business and cultural events.
8 views
Submitted Jul 15, 2012

About Dave's Pick
Category Stats
Listings:
37
Regular:
37
Last listing added:
Aug 6, 2012