Trinidad
Trinidad Travel Guides
No matter what a day in Trinidad and Tobago brings you, it's always nice to know that you can retire to a home away from home in St. Ann's - one of the quieter sections of Port of Spain. This is exactly what Alicia's House offers.
19 views
Submitted Jul 14, 2012
There is no better introduction to New World tropical birding than a trip to the two-island nation of Trinidad & Tobago. The islands contain a diversity of easily-accessible habitats that allow unparalleled access to some of the worlds most stunning birdlife.
12 views
Submitted Jul 14, 2012
Classic Tours Ltd. Came into existence in August 1989 and has since managed to capture the attention of overseas Tour Operators, most recognized Cruise Lines calling at Port-of-Spain and Tobago as well as corporate and other clients holding special events and conventions, the company operates in both Trinidad and Tobago.
26 views
Submitted Jul 14, 2012
At the Crown Point Beach Hotel, we?ve got all that and a whole lot more! We know you have a choice of Tobago Hotels but at our beach front Tobago Hotel, each of our guests is here for a different reason but if it?s for family time, down time, couple time or fun and sun time, we?ll help make your Tobago hotel experience a memorable one.
18 views
Submitted Jul 14, 2012
discover Trinidad
252 views
Submitted Feb 26, 2010
Dive with us for our perfect safety record : 26 years of teaching and diving,
12 views
Submitted Jul 14, 2012
Is one of the most distinguished "service oriented", professional and top quality Destination Management Company / Tour Operator in Trinidad and Tobago. This company offers Multiple Destination Packages with Jamaica, Barbados, Dominica, Santo Domingo, Guyana, Saint Lucia, and Puerto Rico. Our clients are international, regional and local.
12 views
Submitted Jul 14, 2012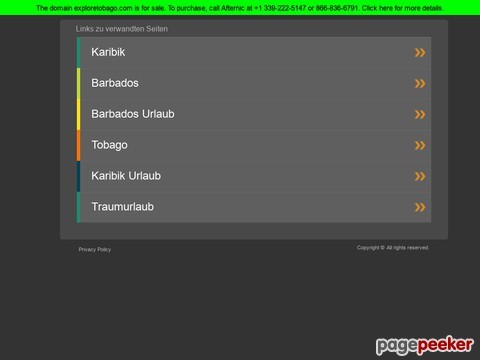 Explore Tobago
239 views
Submitted Feb 26, 2010
The true Caribbean, Trinidad and Tobago offers travelers a unique experience like no other. Explore our Caribbean islands rich history, culture, and biodiversity. Find the perfect accommodation for your trip to Trinidad and Tobago, from villas, bed and breakfast, or hotels.
13 views
Submitted Jul 14, 2012
Hews Tobago Ltd is a destination Management Company offering tours, accommodation and entertainment to individuals and groups visiting Tobago.
14 views
Submitted Jul 14, 2012
Tourism in Trinidad – if you feel it you know it!
14 views
Submitted Jul 14, 2012
Just south of Port of Spain between the Uriah Butler expressway and the sea lies the Caroni Bird Sanctuary, a series of Mangrove lined waterways and tidal lagoon, the nesting location of the stunning Scarlet Ibis, national bird of Trinidad and Tobago
36 views
Submitted Jul 14, 2012
Monique's was established by Monica and Michael Charbonnè in 1975. The guest house was once the family home to the couple and their six children. When they were paid a visit by a friend, he prompted the duo to invite others to share in the hospitality of this charming and convenient location.
15 views
Submitted Jul 14, 2012
Founded in the 1930's by Winston Nanan's father, Simon Oudit Nanan, Nanan's Eco Tours is the oldest tour operator business in Trinidad and Tobago.
12 views
Submitted Jul 14, 2012
eco tours in Trinidad
23 views
Submitted Jul 14, 2012
Have a remarkable experience on one of our informative and well-orgainzed historical tours. Take the ultimate hike and feast on the notable vistas of the mountains and forest.
23 views
Submitted Jul 14, 2012
The Normandie Hotel & Conference Centre has been part of Trinidad's history for over 45 years. Originally established as a small guesthouse, the Normandie has been transformed into a Caribbean-style Hotel that is home to the artistic and creative culture and heritage inherent to Trinidad.
14 views
Submitted Jul 14, 2012
official tourism bureau
194 views
Submitted Feb 26, 2010
Retreat and rejuvenate in Trinidad's newest Hotel. Launched in April 2007, the twenty two (22) rooms of extraordinary quality offer a unique and contemporary style that caters to the demands of corporate and holiday travelers alike looking for comfortable Accommodation in Trinidad and Tobago.
14 views
Submitted Jul 14, 2012 Welcome to Paria Springs, a project dedicated to ecotourism through conservation and responsible eco and adventure tourism! Located in Trinidad and Tobago the Caribbean's premiere ecotourism and adventure destination, where Amazonian cornucopia blends with Caribbean allure.
12 views
Submitted Jul 14, 2012

About Dave's Pick
Category Stats
Listings:
36
Regular:
36
Last listing added:
Aug 14, 2014