Uganda
Uganda Travel including Kampala and Uganda Safaris
Welcome to Insight safari holidays where we offer the very best trips and tours all from Africa.We guarantee an experience you will never forget as you visit the untouched beauty of Uganda and still track the gorillas.No matter your budget,we work around it to ensure you get the best on your safari to Uganda.
30 views
Submitted Aug 22, 2012
Welcome to the Uganda Travel Directory and guide
67 views
Submitted Feb 26, 2010
Alpha Adventures,Tours & Safaris is an inbound Tour Operator, established in 2004 and based in Kampala, Uganda.
25 views
Submitted Jul 12, 2012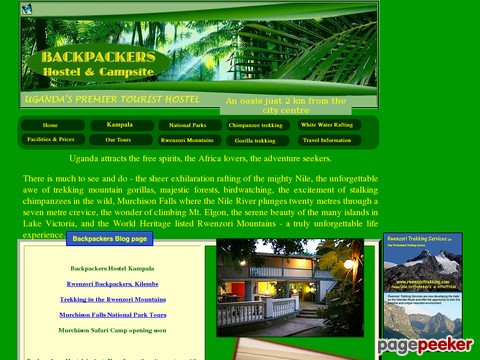 Backpackers Hostel is just 2km from the city centre with easy access to public transport. The hostel features a beautifully landscaped three acre compound and gardens, huge bar area, internet cafe, restaurant, verandahs overlooking the campsite, fourteen double rooms, five single rooms, eight dormitories with a total of 64 dorm beds and the spacious campground with basic cooking facilities and camp refrigerator.
45 views
Submitted Jul 12, 2012
Banda Inns is a family run bed and breakfast located at Tank Hill, Muyenga, 10 minutes drive from Kampala city centre. We offer affordable accommodation, car rental and budget safari services to tourists and business travelers.
15 views
Submitted Jul 12, 2012
A safari to Uganda is mostly unique for gorilla trekking and bird watching. Uganda is a top birding destination in Africa and the name Bunyonyi means a place of little birds, a name to the scenic Crater Lake located in the highlands of South Western Uganda with so many bird species
15 views
Submitted Jul 21, 2012
Cassia Lodge hotel and restaurant, Kampala, Uganda
20 views
Submitted Jul 12, 2012
With a serene location, comfortable and reasonable accommodation, modern comforts make it ideal for business and holiday travelers alike.
20 views
Submitted Jul 12, 2012
Welcome to The Grand Global Hotel home page! We are proud to inform you that The Grand Global Hotel is a gem in the Kampala Hotel Market.
16 views
Submitted Jul 12, 2012
Situated in Kampala, the capital city of The Pearl Of Africa (Uganda). Uganda, a picture perfect destination amidst Lake Victoria and the Nile River creates one of the best watered regions of Africa.
23 views
Submitted Jul 12, 2012
Diary of a muzungu' [Diary of a white person] follows my adventure so far: why I'm in Uganda, saying goodbye to everything that's familiar, the culture shock, my (mis)interpretation of what's going on, adventures in the bush, embarrassing moments, my success (or lack of!) finding a man. It's a diary I've shared with friends and family since my arrival, that is published on Lonely Planet.
16 views
Submitted Jul 21, 2012
Namirembe Guest House is a warm and friendly Christian establishment governed by the Church Commissioners and managed by a team of dedicated staff.
13 views
Submitted Jul 12, 2012
Pearl Africa tour operator in Uganda
68 views
Submitted Feb 26, 2010
Red Chilli Hideaway, situated in the leafy suburbs of Kampala, offers a peaceful haven close to the city centre, with a range of accommodation including camping, dorms, private and en-suite rooms and self-contained cottages.
15 views
Submitted Jul 12, 2012
the insider's guide to Uganda
18 views
Submitted Apr 25, 2010
this site is written for the independant traveler - many ads for safari companies you can click on
63 views
Submitted Feb 26, 2010
Deo has travelled the entire country doing research and leading tours, and has a wide knowledge about wildlife and Uganda people's cultures. After having been exposed to this country of outstanding natural beauty, Deo developed the idea of further sharing his experiences with the entire world by advocating for ecotourism and thus he founded Uganda Eco Tours
11 views
Submitted Jul 15, 2012
Uganda Embassy, Moscow Russia - site in English, lots of useful tourism info here
59 views
Submitted Feb 26, 2010
Offers Uganda Travel guide including hotels,safaris,flights, tours and operators.
238 views
Submitted Feb 26, 2010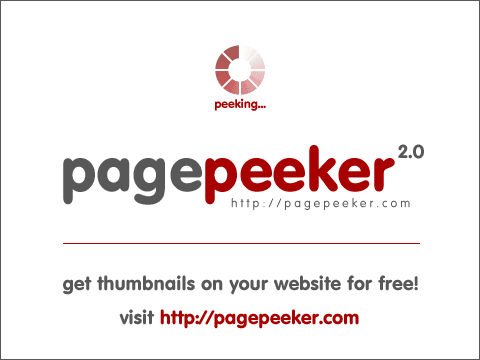 Uganda Tourism guide
69 views
Submitted Feb 26, 2010

About Dave's Pick
Category Stats
Listings:
22
Regular:
21
Reciprocal:
1
Last listing added:
Sep 11, 2012