United States
United States Travel
is your link to traveling, touring and vacationing in the United States. It's the only web portal to every major U.S. travel provider from attractions and hotels to airlines, car rentals and bus and rail options
255 views
Submitted Feb 26, 2010
America For Travelers is a travel site that provides information related to travelling all over the USA. We provide destination guides for all budgets (from backpacker to luxurious)
71 views
Submitted Oct 14, 2012
Our travel site provides information related to travel all over America. We provide city and country guides, destinations for all budgets (including luxury & backpacker), inspiring travel photos and lists on top attractions. We hope to inspire you to explore this wonderful region of the world and beyond.
123 views
Submitted Feb 24, 2013
Useful city and travel guide with information for more than 15,000 cities across the US. View cost of living, crime, transportation, weather, user reviews and much more. Each city also include a hand AreaVibe score which helps identify good cities or cities that you might want to avoid.
68 views
Submitted Mar 24, 2011
The Ultimate US Travel, Tourism & Relocation Guide comprehensive city guides including travel information, area attractions and restaurant listings for towns across the United States
64 views
Submitted Mar 9, 2010
Need a place to stay? Try an Extended Stay(TM). Our Extended Stay search engine provides a great selection of your favorite Extended Stays.
258 views
Submitted Feb 26, 2010
Premier hosts of Native American tours - travel American Indian lands & traditions - tribal culture and history
151 views
Submitted Feb 26, 2010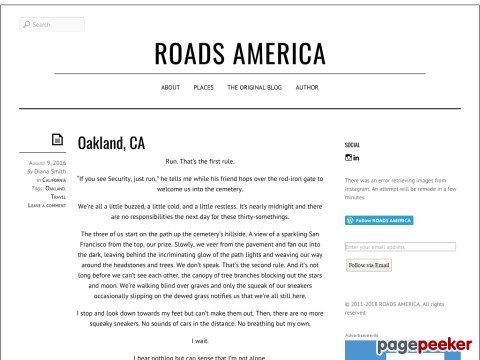 ROADS AMERICA started in the summer of 2011 when I took a two-month road trip around the country (the original 'About' description is below). Since then, Ive decided to keep the travel log going by writing about new adventures and revisiting old ones in no particular order. Photos have been taken with film and digital.
68 views
Submitted Mar 10, 2014
My fascination with the United States began in elementary school when we were required to learn all of the states and their capitals, grew further through family trips up and down the East Coast, and became solidified as I grew up listening to stories about the cross country trips my parents & grandparents would take. I remember being in awe of these journeys and knew that I wanted to do the same one day.
117 views
Submitted Feb 2, 2013
SeeAmerica.com serves as the official domestic travel and tourism website of the U.S. travel industry. The website is operated by the U.S. Travel Association, which represents more than 1,500 travel-related organizations. U.S. Travel's mission is to increase travel to and within the United States.
117 views
Submitted Apr 16, 2012
My name is Taylor Goldblatt and I'm the founder and editor of USCityTraveler.com. I'm currently 20 years old and I am living in Tennessee and attending the University of Tennessee at Chattanooga.
77 views
Submitted Nov 14, 2012
this travel & tourism guide will help you plan a successful visit to the USA
267 views
Submitted Feb 26, 2010

About Dave's Pick
Category Stats
Listings:
12
Regular:
11
Reciprocal:
1
Last listing added:
Mar 10, 2014