Yemen
Yemen Travel Guide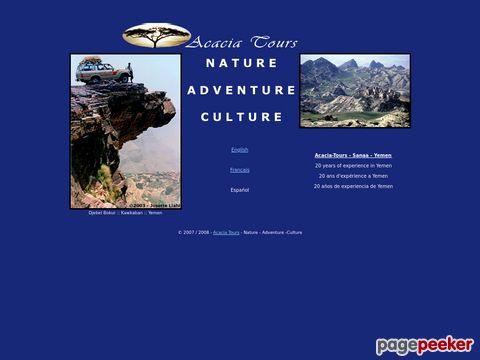 20 years of experience in Yemen
12 views
Submitted Jul 12, 2012
An experienced tour operator based in Socotra
24 views
Submitted Feb 20, 2013
As the founders of tourism in Yemen, we at ATG are proud to represent Yemen as a unique touristic destination, offering unlimited tours to all reachable parts throughout the country including the unique beautiful Island of Socotra. The exceptional diversity of Yemen provides us with an abundance of possibilities that we are able to offer to our visitors. Culture Tours and Trekking Tours are the main touristic products of the mainland.
25 views
Submitted Jul 12, 2012
Burj Al Salam is a part of Al Salam hotels chain in Yemen, which represent the revival of a historical beauty and architectural marvel ancient cuties such as Sanaa, Thula and Zabid, The cities existed a time when there only tents to be found in the Arabian Peninsula. Sanaa, one of the oldest towns in The world, Second only to Marib.
15 views
Submitted Jul 12, 2012
Recommended by Wanderlust travel magazine as Highly commended guide: Tina Zorman & Eternal Yemen, among 8 best tourist guides in the world in 2010
14 views
Submitted Jul 12, 2012
is located in the middle of Taiz commercial road "45th. Round About " 25 minutes far from Sana'a International Airport and 10 minutes from city center, built with 12 floors and consisting 102 rooms and suites, the unique location of the hotel allows the guests to enjoy the seeing of the outstanding beauty of Sana'a.
20 views
Submitted Jul 12, 2012
Amidst the medieval town, spread with palaces, mosques and quaint little bazaars, you will find a haven of luxury and comfort. Ideally situated at the crossroads of Sana'a's business, cultural and shopping districts in the a central location in the city of Sana'a, the capital of Yemen. Welcome to Sheba Hotel.
18 views
Submitted Jul 12, 2012
an experienced tour company based in Socotra
16 views
Submitted Jul 14, 2012
We have been welcoming and taking care of international tourists for 15 years in Yemen.We are a receptive tour operator established to provide unique travel and tourism services for groups and individuals at realistic and moderate prices. We put great emphasis on maintaining high quality standards and securing the individual wishes and ideas of our clients.
60 views
Submitted Feb 26, 2010 The only comprehensive website designed for complete tours and travels Information with typical services to help you discover the virgin and unique nature of Socotra Island in sixteen languages
19 views
Submitted Jul 12, 2012
Founded as a single shop airline ticket company in 1983, Universal has grown into a dynamic, fully integrated group of service companies, playing a vital role in Yemen's travel and tourism industry.
12 views
Submitted Jul 12, 2012
Yemen Online Newspaper
112 views
Submitted Feb 26, 2010
news of Yemen and Sana'a
103 views
Submitted Feb 26, 2010
A team of international office staff, skilled guides and drivers knowing all the various regions of Yemen like their own pockets constitute our agency Yemen Trek Tours. We speak different foreign languages and our experience ensures that you will have a great trip with breathtaking views and unforgettable moments. Our agency invites you to discover Yemen`s most beautiful nature and its archaeological heritage by travelling through the diverseness of the country. It is our wish to exceed your requirements and to provide an insight into Yemeni culture and traditions during your stay in Yemen.
12 views
Submitted Jul 12, 2012

About Dave's Pick
Category Stats
Listings:
14
Regular:
14
Last listing added:
Feb 20, 2013