Destinations Africa
These are general websites for Africa. Post sites relating to individual countries within Africa Here. For African Safari links Click Here
blog about living and traveling in Africa
19 views
Submitted Jul 13, 2010
photography, game viewing, cultural & archeology safaris
283 views
Submitted Feb 26, 2010
join George as he explores Africa from the lightest powered aircraft in the world, a motorized paraglider
103 views
Submitted Feb 26, 2010
Global Sojourns customizes travel adventures to off-the-beaten-path locations in Africa and around the globe.
14 views
Submitted Mar 25, 2010
information guide for African safaris and travel
274 views
Submitted Feb 26, 2010
travel to some of the famous Leakey archeological excavation sites
126 views
Submitted Feb 26, 2010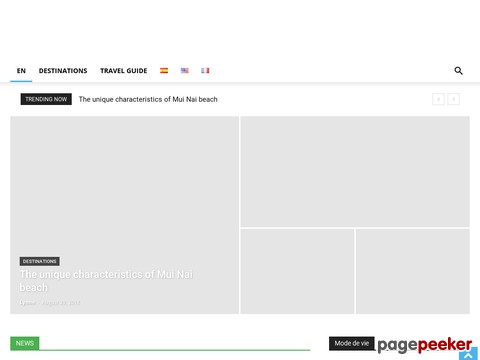 Lonrho has historically been a major participant in the luxury hotel market through its Metropole and Princess brands. It was within Africa that Lonrho Hotels led the market with such iconic luxury hotels as the Norfolk and Nairobi Safari Club in Kenya and Labadi Beach in Ghana. Until recently the Hotel Cardoso was the only remaining Lonrho Hotel. Acquisition of Leopard Rock Hotel & Championship Golf Course and the opening of Grand Karavia have reignited Lonrho Hotel's appetite for growth.
10 views
Submitted Jun 24, 2012
Mandinka Ethnocultural Expeditions offers unparalleled travel opportunities to the unspoiled wilderness of West Africa and the hidden world of the nomad.
10 views
Submitted Jul 15, 2012
We're 100% African Owned, have a fleet of over 40 trucks, 130 staff and 30 scheduled departures a month all over Africa.
22 views
Submitted Jan 31, 2012
free audio cd offered for tips on how to avoid a "disappointing" safari
300 views
Submitted Feb 26, 2010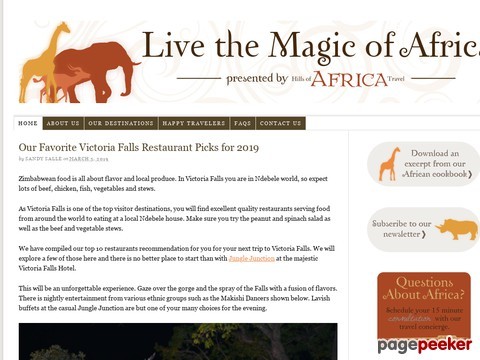 Live the Magic of Africa blog explores exciting African destinations, safari and tour tips, African travel trends and news
10 views
Submitted Feb 27, 2010
an alliance of individuals, corporations and institutions committed to optimizing job creation, tourism and conservation in Africa
284 views
Submitted Feb 26, 2010
travel stories, photos and videos from our African adventures. You also can find more information about some animals we often see and information about the countries and national parks we visited
19 views
Submitted Feb 26, 2010
east African wildlife safaris and holidays in Kenya, Tanzania and gorilla treks in Uganda
317 views
Submitted Feb 26, 2010
Whether it is a safari to the plains of Kenya, or a self-drive itinerary of the Garden Route in South Africa. Whether you want luxury lodges or remote mobile camps, we have something to suit your interests and requirements. On our web site we showcase a wide selection of our most popular safaris and tours, giving details of the itineraries, prices and properties. We can of course tailor any itinerary to match your requirements for that special holiday or honeymoon. Just let us know.
18 views
Submitted Jun 22, 2010
Africa Uncovered specializes in tailor made Safaris and Travel to Southern & East Africa.
271 views
Submitted Feb 26, 2010
Welcome to Sahara Overland, the website of the book. I've been travelling, writing, filming and leading tours in the Sahara since 1982. Here you'll find chat, travel news, travellers' reports, route and country info, book and map reviews, plus details of 2010-11 tours and sales of my dvds and books, including Morocco Overland.
19 views
Submitted Apr 20, 2010
online Kenya Safaris, Kenya Camping Safaris, Kenya Lodge Safaris
557 views
Submitted Feb 26, 2010
I
14 views
Submitted Aug 15, 2010
Africa adventure, safaris, discounted airfare, & tours
281 views
Submitted Feb 26, 2010

About Dave's Pick
Category Stats
Listings:
52
Regular:
52
Last listing added:
Nov 28, 2016