Destinations Africa
These are general websites for Africa. Post sites relating to individual countries within Africa Here. For African Safari links Click Here
Showcasing our incredible continent, partly by proving such a journey can be done and partly by highlighting the realities along the way, and ultimately helping people to see Africa differently you.​
15 views
Submitted Jun 15, 2014
2 guys, 2 bikes & the journey of a lifetime
20 views
Submitted Dec 23, 2010
Get ready for a great African adventure! Shark diving, abseiling, zip lining, hiking, 4x4 trails, game rides, camping, train rides, tours for the disabled. Budget tours, tours for the aged. The sky is the limit!
20 views
Submitted Jul 30, 2010
Travel with Katchie is a travel-related blog that showcases the best of affordable African travel, activities, accommodation establishments and African music festivals.
6 views
Submitted Dec 24, 2015
is a leading international magazine focusing on African travel destinations, wildlife and culture
424 views
Submitted Feb 26, 2010
a guide about select African countries
25 views
Submitted Jun 29, 2013
your Africa tour partner
13 views
Submitted Mar 26, 2010
At Tribaltourist.com we love Africa and want to share our travel stories with you, to create memories that last you a lifetime. Our team consist of people who live & breath Africa.
4 views
Submitted Nov 28, 2016
safari's & other African info
326 views
Submitted Feb 26, 2010
"the path is made by walking"
14 views
Submitted Jun 18, 2010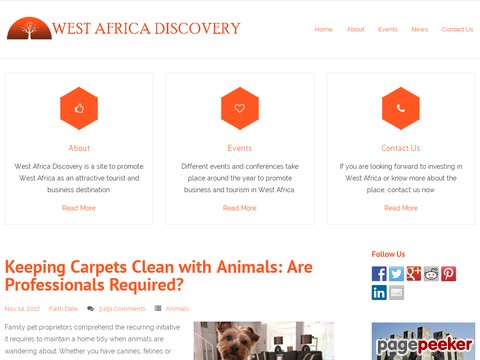 West Africa Discovery is a web portal that raises awareness towards West Africa and promotes responsible tourism through the listing of tours, accommodation and volunteer projects that fulfil the criteria outlined in the Cape Town, Kerala and Belize Declarations.
13 views
Submitted Jun 18, 2010
travel Africa from Yahoo
180 views
Submitted Feb 26, 2010

About Dave's Pick
Category Stats
Listings:
52
Regular:
52
Last listing added:
Nov 28, 2016