Destinations Europe
These are general websites for Europe. Post sites relating to individual countries within Europe Here.
Travel to Baltics with our travel agency and discover best tourist attractions. Find the selection of trips, professional tour guides, package holidays for your visit. Plan your trip with out team for the best experience.
21 views
Submitted Nov 28, 2016
One woman's guide to creating "budget" European adventures - based on 7 months & visiting 17 countries in Europe
525 views
Submitted Feb 26, 2010
Find out about Europe's lesser known places and our continent's diverse cultures
16 views
Submitted Apr 23, 2010
Welcome to Holidays to Europe - the European travel specialists
15 views
Submitted Jun 20, 2010
Independent to a handpicked selection of charming hotels with detailed reviews and useful information on local history, culture and sports - sorted by region and hotel for ease of reference.
259 views
Submitted Feb 26, 2010
In Your Pocket is your one-stop travel and information portal for Central and Eastern Europe
110 views
Submitted Feb 26, 2010
a pictorial journal through Europe
332 views
Submitted Feb 26, 2010
Short stories and photographs from Europe:
25 views
Submitted Jun 22, 2010
Galavanting through Europe, hoping to motivate others to do the same.
13 views
Submitted Jun 22, 2010
Leonardo Hotels currently operates over 60 hotels in Germany, Austria, Belgium, Hungary, Switzerland and Israel.
10 views
Submitted Dec 14, 2012
South Europe Travel Guide
13 views
Submitted Jun 12, 2014
My Euro Travel and Adventure is a personal blog about my travel and adventure in Europe, its people, culture and tradition, historical places, travel tips, festivals in Europe, current events,photographs of the different interesting places and cities in this continent and a lot more. See part of Europe through this blog!
19 views
Submitted Jul 30, 2010 Whether you plan a family trip to Europe
12 views
Submitted Dec 20, 2014
travel Italy, France and beyond with travel consultant Robin Locker
15 views
Submitted Feb 26, 2010
audio tours for travelers to Europe
36 views
Submitted Feb 26, 2010
an often updated European travel blog
38 views
Submitted Apr 25, 2010
When we first planned our journey to every corner of the EU, taking in each of the 28 member states, we assumed the British people would not vote for Brexit.
21 views
Submitted Nov 30, 2016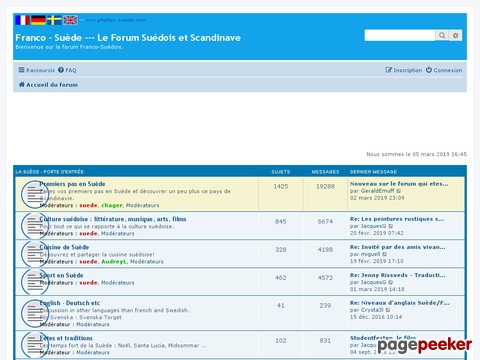 discover Scandanavia - photo guide of Sweden, Norway & Scandanavia area
262 views
Submitted Feb 26, 2010
We Show You in Step-By-Step Travel Guides How to Explore a City in The Best Way. The Guides are Optimized for 1, 3 and 5 Days.
20 views
Submitted Dec 6, 2010
travel all over europe
11 views
Submitted Jun 24, 2012

About Dave's Pick
Category Stats
Listings:
80
Regular:
80
Last listing added:
Jul 10, 2017