Disabled Travelers
These are resources for diabled travelers. How to travel to certain countries despite disabilities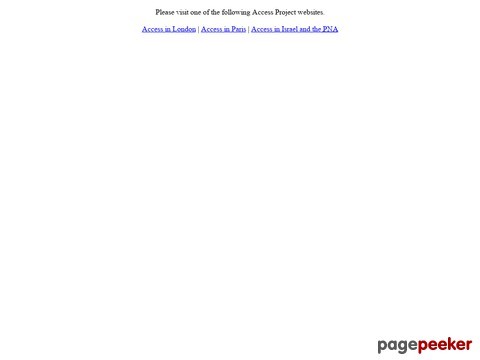 European access guides for disabled travelers
631 views
Submitted Feb 26, 2010 serving disabled travelers since 1995
682 views
Submitted Feb 26, 2010
autism, travel, globetrotting
101 views
Submitted May 19, 2011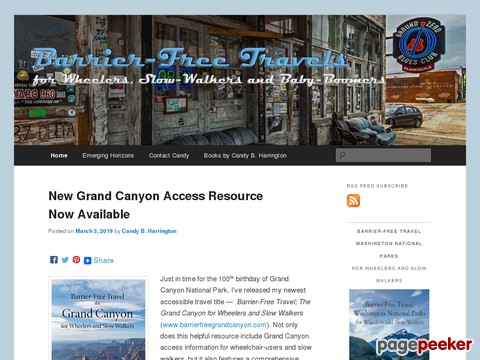 travel information for slow walker to wheelchair users
54 views
Submitted Mar 25, 2010
How does a visually impaired person 'see the sights' of the world? How do they experience a seaside sunrise, an ancient world heritage site or the smiling faces of a bustling street scene? Why would they want to when these sights cannot be seen?
4 views
Submitted Dec 26, 2016
Candy Harrington?s focus is accessible travel?travel for people with disabilities. Says Candy, ?My goal is to describe access so travelers can make appropriate choices. My readers are a varied lot; from slow walkers to wheelchair-users.?
133 views
Submitted Feb 26, 2010
Follow my experiences of travel, tourism and leisure as a wheelchair user
40 views
Submitted Aug 4, 2010
My name is Cory Lee and I am a 23 year old travel addict and college Senior. I also happen to have wheels for legs (not literally) and I love peanut butter. Wanna be friends?
24 views
Submitted Dec 25, 2013
reviews of hotels & cruise ships for disabled travelers, a magazine
653 views
Submitted Feb 26, 2010
Quadriplegic since a 1983 sports accident, Adam Lloyd has maintained an extremely active life in the academic, business, and writing fields.
27 views
Submitted Sep 3, 2013
Hi, Im Kirsten — I am the globetrotter in a wheelchair! My journeys around the world, include jungle treks, mountain views, street food, and a lot more. This is the place to join me..
21 views
Submitted Oct 22, 2014
...one man, one leg, no limits !
31 views
Submitted Feb 3, 2015
My name is Shinta Utami. When I was 4 years old, I got polio. After the fever had gone, my mother found I could no longer walk. I was lucky because many victims are paralysed forever but, eventually, I learned to walk again in my own very strange and painful way. Now, I have a walking stick but at least I don't have to use wheelchair or crutches.
19 views
Submitted May 27, 2015
offers exchange programs for those with disabilities
745 views
Submitted Feb 26, 2010
Helping Hands: Monkey Helpers for the Disabled is a national nonprofit serving quadriplegic and other people with severe spinal cord injuries or mobility-impairments by providing highly trained monkeys to assist with daily activities.
35 views
Submitted Apr 24, 2010
Precipitating Dialogue on Travel, Disability, and Universal Design
30 views
Submitted Jun 18, 2010
Comprehensive Accessibility Information for the European Traveler
42 views
Submitted Aug 29, 2010
The Society for Accessible Travel & Hospitality (SATH), founded in 1976, is an educational nonprofit membership organization whose mission is to raise awareness of the needs of all travelers with disabilities, remove physical and attitudinal barriers to free access and expand travel opportunities in the United States and abroad. Members include travel professionals, consumers with disabilities and other individuals and corporations who support our mission
642 views
Submitted Feb 26, 2010
Traveling with a special needs child can be daunting, so many times it seems easier to stay close to home – you already know where everything is and it takes less energy. Though traveling with a child who has special needs can more challenging, it's definitely more than worth the effort.
30 views
Submitted Jun 3, 2012
wheelchair friendly travel blog
19 views
Submitted Nov 22, 2015

About Dave's Pick
Category Stats
Listings:
25
Regular:
25
Last listing added:
Jan 30, 2017