Fishing
Fishing guides, supplies, magazines and more!
your one stop shop to the world's fishing
122 views
Submitted Jul 19, 2012
Costa Rica Fad Fishing is the number one choice for anyone who wants to enjoy the thrill of Costa Rica FAD fishing. Costa Rica is one of the world's leading fishing destinations, and it is not difficult to see why. We have lot of experience fad fishing in Costa Rica, and we know the Quepos waters like the back of our hands. We even offer Quepos overnight Marlin fishing, which really is an incredible experience.
89 views
Submitted Sep 25, 2017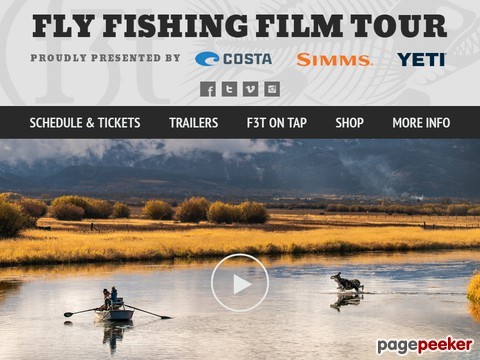 not a fishing outfitter, but good film about fly fishing
324 views
Submitted Feb 26, 2010
Fishing organization for anglers to help preserve fish populations for future generations and to have access to the best values in fishing adventures. Win a fishing trip, fishing equipment and apparel, or up to $25,000 in cash. The grand prize is a fishing vacation to Brazil to fish on the Amazon for the legendary Peacock Bass.
108 views
Submitted Jun 3, 2014
endless adventure, fishing fanatic
91 views
Submitted Dec 23, 2016
Outer Island Excursions offers unforgettable fishing experiences including charter and bottom fishing, for a little more excitement we offer crabbing trips, for the active person we offer kayak rentals and for the more easygoing trip we offer whale watching, lighthouse and birdwatching tours. Need to get from one island to another? We've got a water taxi service running through out the San Juans, Bellingham, Anacortes and more. Want a more customized fishing trip or fine dining experience? Let us help you plan the perfect day or evening with our custom charters. As the #1 rated whale watching tour, we guarantee you will see a whale or your next trip is free. Contact us now at 360-376-3711 to find out more about our experiences in Anacortes, Bellingham, San Juan, Deer Harbor, Lopez Island, Rosario, Seattle and more!
90 views
Submitted Jul 23, 2016
Rainbow King is a fishing lodge located on the shores of the Iliamna Lake in Alaska. Our lodge offers a remote destination for fishing enthusiasts. Call for reservations and visit our website to learn more.
136 views
Submitted Jun 28, 2017
500 Brickell Ave #3100 Miami, FL 33131
(305) 770-6658

Find the best Miami fishing charters for your family vacation, celebration or executive getaway! From luxury to sport, we have the trip you crave.

Book your Miami luxury fishing trip through Ultimate Fishing Charters! Visit our website to find the most exclusive locales and the finest craft to be found in Florida. Package options are available to accommodate every taste from deep sea fishing excursions to multi-day trips at the hottest locations in the world!
94 views
Submitted Feb 10, 2017
the name says it all!
112 views
Submitted Apr 30, 2010
109 views
Submitted Apr 30, 2010
worldwide fishing guide directory
117 views
Submitted Apr 30, 2010

About Dave's Pick
Category Stats
Subcategories:
3
Listings:
11 (53 counting subcategories)
Regular:
11
Last listing added:
Jul 30, 2018