Food
Foods with an International Flavor
Welcome aboard Taste for Travel. Im Heather Tyler. Journalist, author, editor, website writer, coffee fan. I believe travel, food and culture are inseparable.
10 views
Submitted Oct 24, 2014
I have created this website as a way to document my travels and experiences. My goal is to gain knowledge of local cuisines, and perhaps share the inherent philosophical nature of traveling.
12 views
Submitted Jul 1, 2014
Wherever I go I seek the best deals, food and adventure possible. My plan is to share all this with you, my readers, to help you enhance your vacations following in my footsteps. I look for the best in lodging whether it's high-end or budget, and the same for food.
11 views
Submitted Nov 2, 2015
I've been an avid collector of recipes over the years
10 views
Submitted Jun 25, 2010
The Taxi Gourmet® blog is my search for good, cheap food, guided by cab drivers from around the globe. Every week, I get in a taxi, ask the cabbie to take me to his/her favorite place to eat and document the adventure.
15 views
Submitted Apr 19, 2012
adventures in Thai cooking & travel with Kasma Loha-unchit, cookbook author and Thai cooking teacher
521 views
Submitted Feb 26, 2010
My name is Arman and welcome to my blog! I am a 20 something year old guy born and bred in Melbourne, Australia. Im a wanabe lifter | cultured foodie | tryhard chef and avid traveller who is trying to find balance in the big man&#39
5 views
Submitted Oct 24, 2014
Maralyn Dennis Hill, The Epicurean Explorer, is President of the International Food Wine & Travel Writers Association, Editor-at-Large for CityRoom, and contributes to numerous publications. Maralyn
13 views
Submitted Jul 28, 2011
As a child, I travelled much of Europe and got into the hospitality industry as a mean to follow my love for food and travel. At an early age, I was exposed to different cultures, and I now enjoy writing about my experiences.
6 views
Submitted Dec 21, 2016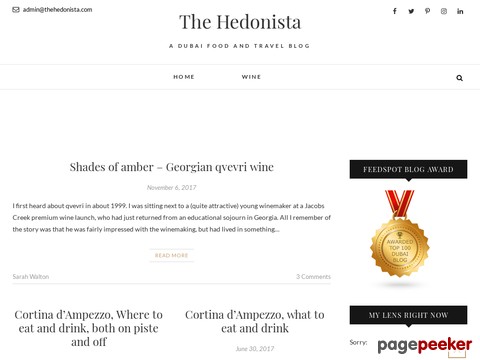 I live in Dubai and so much of what you find on the Hedonista will be regional, but I also travel far and wide, often to Sri Lanka, France and Australia. I have managed restaurants, been a sommelier, a waiter, a bottle shop attendant, written a very small wine magazine, been a wine sales rep and had my own wine website with cellar management and online sales.
13 views
Submitted Feb 26, 2013
what to eat and where to party around the world
14 views
Submitted Oct 31, 2013
I'm Jordan Hamons. I'm a classically-trained chef and a seasoned traveler. I currently live in Cincinnati, Ohio. In June 2014, I launched The Hungry Traveler, where I write about globally-inspired cooking and food-driven travel.
12 views
Submitted Jan 2, 2016
I am Czech girl in the world. And I love food. A lot. On this site you can find real food recipes as well as some travel tips and insides into my life journey.
0 views
Submitted May 24, 2017
two travelers who are cooking and eating their way around the world. On this site, you will find stories of unique places, delicious foods, less than thrilling destinations, and sub-standard restaurants across the globe
43 views
Submitted Feb 26, 2010
travelling through the lens of food
14 views
Submitted Jun 15, 2016
learning to cook, one country at a time
0 views
Submitted Apr 24, 2017
The Taste of Travel is a website specifically geared towards everything food and travel related. Everyone loves food and mostly everyone loves to travel. This site features "the good, the bad and the ugly".
19 views
Submitted Mar 11, 2012
I'm a pint-sized girl who enjoys reading, movies, travel and is obsessed with food. I express my love for all things edible in my food blog
14 views
Submitted Dec 26, 2015
Im Melissa – a tofu-eating, writer, traveler and amateur cook. I love falafel, croissants and anything with blackberries.
6 views
Submitted Dec 20, 2014
Conversation, laughter and bonding over food is the common denominator that brings people together in every region and culture. My fondest memories of travel are always those created sharing wine around a dinner table, huddling by a street cart vendor, or crammed elbow to elbow in a small mom & pop diner. That is why my most prized collection of travel souvenirs are my recipes. I enjoy sharing those recipes and travel stories with you here on The Travel Bite
21 views
Submitted Jun 20, 2011

About Dave's Pick
Category Stats
Listings:
250
Regular:
249
Dave's Pick:
1
Last listing added:
Jan 8, 2018