Food
Foods with an International Flavor
Traveling the World & Keeping It Culinary
16 views
Submitted Jun 3, 2012
Our mission is to celebrate the sensual pleasures of food. We
13 views
Submitted Jun 23, 2010
Aloha! I am a freelance journalist fascinated by culinary travel and inspired by romantic destinations. I am also an equestrian and write frequently for horse and equestrian lifestyle publications.
22 views
Submitted Jun 23, 2012
food. culture. travel. tales
15 views
Submitted Jul 6, 2013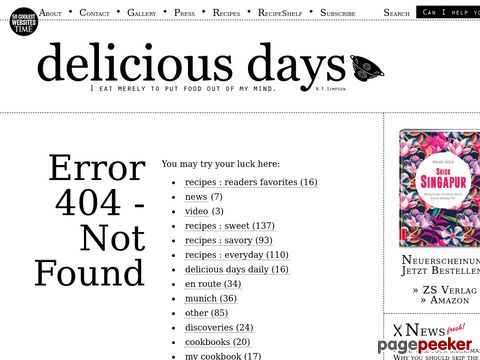 My name is Nicky and I love to cook. As much as I love to eat, to read cookbooks, go food shopping, host dinners for dear friends and family, experiment with new recipes and ? of course ? talk about food. I?m not a professional cook, my day job revolves around design and the internet business as such, which is my other passion. delicious:days was launched in 2005 and is my way of combining these two passions
14 views
Submitted Apr 8, 2010
After 9 years of Corporate Marketing, Ive now ventured into Writing. I write about food, travel & lifestyle for various publications - both print and digital.
9 views
Submitted Aug 8, 2015
Im Katie-Belle, a 30 something travel and foodaholic. My friends say I leave a trail of icing sugar wherever I go. You can follow my adventures in food and travels on this blog
6 views
Submitted Aug 27, 2013
Online Spanish food shop offering Spanish Ham, choriz, olive oil, wines, cheese, preserves, etc.
268 views
Submitted Feb 26, 2010
my name is Desiree and welcome to my site. My desires for food and travel are steadily growing. I just want to see the world, eat good food, and meet cool people.
6 views
Submitted Jul 25, 2016
Jenny's food and travel blog
18 views
Submitted Jul 21, 2012
Jessica van Dop DeJesus is a Washington, DC - based travel and food blogger. She began traveling as a young Marine 17 years ago and has been to 37 countries on and off duty.
8 views
Submitted Dec 16, 2014
Dinner in the Sky is hosted at a table suspended at a height of 50 metres, by a team of professionals. Benji Fun, our partner in this event, is the worldwide leader for this type of activity.
137 views
Submitted Feb 26, 2010
travelling the world one dish at a time
3 views
Submitted Dec 20, 2014
Chocolate Travel Diversions takes you on a global quest for the world&#39
7 views
Submitted Aug 29, 2013
Don't Forget to Eat is a travel blog focused on health and food.
5 views
Submitted Dec 22, 2015
When not devoted to my food related obsessions, I can be found drooling over design blogs, plotting my next adventure/escape from real life, learning about furniture design and refurb, and dreaming about living a location independent lifestyle.
13 views
Submitted Jun 17, 2012
Eat and Travel With Us is a Food and Travel website based in Singapore. Our goal is to provide the best Travel and Food guides for you guys.
6 views
Submitted Jan 29, 2017
I am a Londoner who likes to eat and travel. I am fearless in food choices and will eat almost anything that moves, with and without a dare. Don't much like insects though.
7 views
Submitted Nov 22, 2015
We explore the best in food, drink, and adventure travel around the world. Then we report back to our readers.
10 views
Submitted Jun 15, 2014
Originally hailing from Southern California, Ameera's quest to find the best of the good stuff began at a young age by sampling the plethora of authentic Mexican street food that was literally at her doorstep. Residing in New York City today (and for the most part, still refusing to discuss Mexican street food outside of SanDiego County...or Tijuana), she has now turned her finicky and discerning palate on the world of culture, travel, and gastronomy.
12 views
Submitted May 15, 2014

About Dave's Pick
Category Stats
Listings:
250
Regular:
249
Dave's Pick:
1
Last listing added:
Jan 8, 2018