Hiking Walking Running
Put your feet to work and do the walking along these 'hiking' related sites.
One woman. One backpack. Freedom afoot.
69 views
Submitted Dec 21, 2016
Now based in the heart of the Canadian Rockies, and having spent 15 years living and exploring the Western Alps from the town of Chamonix, we are the real local experts when it comes to trips in the Alps.
100 views
Submitted Jul 14, 2012
the American hiking society
680 views
Submitted Feb 26, 2010
a 6,875 mile walk by one person
345 views
Submitted Feb 26, 2010
barefoot Running and Minimalist Shoe Running
102 views
Submitted Jul 22, 2010
I love adventures. But I enjoy it more when I witness others indulge in adventures for the first time.
73 views
Submitted May 10, 2016

outdoor and hiking travel blog
71 views
Submitted Sep 2, 2016
walking tours for the intellecturally curious
104 views
Submitted Jun 17, 2010

Exploring Americas national parks and baseball stadiums
85 views
Submitted Jun 11, 2014
walking tours in select International cities
94 views
Submitted Oct 21, 2012
Exsplore provides travel guides on the best outdoor destinations such as Pinnacles, Yosemite, Sequoia, King's Canyon, and Joshua Tree. If you're going on a camping or hiking trip on the West Coast anytime soon, read our travel guides to help plan and prepare your trip!
72 views
Submitted Dec 18, 2016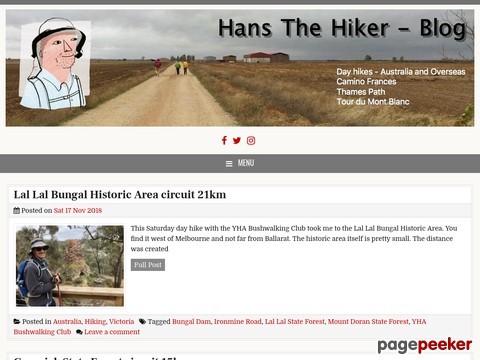 Traveler, hiker, blogger, photographer, music lover, lover of Good Mrs home cooking. Learns Spanish. Lives in Melbourne, Australia. Dual Australian / Swedish and Global citizen.
69 views
Submitted Jun 5, 2016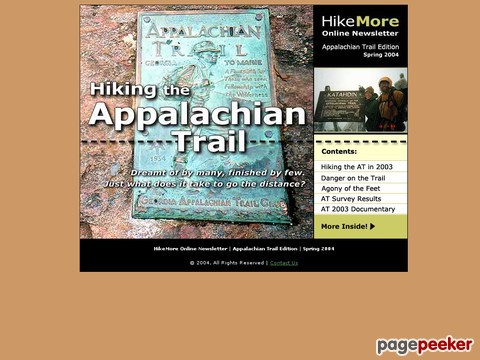 find articles, information, and tips on hiking, planning, and gear for the Appalachian Trail
729 views
Submitted Feb 26, 2010
HikingLady.com is dedicated to women hikers who love the outdoors! My goal is to share tips and secrets learned over years of hiking, backpacking, camping, and exploring the outdoors. I want to provide unbiased advice and opinions (and your comments too!) to ensure that you will love the outdoors as much as I do.
184 views
Submitted May 3, 2010
a great source of info about hiking
708 views
Submitted Feb 26, 2010
Founded in 1979, Boston-based Marathon Tours & Travel is a full-service travel agency specializing in providing group travel specials and packages to runners and their friends for travel to the world&#39
91 views
Submitted Dec 16, 2012
Natural Born Hikers
106 views
Submitted May 3, 2010
Walking holidays throughout Portugal, Austria, france and Spain
262 views
Submitted Feb 26, 2010
RunAbroad.com is an idea by a group of runners around Europe and beyond. We do not want to run monotonously on a treadmill but see and feel new cities
90 views
Submitted Jun 17, 2010
Get ideas for walks, things to do, and places to eat. My goal is to cover more than 1000 miles per year on foot and share the very best of what I encounter along the way.
79 views
Submitted Oct 2, 2013

About Dave's Pick
Category Stats
Listings:
38
Regular:
38
Last listing added:
Dec 21, 2016