Blogs of Travel
The creativity & desire to share experiences among those who have been blessed with the passion, opportunity & ability to wander & explore is a beautiful thing. This is the *ULTIMATE* updated travel blog list on the web with over 7,000 travel blogs listed! We spend *significant* time searching for travel blogs not yet in this list. Focus is on domain name sites in English in the format: www.###.xxx. More info about this list here
Long-term expat and explorer, foodie, perma-tourist, photographer, restaurant reviewer, bookworm, brunch queen, flat white addict, wanderlusting wanderer and geek.
36 views
Submitted Dec 4, 2014
Hello my fellow Wild Things. Travel blogging has become an addiction. So grab a cup of tea or a beer and join me on my adventures.
16 views
Submitted Dec 26, 2016
You will often find him on an adventure into the heart of the Grand Canyon to capture Havasu Falls, into the mountains in the heart of Mexico to photograph the migration of the Monarch butterflies or spending a day wrestling alligators. Just as easily you could find him in New York City, San Francisco or the Riviera Maya photographing destination weddings. His life often ends up being a little bit like the movie Ferris Bueler's Day Off or Ground Hog's Day, and his bucket list just keeps on growing!
17 views
Submitted Sep 8, 2016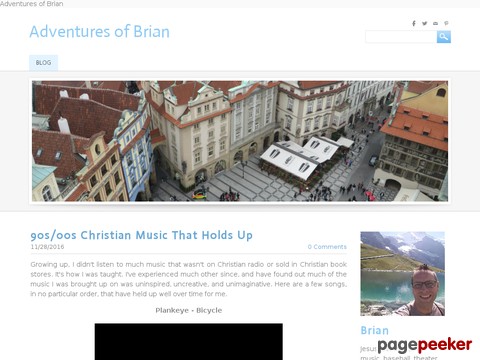 Jesus follower. Love music, baseball, theater, and traveling. Always up for a new adventure. Always ready to meet new friends.
26 views
Submitted Jun 15, 2016
Only those who attempt the absurd will achieve the impossible. this will be a sort of journal of my epic journey around the world, the continued story of me Evan Winter's life, an epic fantasy worth living
21 views
Submitted Mar 22, 2018
It's hard not to have a sense of adventure when you grow up travelling.
22 views
Submitted Jan 31, 2017
I blog travel, life and the great outdoors! This year I reached the summit of Kilimanjaro.
15 views
Submitted Nov 30, 2016
I first created this blog as a way to communicate to friends and family back home about my travels to the United Kingdom back in 2011. As of June of 2014, I moved to Germany to start a new life and new job with my German boyfriend
38 views
Submitted Dec 5, 2014
My name is Nicole, I am a late 20-something and I like to travel. I was born and still live in Alaska. I went to college- part of the way through I got pretty tired of being responsible and not having any fun and started traveling.
33 views
Submitted Jul 4, 2015
I love talking to people and hearing their stories. I love telling my own stories (preferably around a campfire). I never turn down a cup of tea. Walking is generally my preferred mode of transport. All of these things are the make up for my love of traveling.
29 views
Submitted Feb 17, 2016
I'm Roisin. That's pronounced Ro-sheen. Yep, that's me in the questionable hat. A few years ago, I decided I wanted to travel. Easy right? Except I had no money.
25 views
Submitted Feb 22, 2016
The Traveled Millenial
20 views
Submitted Sep 23, 2016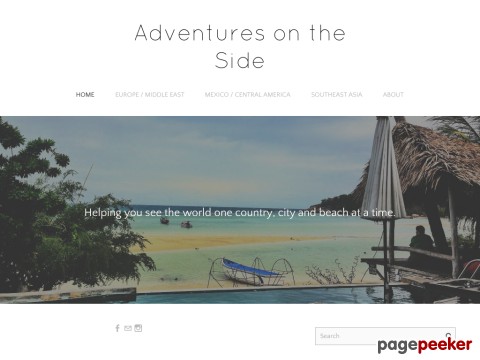 Welcome to my site! I hope to inspire you to make the time to travel and save you some time planning by giving you easy to read highlights of all my favorite world wide destinations. And don't forget to check out my Instagram with daily travel inspiration.
24 views
Submitted Dec 23, 2015
Adventures to Anywhere is a travel and lifestyle blog, featuring handy tips, guides and advice. If you get the chance in life to travel then you should always go for it! Go on adventures, see new places and travel to wherever your heart desires.
26 views
Submitted Sep 30, 2016
I'm a 20-something year old from the UK who just can't seem to make up his mind about what he wants to do.. I've tried my hand at retail work, photography, web design, drawing, tattooing, care homes and online marketing…the list goes on! Don't get me wrong, I liked them all, but there's only one thing I truly love – travel.
76 views
Submitted Jun 7, 2012
I am NieNie, a Korean-American and Californianative who spends all of her money on travel and travel accessories. Obsessed with local foods, local art and adventures, I am here to document my travels and inspire others to do the same.
13 views
Submitted Mar 15, 2017
In 2009 I embarked on my first overseas trip and my love for traveling the world came to fruition. Since then, I have made it a priority to travel somewhere new at least twice a year to feed my wanderlust.
19 views
Submitted Dec 17, 2016
I'm a twenty-something year old with a genuine need to explore and discover things new to me. I'll admit to consistently spending my savings on new adventure but hey, I think that's the only way it should be done, that's why I am Adventuring Life Away.
26 views
Submitted Jul 13, 2016
on this blog, i write about this adventure as an american expat and all of the travels that have fortunately come along with it
36 views
Submitted May 25, 2015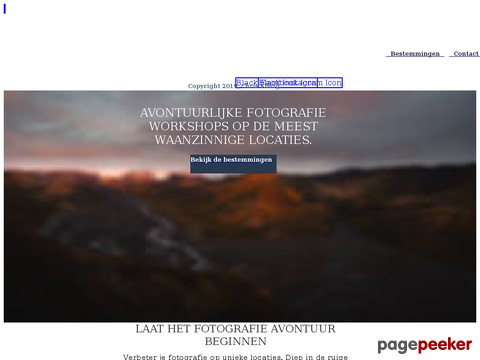 The Adventurizer is a journal dedicated to the traveling lifestyle – a place to exchange knowledge about traveling and photography, sharing visual stories of all kinds of adventures
16 views
Submitted Dec 25, 2016

About Dave's Pick
Category Stats
Subcategories:
2
Listings:
7332 (7347 counting subcategories)
Regular:
7325
Dave's Pick:
7
Last listing added:
Dec 16, 2018