Inspirational Travel
These are travel sites that are inspirational, often involving journeys that overcome difficult and unusual situtations.
Explore sacred sites, ancient wonders and religious places of the world.
17 views
Submitted Aug 9, 2010
I am a freelance journalist based in Washington, D.C. I recently graduated from Stanford University's B.S. and M.S. program in Earth Systems, with emphases in ocean science and environmental journalism. Also an avid climber, my biggest claim to fame is that I was once the youngest person to have climbed the Seven Summits (the highest mountain on each continent).
20 views
Submitted Mar 9, 2013
I traveled the world for the past 6 years and thought that I needed to &#39
12 views
Submitted Aug 9, 2013
I'm scott bold. i blog about internet business, travel, freedom lifestyle, freelance web development, marketing, entrepreneurship, and location independence.
21 views
Submitted Jul 27, 2013 Founded by two time cancer survivor, Soaked and Stoked is all about inspiring others to jump in and be excited about life! Each day we have the chance to explore, and experience new things. So, follow that sense of wanderlust and curiosity and enjoy every day! Jump in and get SOAKED!
11 views
Submitted Sep 27, 2015
Speakers from the Edge represents the best motivational speakers from the world of adventure, exploration and human endurance. We have a select portfolio of inspirational people whose extraordinary lives and achievements motivate diverse audiences from all walks of life.
37 views
Submitted Dec 22, 2010
Streets of the World: A five
18 views
Submitted Jun 23, 2012
If youre looking for some guidance and advice on Career Breaks, then 'Your Career Break: the 'how to' guide' can help you.
14 views
Submitted Jun 15, 2013
I like to call myself the Suitcase Entrepreneur because since 2006, when I left my hometown New Zealand, I've been traveling the world and living out of my suitcase.
15 views
Submitted Feb 18, 2013
Your Journey Starts Here...
29 views
Submitted Jun 8, 2013
We hope you'll join us on our journey as we travel in search of stories of inspiration and empowered leadership. These stories will be documented through the lens of a creative and caring 15 year old teenage photographer/filmmaker with an interest in sparking global citizenship
13 views
Submitted Jun 15, 2014
This idea is simple. The goal is straightforward, but I need your help! I'm going meet 1 new person a day, everyday, for 365 days. The goal is to make images that age well and increase in value over time
16 views
Submitted Jul 14, 2012
I'm passionate to help people break free from the template lifestyle, live remarkably, create their own entrepreneurial ventures, and do good for others.
14 views
Submitted Mar 9, 2010
Tim Cope has spent the past seven years pursuing dreams of travel and exploration. At the core of his journeys is a love of adventure, people, and personal challenge
216 views
Submitted Feb 26, 2010
a platform to exchange brief, interesting snippets of travel information with like-minded globetrotters. Interviews with travelers, 5 questions
28 views
Submitted Feb 7, 2013
Waiting for the real change, happiness, and excitement in life...then traveleering.com is the best option. Nobody can make you happy except you yourself. Without any doubt, traveleering.com is here to help those who do not want to stop themselves from exploring new, adventurous, and amazing places of this world.
24 views
Submitted Nov 12, 2013
Traveling Geeks is a consortium of entrepreneurs, thought leaders, authors, journalists, bloggers, technology innovators and influencers who travel to countries to share and learn from peers, governments, corporations, and the general public in order to educate, share, evaluate, and promote new, innovative technologies
18 views
Submitted Mar 18, 2013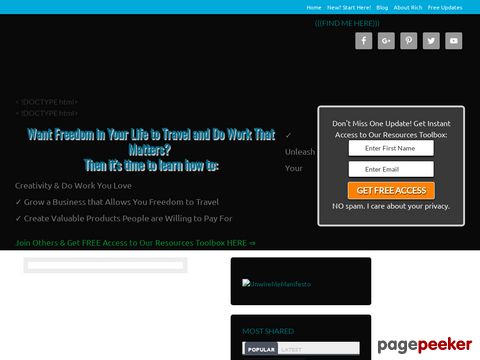 Do you feel trapped by your current career path and you feel your cubicle's walls closing in? Do you yearn to travel abroad for longer than your standard two-week vacation? Dream about doing stuff you love to do, whether for work or pleasure, day in and day out?
19 views
Submitted Aug 4, 2013
volunteer in community projects in China, Ecuador, Ghana, Nepal, New Zealand, Romania, Russia, Thailand, and Uganda
592 views
Submitted Feb 26, 2010
a walk to China
546 views
Submitted Feb 26, 2010

About Dave's Pick
Category Stats
Listings:
85
Regular:
85
Last listing added:
Feb 18, 2017