Journals & Reviews
Read travel journals and reviews written by fellow travelers. Also visit our Travel Writers page
I couldn't resist listing this here! - these are travel articles & journals that have been submitted by fellow travelers
588 views
Submitted Feb 26, 2010

tall tales of Australian share house hell, going out, finding accommodation and finding a job in London
718 views
Submitted Feb 26, 2010
first-hand community travel reviews and photos from everyday travelers like you
846 views
Submitted Feb 26, 2010
weekly travel insights by a columnist
711 views
Submitted Feb 26, 2010
provides personal websites for travelers
813 views
Submitted Feb 26, 2010
read stories about trips and travels, & post your own stories
692 views
Submitted Feb 26, 2010
put your worldwide trip on the world wide web.
676 views
Submitted Feb 26, 2010
Travel stories, photos, art, adventure.
Submit Your Life - The World Is Curious
369 views
Submitted Feb 26, 2010
Overland Journal is a perfect-bound magazine printed on high-quality stock, published five times per year. From a premier-issue length of 96 pages, we have increased to the current 128 pages. Our 30% advertising content cap is well below the national average and ensures ample editorial space for in-depth coverage of equipment and vehicles, as well as full-length feature trip stories that span the globe.
112 views
Submitted Jun 4, 2012
a non-commercial source of information for those who love to travel - includes travelogues, discussion groups, planning & packing tips and much more!
614 views
Submitted Feb 26, 2010
one man's writings from his round the world trip
321 views
Submitted Feb 26, 2010 Travel World Passport is a visual journal. Created for creative travelers to express and save their most cherished memories. Travel memories. Every picture turned into a printed stamp and delivered to you, to tell a story of your journeys.
88 views
Submitted Dec 22, 2015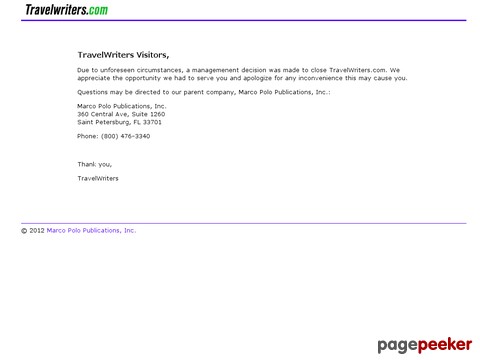 A community of 10,000+ professional travel writers, Travelwriters.com is based on a simple principle: to connect top-tier travel writers with editors, PR agencies, tourism professionals, CVBs and tour operators, nurturing the important link that so heavily influences the travel media
348 views
Submitted Feb 26, 2010
your source for travel diaries, travelogues, tips, tricks, and information on travel
614 views
Submitted Feb 26, 2010
good selection of traveler articles and journals
476 views
Submitted Feb 26, 2010
stories, Photo's and Live Diaries. Read real life experiences from their thousands of members
596 views
Submitted Feb 26, 2010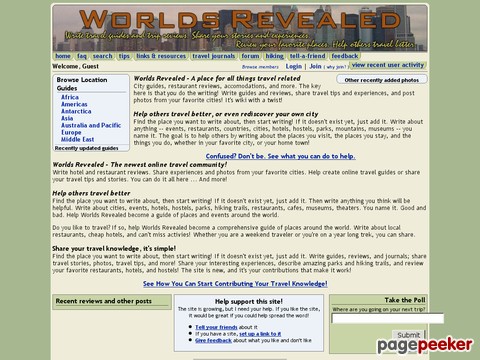 An online travel community where anyone can write destination descriptions and reviews, keep travel journals, share experiences, photos, tips, and more.
473 views
Submitted Feb 26, 2010

About Dave's Pick
Category Stats
Listings:
17
Regular:
16
Reciprocal:
1
Last listing added:
Dec 22, 2015