Lifestyle
Travel is a major focus of these sites but also with beauty, fashion, lifestyle and or society. Our general travel blogs are categorized in our Blogs of Travel Directory, not here.
Im originally from South Africa. I immigrated to the UK in 1999 and have traveled and volunteered all over the world among many other adventures. I share my love for the unconventional and artistic here, as well as my adventures over on my Youtube channel.
8 views
Submitted Jun 13, 2015
20 something blue-haired, fashion designer and traveling lover, with a passion for coffee and tattoos.
5 views
Submitted Oct 23, 2016
This site is for the discerning traveler, the discriminating traveler. This is the traveler who is astute, judicious, perceptive, sensitive, insightful.
11 views
Submitted Jul 15, 2013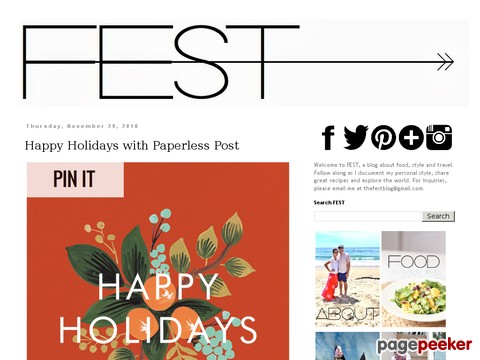 Welcome to FEST, a blog about food, style and travel. Follow along as I document my personal style, share great recipes and explore the world.
10 views
Submitted Jun 14, 2014
I'm Emily! Writer, photographer and travel lover whose year-long stint as a Parisian au pair has turned into a long term love affair with the City of Lights.
11 views
Submitted Dec 25, 2015
Foodie, spa, travel and luxury experiences
12 views
Submitted Jun 15, 2014
I'm Ankita, a pint-sized, 20 something girl based out of Mumbai, with a penchant for Food and Travel.
8 views
Submitted May 1, 2016
travel blog about the luxurious
11 views
Submitted Mar 13, 2010 Im a huge believer in living with intention and following your passions. The Lifestyle Project is a space where I share the things that make me excited in life and attempt to articulate the big thoughts that are sometimes swirling around in my head. Ive always been interested in travel, fashion, and beauty, so I like to blog about travel stories and tips 've picked up along the way, budget-friendly outfit inspiration, my favourite beauty finds, and of course little bits about my life.
10 views
Submitted Jun 13, 2014
The Modern Jetsetter is a luxury travel & lifestyle blog for millenial women who want to adventure through the world in style.
3 views
Submitted Dec 24, 2016
planes trains and automobiles
7 views
Submitted Dec 27, 2015
People are always asking me why my blog is called The Rebel Chick. I call myself The Rebel Chick because as long as I can remember, I've been told that I am rebellious. I think that a healthy dose of rebellion is a good thing. As Socrates said, "Question Everything." I always do, and if I don't like something…well, you'll know!
13 views
Submitted May 25, 2012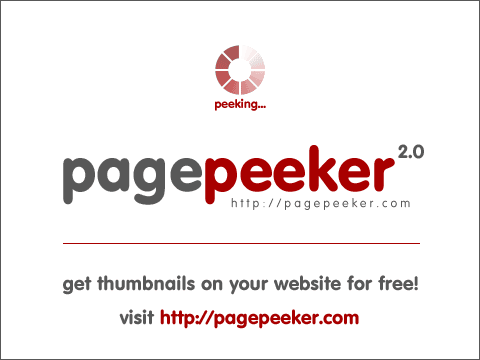 Im Adrienne Shubin and The Rich Life (on a budget) is my four-year-old blog, favorite way to be creative, biggest passion and full-time business. I am a lover of fashion, beauty, travel and living well in Wine Country!
22 views
Submitted Jan 11, 2015 An Australian girl talking about travel, beauty and life!
8 views
Submitted Dec 25, 2015
Im Isabel! The self-proclaimed unofficial Slovenia-Mexican Ambassador. Travel + Lifestyle + Food Blogger.
10 views
Submitted May 27, 2015
Travelling in style, with class, authenticity, and always an eye to value.
18 views
Submitted Jun 15, 2014
Stick around to follow me in my adventures
4 views
Submitted Dec 17, 2016
I want to see the world and I'm well on my way. Last summer I was able to see London, Paris, and Dublin and this summer I traveled through Munich, Innsbruck, Salzburg, and Vienna. Living in another country though... this is new to me!
8 views
Submitted Dec 22, 2015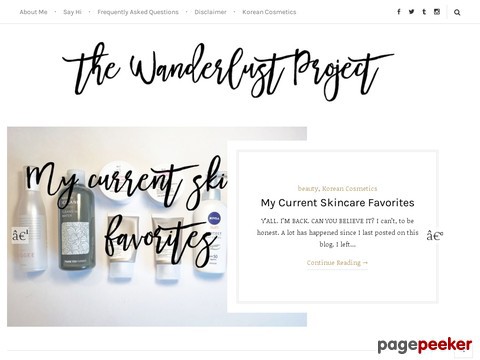 Sheryll. Korean skincare junkie. Founder and Editor-in-Chief of Glamtrotting Magazine. Currently livin' it up in Phuket, Thailand.
2 views
Submitted Dec 26, 2016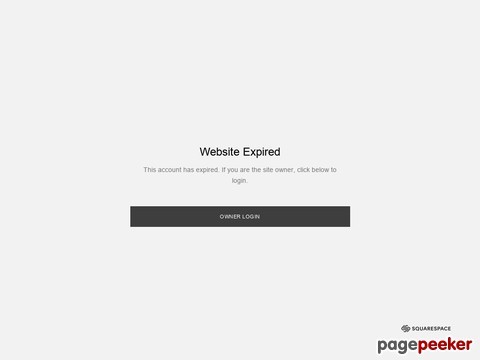 Escape into the world of Water Wanderer, a journey of wild adventures and sun-drenched dreams. A fashion, travel and lifestyle blog dedicated to capturing the spirit of the @waterwanderer.
7 views
Submitted May 7, 2016

About Dave's Pick
Category Stats
Listings:
252
Regular:
252
Last listing added:
Dec 26, 2017