Lifestyle
Travel is a major focus of these sites but also with beauty, fashion, lifestyle and or society. Our general travel blogs are categorized in our Blogs of Travel Directory, not here.
Be Travelled
10 views
Submitted Jan 7, 2016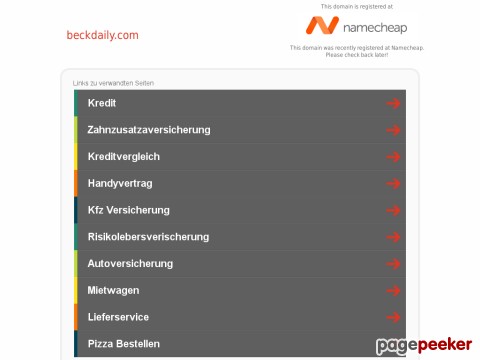 well dressed in wild places.
25 views
Submitted Oct 18, 2014
Hi. I&#39
25 views
Submitted Feb 8, 2013
Young couple, both expats turned Brit
7 views
Submitted May 12, 2016 Welcome to the Best of Both Worlds blog. A place where we (Jamie and Christina) share the best things from our typical Monday-Friday World and our Travel World.
17 views
Submitted Jul 18, 2015
a place for all my favorite things in life ... fashion, food, travels, beauty & whatever else I stumble upon
15 views
Submitted Jun 1, 2015
the Internets best resource for interviews of successful entrepreneurs and what has fueled their success and lifestyle
28 views
Submitted Feb 9, 2013
The real secret to a fabulous life is to live imperfectly with great delight.
20 views
Submitted Feb 5, 2015
Blonde Goes Beyond is lifestyle blog designed for young professionals that's focused on travel, food, beauty, and everyday living
2 views
Submitted Mar 26, 2017
candids by Jo is a visually based lifestyle blog that centers on food, travel and leading a creative life.
14 views
Submitted May 25, 2015
My name is Carmen Huter and I am a personal style and travel blogger. My mission is to never stop exploring
7 views
Submitted May 13, 2016
carmen travels the world in luxury
18 views
Submitted Nov 19, 2014
This site is simply the journey of a lifetime. The journey of my lifetime. Who knows whats gonna happen.
11 views
Submitted Oct 26, 2014
We're very old twenty-something political staffers developing our wanderlust, alcohol and food palette, and striving to use our political abilities for something more fulfilling. Hence, we founded Cartography & Cloture, an in-depth (and occasionally silly) look at our travels and the companies that aid them, booze that makes us wobbly, and our personal take on world-affairs from people who've been behind the scenes.
3 views
Submitted Apr 24, 2017
The purpose of this blog is to do something new every 52 weeks of the year, regardless of what it is. It could be new places, new events, new activities etc. I created Catch 52 to record my activities and to motivate me to tick off my own bucket list, thereby hopefully inspire others to do the same.
20 views
Submitted Jun 12, 2014
A female travel & lifestyle blog featuring daily outfits, beauty tips, lifestyle inspirations and travel experience from around the world.
11 views
Submitted Feb 24, 2015
photography, travel and lifestyle
13 views
Submitted Dec 8, 2014
I'm Cassidy - I'm an American/Italian and I've spent my whole life traveling abroad with my family. So far, I've been to 39 countries on 4 continents and I can't wait to see more
8 views
Submitted May 8, 2016
Every issue our international teams scour the globe to bring the best in FOOD FASHION TRAVEL. We're a green award winning magazine! Instagram: citystylemag Twitter: @citystylemag
22 views
Submitted Mar 19, 2015
A London Born Life & Style & Travel Blogger
8 views
Submitted Aug 3, 2015

About Dave's Pick
Category Stats
Listings:
252
Regular:
252
Last listing added:
Dec 26, 2017