Lifestyle
Travel is a major focus of these sites but also with beauty, fashion, lifestyle and or society. Our general travel blogs are categorized in our Blogs of Travel Directory, not here.
'm Laura. I'm a writer, a coffee addict, a perpetual country hopper. I change my mind, my fashion sense and my address more than I probably should.
10 views
Submitted Nov 22, 2015
Daniel and Melissa Garcia are a powerhouse couple who love to travel. They believe in living life to the fullest.
3 views
Submitted Dec 28, 2016
I'm a freelance photographer + foodie enthusiast, as well as a former world traveler (50+ countries, 7 years), from Houston now living in Austin, Texas. I love coloring outside the lines, wanderlusting my little heart out, and fulfilling the creative life. All while seeking the simple lifestyle. This photoblog is a culmination of that restless trampsy through life in search of / inspired by unconventional interests, eclectic finds ... a contradiction of sorts.
4 views
Submitted Dec 30, 2016
First and foremost, Conversations of Us once functioned as our travel and lifestyle blog, and we are Bart and Eena, a couple, who constantly wander around the world just to meet again.
4 views
Submitted Dec 17, 2016
Fashion, lifestyle and travel
26 views
Submitted Jul 21, 2010
I love capturing moments and memories. This is my diary where I share with y'all exciting, creative, and memorable moments I get to witness throughout my life
5 views
Submitted Dec 24, 2016
I'm Julia. A wanderer, explorer, sun worshipper, New Yorker, musician, writer, and activist.
4 views
Submitted Apr 24, 2017
I am Tiffany a mother, blogger and a traveler. I have a son that is almost 6 and he is my pride and joy. Before my son I was a world traveler and working at General Motors. Once I had him it was hard to juggle new baby, traveling and working so I decided to turn traveling and blogging into my work. Life is more leisurely now.
12 views
Submitted Feb 7, 2015
I'm Debs, a writer, traveller and fitness lover from Devon, UK. I'm here to inspire and motivate you to create the life that you have always dreamed of.
9 views
Submitted Dec 27, 2015
Dear Passerby discusses the latest information on Tech, TV and Travel. If you want to find out the latest Snapchat hacks, how to take the best photos using your phone, what TV shows will help you get over the loss of Downtown Abbey or how to have your own travel adventure while working 9-5, Dear Passerby is the blog for you. Although my blog is less than 12 months old it was a finalist in the Littlewoods Ireland Blog awards 2016.
4 views
Submitted Nov 25, 2016
the world through the eyes of a los angeles girl
11 views
Submitted Jun 17, 2015
Digital Nomad Academy is a place for aspiring entrepreneurs who want to be part of a bustling, collaborative, supportive community that provides access to actionable, step-by-step business training, regular private coaching calls with successful business owners and proven experts, exclusive insider knowledge, tips, tricks, pointers, and other assorted business & travel hacks that will give you the competitive edge.
30 views
Submitted Feb 8, 2013
travel and lifestyle
3 views
Submitted Jan 29, 2017
I run dobbernationLOVES, a daily lifestyle blog focussed on inspiring the world to "Eat Well, Travel Hard, Live Better."
33 views
Submitted Apr 3, 2013
Pakistani husband + Indian wife living in Bangkok. This is our lifestyle journal where we share our travels, adventures, food obsessions and personal style.
6 views
Submitted Dec 20, 2015
Doug Bardwell is a former corporate road warrior who now travels on his own schedule to fabulous destinations around the world. With his camera and computer, he brings those destinations home to his visitors through his articles on-line and in print.
24 views
Submitted Feb 14, 2013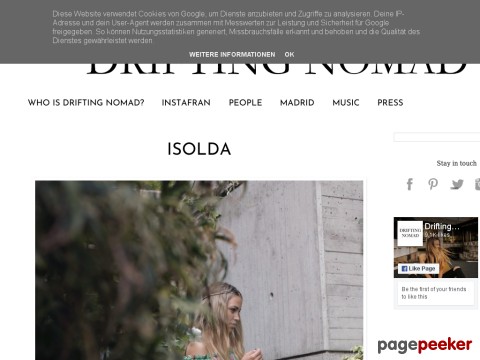 Fashion - Travel - Lifestyle
8 views
Submitted Jan 29, 2015 Im Jade, a thirty-something wanderlusting Aussie currently residing in London with my husband and our dachshund. I love all things travel, photography, fashion & design.
12 views
Submitted Jun 17, 2014 Words are important but I don't always have the right ones to express myself the way I would wish. Let my images show you who I am and what I see in the world. Live your lives with an adventure a day.
7 views
Submitted Jul 27, 2016
I am a Scottish born lass currently living in London, with a serious case of wanderlust and a little rock 'n' roll in my soul.
6 views
Submitted Oct 2, 2016

About Dave's Pick
Category Stats
Listings:
252
Regular:
252
Last listing added:
Dec 26, 2017