Lifestyle
Travel is a major focus of these sites but also with beauty, fashion, lifestyle and or society. Our general travel blogs are categorized in our Blogs of Travel Directory, not here.
In August I started travelling around the world – follow the blog to join the trip
12 views
Submitted Mar 21, 2016 health, beauty, travel and fashion
6 views
Submitted Nov 30, 2016
I'm Kelsey, aka Kelso! I'm 27 years-young and a native of Northern California, recently returned from the land down under-er: New Zealand! I'm not one of those uber brave people that can just pick up and move across the world by myself.
12 views
Submitted Nov 22, 2015
Kinezaki means little Chinese in Greek. And I am the little Chinese in Europe.
9 views
Submitted Dec 12, 2014
food, travel and drink
5 views
Submitted Dec 26, 2016
I'm Jessica, a British girl learning the Italian way of life! La Ragazza Inglese is a place to share my travel stories and cultural insights and will hopefully inspire you to discover Italy for yourself!
12 views
Submitted Dec 27, 2015
Sharing the glamour, the lace and ruffles through travel, style inspirations and everything else that are très belle!
14 views
Submitted Jun 23, 2013
I started this blog as a hobby when I moved from India to Singapore to keep myself occupied over the weekends. Slowly, this grew to be my passion and now I am addicted. My blog is an extension of my life so it includes things I love the most: travel, food, fashion, beauty, gossip and inspiration. So hop on and join me on my journey to discovering new places to travel, scouting for inspiration, decoding fashion, busting beauty myths and food that will boggle your mind!
8 views
Submitted Nov 30, 2016
travel, food, art, music and all that other good stuff
9 views
Submitted Jul 8, 2015
food, travel, university life
10 views
Submitted Apr 2, 2016
Welcome to Little Observationist, a lifestyle blog about the little things in life, from walks around the city of London where I'm living now, to travel abroad, to food and an odd dose of style. I often feature interviews with anyone who fascinates me and plenty of my original photography with each post.
9 views
Submitted Oct 24, 2014
Thanks for visiting our travel-lifestyle blog. When were not travelling were studenting and figuring out the best way to live our lives. We are thoroughly enjoying growing our blog and delving into our own thoughts and experiences, seeing what direction this will take us in.
10 views
Submitted Nov 8, 2014
Live a little is a travel and lifestyle blog which aims to inspire and inform readers about the wonderful places and festivals around this world and make them live a little more.
15 views
Submitted Dec 22, 2015
we are travel photography and life addicts
13 views
Submitted Dec 11, 2014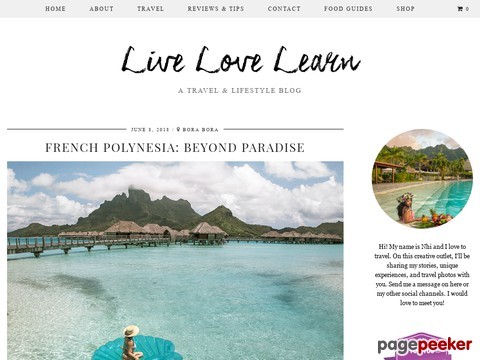 I'm Nhi, a twenty-something-year-old living in Atlanta. This virtual space is for dreamers like me looking for inspiration. Find my travel stories, tips and advice, reviews, and my current DIY projects here.
2 views
Submitted Apr 24, 2017
food, fitness, travel
13 views
Submitted Oct 17, 2015
I started this blog as a way to connect with people who share similar passions in life to myself. I absolutely love anything beauty related and also enjoy travelling as much as I can, so you can expect to see some posts on these subjects along with a variety of other topics.
10 views
Submitted Feb 15, 2016
An unabridged chronicle of a culture seeking prep gallivanting the bright lights of the big city... as lived by Logan Ly.
7 views
Submitted Jun 17, 2014
I have a journalism degree and work in PR but this blog allows me to document my observations, commentary on current affairs and more recently my travels both with my girlfriend and other friends, experiencing new events, restaurants and countries. I throw in the odd splash of creative writing or poetry for good measure.
5 views
Submitted Jan 26, 2017
The title of the blog LoveTravelLive speaks for itself. Its about random things in life, travel experiences and crazy thoughts.
10 views
Submitted Jun 11, 2014

About Dave's Pick
Category Stats
Listings:
252
Regular:
252
Last listing added:
Dec 26, 2017