Lifestyle
Travel is a major focus of these sites but also with beauty, fashion, lifestyle and or society. Our general travel blogs are categorized in our Blogs of Travel Directory, not here.
a taste of fashion from all over the world from a chic traveler like me
21 views
Submitted Jul 30, 2010
no more keeping my feet on the ground
8 views
Submitted Aug 3, 2015
a series of unfortunate events involving food, travel, cocktails, music art and dogs
7 views
Submitted May 23, 2016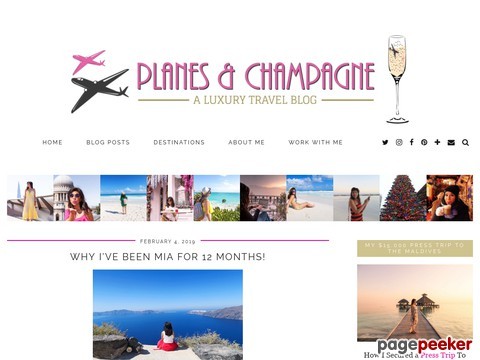 Like most people I know, I fell into my career path in banking and financial services without really knowing who I aspired to be or what I wanted to do. Now 10 years on, I've only really started to figure this out, so I am now putting pen to paper to follow my dreams of becoming a freelance food and luxury travel writer through documenting my jet setting adventures.
7 views
Submitted Jun 15, 2016
Sun, sand, sea and cyberspace: we've traded our suits for surf shorts (while running a successful business idea or three), and there's room here for you. Join Project Getaway for the ultimate experience in lifestyle design. Go on, pinch yourself.
16 views
Submitted Feb 8, 2013
Founded in 2007, Purveyors of Time assists celebrities, executives, music industry professionals, personal assistants and others. The company offers on-call/as needed services as well as comprehensive packages and is small enough for that personalized service, yet large enough to maintain a large database of vendors and resources to meet every need. Gift certificates are also available
15 views
Submitted Feb 14, 2011
a lifestyle blog about following the beat of your own drum
29 views
Submitted Jun 12, 2014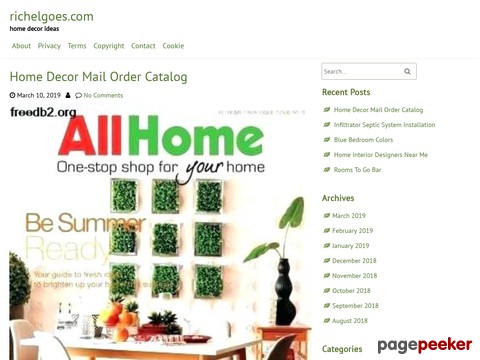 I'm Richel. I'm software engineer from the Philippines. When I'm not busy working my 8-to-6s, I binge read, binge watch, catch Pokémon, go to concerts, travel, and write about my adventures here on my blog.
7 views
Submitted Dec 17, 2016
Driven by an insatiable desire to uncover the unique, my passion to share stories of amazing road trip finds and all that is beautiful in people, places, food & style across America has lead me to my latest television development project.
9 views
Submitted Jun 15, 2016
This is my online scrapbook where you will find everything that triggers me. I share my favorite looks, my travels, my go-to recipes and much more
9 views
Submitted Jun 11, 2014
travel, fashion and lifestyle
12 views
Submitted Jun 17, 2014
Salt and Sandals is a travel, food and lifestyle blog dedicated to bringing out the finer things in life
8 views
Submitted May 9, 2016
I am Samantha Angell, and this is my blog! This is my place to write about life, love, traveling, and the overall pursuit of happiness
5 views
Submitted Dec 24, 2014
If you were looking for some daily inspiration, you came to the right place. Sarah Ann's blog will explore life in many forms, including fashion, beauty, travel & design. A thoughtful, editorial platform, the blog and social pages will provide relief for the modern millenial, looking for a quick escape.
2 views
Submitted Jan 31, 2017
Sarinla blogs about her travels and other lifestyle interests
4 views
Submitted Jan 26, 2017
I am Ronda Wylie. I started Say Hello Blog in 2014. I wanted a way to share my adventures and have an outlet for photography. I have always been a somewhat healthy eater, but recently I've had to do some drastic changes in my diet for health reasons. So now I share healthy recipes that inspire me to eat well.
85 views
Submitted May 1, 2016
For lack of better terms, I'm still trying to figure out what the heck to do when I grow up.
8 views
Submitted Jun 19, 2016
Travel, Food & lifestyle blog with my Better half

5 views
Submitted May 1, 2016
lifestyle and travel blog from Angelina Alessi
6 views
Submitted Oct 26, 2014
Six out of ten is an online travel and lifestyle magazine for people who like to have fun, in whatever way that means to them. So. That could be a luxury weekend away in a spa hotel being fed grapes from a male models hand, to mud wrestling a friend to the ground at a festival. Its a place where honest reviews meet informative content, with a little light-hearted fun along the way.
13 views
Submitted Dec 19, 2014

About Dave's Pick
Category Stats
Listings:
252
Regular:
252
Last listing added:
Dec 26, 2017