Luxury Travel
Customers of these services tend to be celebrities, athletes, executives or other very financially well off individuals. These are high end, high class services. We are *extremely* selective about the companies that we list here as well as any properties.
Hayman in Australia's magnificent Great Barrier Reef, is a private island destination, presenting a unique resort experience of adventure, indulgence and natural beauty. Hayman is a member of the prestigious organisation, The Leading Hotels of the World.
416 views
Submitted Feb 26, 2010
The truly global luxury marketplace, with more than 20 000 selected cars, yachts, sailboats, powerboats, watches, motorcycles, jets and helicopters for sale and charter.
20 views
Submitted Mar 4, 2010
Whether its luxury vacation ideas, luxury travel destinations, luxury hotel information, luxury holiday travel, journeyPod means luxury. We have the insider's information about international nightlife, boutique hotels, luxury resorts, and luxury travel Europe. Scope out our nightlife reviews, celebrity travel gossip, and restaurant reviews. journeyPod has the lowdown on what to eat, what to buy, where to be seen, and who you'll see when you get there. Whether its San Francisco bars, London nightclubs, or Miami restaurants, the latest celebrity gossip, or where to find your favorite celebrity chefs, journeyPod is the one destination guide that has the most up-to-date info on exotic travel, luxury holidays, luxury vacation, trendiest restaurants and luxury travel.
21 views
Submitted May 31, 2012
A Luxury Portal: Luxury Travel Articles, News, and Listings
111 views
Submitted Feb 26, 2010
representation and consultation for exceptional hotels, yachts and destinations
13 views
Submitted Jun 22, 2010
the definitive online guide to luxury
43 views
Submitted Jul 15, 2012
Each concierge consultant brings an unprecedented level of attention to every client. We have redefined concierge services for our corporate, commercial and residential real estate clientele.

Requests are instantly executed with efficiency and professionalism. Reservations at exclusive New York restaurants, private jet-travel, personalized events in impossible locations and prime concert and theater tickets are just a sampling of Luxury Attach? offerings. As your definition of luxury evolves, the innovative service structure of Luxury Attach? meets and surpasses all expectations
256 views
Submitted Feb 26, 2010
The inspirations from the Global Explorers and the Travel Stories from the world's foremost cultural voices are united by a fluency in world cultures. Whether taking photographs, journaling their thoughts or sharing their favorite travel memories, The Global Explorers describe what makes each destination and vacation unique. The Travel Stories, each told from a unique creative perspective, showcase quintessential travel experiences. Together, they convey a passion for memorable travel experiences.
14 views
Submitted Nov 8, 2013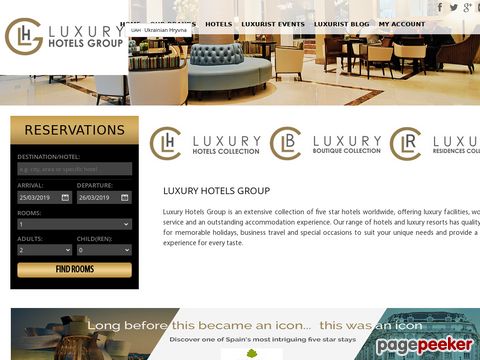 Book luxury hotels for business trip or leisure holiday, luxury hotels group has a great selection of boutique hotels and resorts that suit your travel needs.
10 views
Submitted May 17, 2016
Luxury life goals is a luxury lifestyle blog covering autos, fashion, food, drink, travel and finance.
6 views
Submitted Aug 21, 2017
Luxury Link hosts the largest selection of vetted luxury hotels, resorts, cruises and tours on the web. Every property and package has been examined by travel professionals and meets strict criteria for inclusion in our elite network
65 views
Submitted Feb 26, 2010
We know we have a sophisticated audience. You are an extremely well-travelled, well-heeled bunch, you don&#39
12 views
Submitted Feb 26, 2013
On Luxury Travel Diary I review the best destinations, hotels, swimwear, lingerie, fashions and other luxury loveliness the world has to offer. Sharing information with readers including luxury flash sales, new fashion collections... basically anything luxury and interesting.
9 views
Submitted Jun 5, 2015
is the award-winning owner and operator of some of the world?s most prestigious hotels and resorts
339 views
Submitted Feb 26, 2010
Our clients are drawn from a very select circle of influential, often high-profile individuals from the entertainment, financial and business worlds. Clients of Mansour Travel Company benefit to the fullest from the extraordinary clout we have with most of the finest luxury properties all over the world and also from the special pricing we manage to get on private jet and yacht charters from our extensive network of international associates of owners and operators of aircraft and yachts.
9 views
Submitted Jul 20, 2012
Members Only Luxury Lifestyle Management and Travel Concierge 24/7 365 service from Sienna Charles located in NYC. For the discerning traveler to have incredible service whether at home or anywhere in the world.
79 views
Submitted Feb 26, 2010
Become A New Jetsetter!
9 views
Submitted May 29, 2012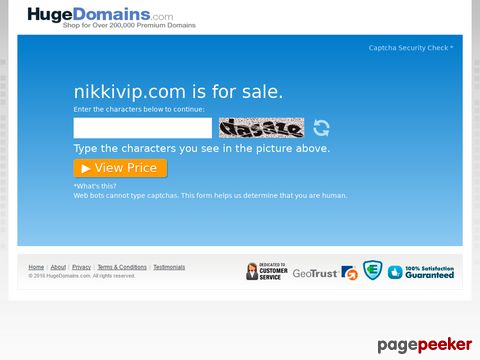 the exclusive Nikki VIP Membership Card is your invitation to experience unique world-class privileges
554 views
Submitted Feb 26, 2010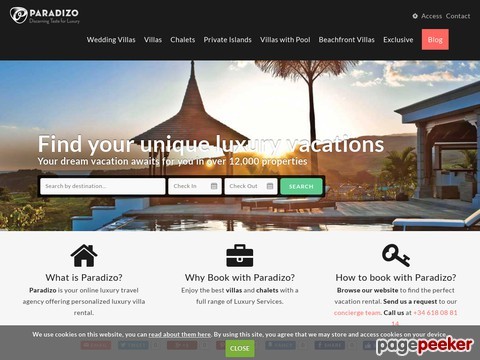 Luxury Vacations from Selected Luxury Travel Companies
8 views
Submitted Jun 20, 2010
Luxury travel blogger. Lover of sun, sea, sand and snow. If chic is out there, I will find it!
8 views
Submitted Mar 9, 2013

About Dave's Pick
Category Stats
Listings:
63
Regular:
63
Last listing added:
Sep 6, 2017