Luxury Travel
Customers of these services tend to be celebrities, athletes, executives or other very financially well off individuals. These are high end, high class services. We are *extremely* selective about the companies that we list here as well as any properties.

Luxury travel blogger. Lover of sun, sea, sand and snow. If chic is out there, I will find it!
50 views
Submitted Mar 9, 2013
As part of Benchmark Hospitality International, the Personal Luxury Resorts & Hotels make up a select portfolio of properties from around the U.S. Our collection of Personal Luxury Resorts and Personal Luxury Hotels has one goal: to create unique experiences for discerning travelers. We believe that a visit to one of our hotels should be fun, spirited, and whimsically engaging. Wherever you choose to stay, youll find a hotel or resort connected to its location, its surroundings and its guests.
52 views
Submitted Jul 5, 2014
We identify the very best places to be, in the most exquisite destinations. We personally research all the content for the guide and only select the venues that meet our high standards. Only a select few places make the grade, in great destinations like Ibiza, St. Tropez and London. We highlight places with style and atmosphere, fabulous design, cool people and excellent service. Plus that extra sparkle that separates the best from the rest.
53 views
Submitted Nov 20, 2015
Quintessentially is a private members' club with a 24-hour global concierge service, and part of the world's leading luxury lifestyle group. With offices in almost every major destination and thousands of suppliers worldwide, Quintessentially can hand you the virtual keys to any city. Quintessentially is your passport to the very best that life has to offer. Whether it be travel, music, art, food, drink, hotels, clubs, spas, restaurants or
57 views
Submitted Jul 30, 2010
A sister company to Quintessentially - the world's leading private members. club & luxury lifestyle group - Quintessentially Travel is a bespoke global tour operator, offering exclusive travel to the world's elite.
58 views
Submitted Jul 30, 2010
luxury hotels and gourmet restaurants
54 views
Submitted Mar 17, 2010 Simply Luxury Travel is a symphony of luxury travel, drawing from all aspects of the travel experience, from accommodation to cuisine to transportation and the arts. Whilst the emphasis is to share personal experiences, Simply Luxury Travel works with the leading organisations to provide information on the latest events and travel news.
82 views
Submitted Jul 11, 2010
travel the world by private jet - choose from a variety of worldwide private jet tours
400 views
Submitted Feb 26, 2010
The Billionaire's Club has accomplished something very few social media companies can claim
71 views
Submitted Aug 4, 2014
Blue Fish offers the highest level of personalized travel, transportation and entertainment-related services to corporate executives, celebrities, professional athletes and other discerning individuals interested in living life to its fullest
573 views
Submitted Feb 26, 2010
Located on the French Polynesian atoll of Tetiaroa and a product of the late Marlon Brando?s vision, construction on The Brando has officially begun with completion slated for late 2011. Construction of the luxury eco-resort has commenced with the official authorization from the Tahitian government after several years of studying the impact of construction on the environment. The Brando will feature: 47 deluxe bungalow villas (each with private plunge pools), a spa, fitness center, community pool, as well as various island activities including scuba diving and archaeological tours of royal Tahitian sites
165 views
Submitted Feb 26, 2010
the best of.....?
307 views
Submitted Feb 26, 2010
As Founder and Editor in Chief, François Le Hecho embodies The Luxe Insider and is its main contributor. He is a luxury professional with 6+ years of experience – especially in Retail and CRM – and founded this magazine in early 2013 with the objective to share his passion for luxury and travels via reviews made during personal and business trips. Member of the International Association of Press Photographers, he holds press card #32988.
75 views
Submitted Dec 19, 2014
The Luxury Editor provides guidance on the best places to go for luxury experiences and luxury escapes.
71 views
Submitted Nov 9, 2013
high end Napa Valley Wine estate - members only, $150k plus entry fee. Be a part of this elite social network.
263 views
Submitted Feb 26, 2010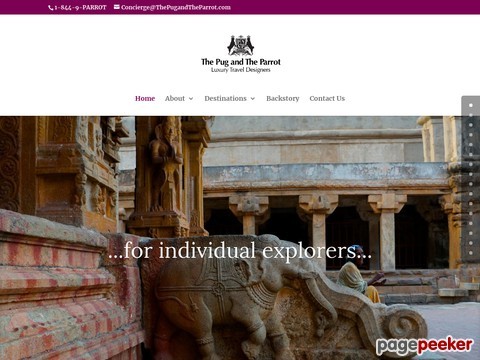 luxury travel advisors
76 views
Submitted May 27, 2015
The Robb Report offers the "best of the best" - covers a wide range of categories. Luxury to the max.
216 views
Submitted Feb 26, 2010
The Travel Curator is the only resource savvy travelers will need for the inside scoop on inspiring destinations. Luxury travel expert Melanie Brandman opens up her little black book and shares her tried and tested favorites, the latest trends, and word-of-mouth travel tips from her globetrotting friends and tastemakers.
75 views
Submitted Mar 23, 2013
providing luxurious comfort, modern facilities and intuitive technology combined with exceptional, personalized service
421 views
Submitted Feb 26, 2010
World leader in luxury travel
61 views
Submitted Mar 31, 2010

About Dave's Pick
Category Stats
Listings:
64
Regular:
64
Last listing added:
Feb 17, 2019