Magazines of Travel
Read your favorite travel magazines on the web
Some people might find travelling preparation is challenging. At maxx-m.com, readers can find variety of articles on everything that they need from preparing their itinerary to any essentials preparation that are needed before and during their travel.
15 views
Submitted Dec 8, 2014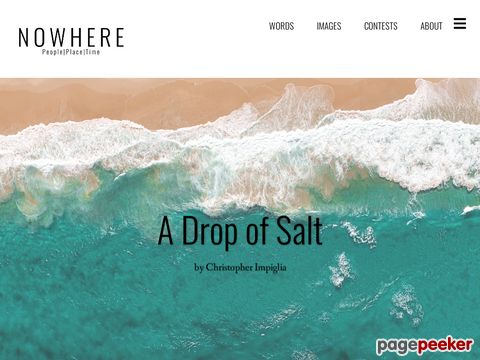 Nowhere is a journal of literary travel writing—which to us means narrative with a strong sense of place, character or time. Weve run stories about the longest sea voyage in history, living on a farm in Tuscany and kidnappings in Libya. We don't publish reviews of spas or shopping centers or "Top 10 Vacation Getaways." The magazine is published digitally so we can distribute globally, across borders and cultures, instantaneously.
13 views
Submitted Mar 16, 2014
International travel magazine
5 views
Submitted Sep 30, 2015
Since 1996 Outpost has defied the conventions that typify other travel magazines - steering away from the cozy and coddled to take a more adventurous and realistic look at the world and how people travel through it
485 views
Submitted Feb 26, 2010 "the art of travel"
18 views
Submitted May 14, 2010
"I started Pology with the hope of sharing the exciting potential this world holds for everyone, regardless of their current station in life. It is my hope that our stories and pictures will inspire people to get out and see the world. In a time where representations of the world are fed to us through polarized lenses, traveling has become of supreme importance. Traveling can remind us that in any situation there are multiple and often conflicting truths" - from founder, Neil Schwarz
11 views
Submitted Mar 11, 2010
International travel magazine
18 views
Submitted Jul 25, 2012
Published bi-annually in glossy format, the magazine is 4-color throughout. Readers can use the Activity and Geographical Index in the front of the magazine to access tours relevant to their needs. The website is this magazines online Travel Portal
338 views
Submitted Feb 26, 2010
Welcome to The Traveler's Way, a travel magazine providing information and inspiration for curious baby boomer travelers. Our editorial focus is Value Luxury - that sweet spot where experience and price intersect to create WOW!
25 views
Submitted Jun 17, 2012
Travel & Leisure magazine
458 views
Submitted Feb 26, 2010
40 years a trusted travel magazine
13 views
Submitted Jun 29, 2013
Founded with the aim to cater to the compulsive travelers around the world and the travel business industry, the Travel and Tour World magazine brings to table an information packed flip-book interface, covering global travel news, travel packages that includes restaurants, luxury and budget hotels, exotic destinations, list of festivals around the world, destination guide and lots more
117 views
Submitted Apr 9, 2010
Travel Culture Magazine is a combination of travellers and culture enthusiasts who live to explore the world, seek new adventures and inspire others along the way.
9 views
Submitted Jun 3, 2012
this is the premier resource for women looking to improve their lives by finding and integrating the ?escape factor? into every day journeys as well as exotic vacations
494 views
Submitted Feb 26, 2010
TravelWorld International Magazine (TWI) is a showcase for the editorial and photographic talents of the members of NATJA. Contributors must be members of NATJA.
32 views
Submitted Apr 28, 2011
travel magazine
454 views
Submitted Feb 26, 2010
Travelling Adventurer Magazine was founded in 2002 by Ken Mink, a veteran newspaper and magazine journalist, to showcase travel and adventure stories from around the world.
11 views
Submitted Feb 14, 2013
Travelodium is a travel magazine catering for independent travellers. It provides unbiased information and links to other travel websites.
158 views
Submitted Feb 26, 2010
up! magazine is about the joy of travel and discovery. With a focus on destinations in Canada, United States, Mexico and the Caribbean, up! aims to uncover little-known travel gems and explores well-trodden routes with a fresh perspective, all the while providing vital travel info for the busy traveller and her or his family.
18 views
Submitted Jun 22, 2010
Wander Magazine is comprised of individuals that came from an industry that makes it hard to grow as independent thinkers and free spirits. Thus, we took it upon ourselves to create a travel magazine that allows us to embrace the wandering spirit that pushes us to travel to the ends of the earth.
14 views
Submitted Jul 23, 2013

About Dave's Pick
Category Stats
Subcategories:
2
Listings:
39 (116 counting subcategories)
Regular:
43
Last listing added:
Apr 24, 2017