Ezines
An online magazine written and edited by experienced travel journalists for readers who love exploring the world's great urban places
13 views
Submitted Jun 20, 2010
TheExpeditioner.com is an online travel magazine based in Brooklyn, New York, featuring travel articles and video for the avid traveler.
20 views
Submitted Apr 27, 2010
Hi, I'm Lauren Rains. Welcome to The Mad to Live. I'm the co-founder of Outdoor Minded Magazine and someone highly addicted to turning everything I do into some sort of a project. What you'll find here are stories from the road based on adventures – both going on them, and learning from them – in the various pursuits of life, entrepreneurship, travel and making a positive impact on this world. Thanks for being here! Do come in and relax for awhile.
19 views
Submitted May 28, 2012
The Traveler
18 views
Submitted Apr 26, 2010
This Boundless World is an online travel publication providing you with the best in travel related articles and guides. We're definitely backpackers at heart, but that doesn't mean we can't appreciate a little luxury from time to time. So whether you're a grizzled backpacker or just thinking about booking your next package tour, we can give you the information to help make the most out of your next trip.
13 views
Submitted Dec 23, 2015
With Tiny Atlas Quarterly we want to show you the places we love to travel ourselves
54 views
Submitted Mar 16, 2014
A monthly magazine published exclusively for iPads on Apple&#39
11 views
Submitted Dec 18, 2012
Welcome to Travel Squire, a digital magazine and trip planner in one. Compiled, written and edited by our team of destination specialists, the magazine is beautiful to look at, fun to read and provides you with nearly everything you need to plan your next adventure
14 views
Submitted Mar 31, 2010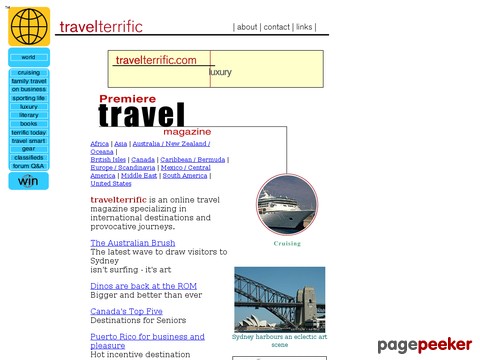 travelterrific is a premier travel magazine specializing in stories and photographs of international destinations, provocative journeys plus new works of literary merit
8 views
Submitted Nov 10, 2014
TravelingPanties is an online magazine featuring luxury travel advice from an expert. Katie is also a freelance travel writer for outlets like Forbes, Fodors, Startle and Cheapo Air.
133 views
Submitted Nov 28, 2012
Tripwich.com is for travelers of all ages who want to have fun . . . especially when they're on
12 views
Submitted Feb 1, 2013
Ours is a spirited approach to travel. The places we take you can be deliciously simple or ruinously expensive. We thrive on variety. An open-cockpit flight over the Okavango Delta, and a bang-on bowl of soupe à loignon in the Auvergne
11 views
Submitted Mar 28, 2013
TRVL is a community of travel writers and photographers. Per definition it is hard to tie us down since traveling is second nature to us. But the prospect of publishing our own iPad magazine made us join forces.
13 views
Submitted Feb 19, 2011
The Wanderlust Post is an online magazine where travel & lifestyle bloggers share their travel tales, reviews, recommendations and wanderlust fuelled adventures.
2 views
Submitted Apr 24, 2017
When on Earth is a travel magazine featuring the best things to do, places to see, and gear to get when visiting Earth.
20 views
Submitted Oct 2, 2013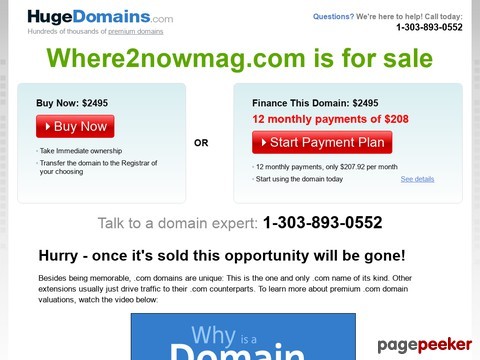 Where2NowMag.com offers articles on travel written by experienced writers. For the traveler in all of us means that we try to provide enough vacation ideas so that just about anyone that comes to our website will find something that appeals to them. Because as with books, music and art, everyone has their own idea of what a great vacation should be.
13 views
Submitted Jun 22, 2010
Welcome to World Out There, the online travel magazine! I'm the proud founder and editor and hope you will love this collection of articles from in-the-know local experts and curious travellers.
29 views
Submitted May 31, 2012
World Travel Buzz is an edgy and awesome online travel magazine, run by a team of travel bloggers from around the world. We are young, wild, free, and in-your-face, and we provide honest and engaging travel stories, tips, and advice from real backpackers and adventure travelers.
18 views
Submitted Jun 3, 2012 We're Yettio. Online travel magazine and tour discovery website. This is a place to discover and share travel experiences.
7 views
Submitted Nov 12, 2015

About Dave's Pick
Category Stats
Listings:
59
Regular:
59
Last listing added:
Apr 24, 2017