Medical Tourism
Are you planning a trip abroad and maybe combining with medical needs? These resources focus on Medical Tourism and Travel.
We provide affordable plastic surgery at the highest quality.
340 views
Submitted Feb 26, 2010 AllMedicalTourism.com has been founded by veterans in the consumer internet and healthcare fields to provide a trusted source of health information for consumers considering medical treatment abroad.
127 views
Submitted Apr 30, 2010
Dental Office and Lab in Croatia. Diagnosis, Cosmetic Dentistry, Prosthetics, Dental Implants, Veeners, Crowns, Bridges, Dentures, and Tooth Whitening.
363 views
Submitted Feb 26, 2010
We are located in Riga, Latvia, the "Pearl of the Baltics" a vibrant cosmopolitan city, emerging as one of the European Union's fastest growing members. Visit us and enjoy the city's many attractions and receive modern dental care at a fraction of Western prices.
400 views
Submitted Feb 26, 2010
Dental clinic located in Split, Croatia. Specializing in cosmetic and implant dentistry, our young team offers over a decade of experience, state-of-the-art equipment, the latest techniques in diagnosis and treatment, and only leading band name materials.
426 views
Submitted Feb 26, 2010
Quality dental care using the latest in dental technology. Vist Split Croatia and visit our practice! Need implants, veneers, bridges, crowns, dentures....
364 views
Submitted Feb 26, 2010
organizes plastic surgery and other cosmetic packages within Argentina and Tunisia, Africa
367 views
Submitted Feb 26, 2010
Prague Makeover arranges cosmetic surgery and FUE hair transplants, combined with some time in magical Prague
350 views
Submitted Feb 26, 2010
The latest yet affordable medical facilities in India have made it the favorite destination for all medical and health tourism.
356 views
Submitted Feb 26, 2010
The only corporate dental hospital in Tamilnadu, Chennai
107 views
Submitted Sep 21, 2010
We are specialists in smile design and top quality dental implants at affordfable prices. DENTORIUM team members are the leaders of dental tourism in Croatia and have provided services to more than a thousand international patients. Turn your visit to the dentist into a relaxing treat for yourself!
332 views
Submitted Feb 26, 2010
Through international consultation, accreditation, publications and education, Joint Commission International helps to improve the quality of patient care in many nations. Joint Commission International has extensive international experience working with public and private health care organizations and local governments in more than 60 countries.
395 views
Submitted Feb 26, 2010
MakeoverTravel offers a wide variety of plastic and cosmetic surgery procedures for the face and body performed by international renowned professionals in Bolivia at a very affordable price.
We are dedicated to quality and the maximisation of patient safety in international accredit hospitals.
We offer a guarantee 100% satisfied patients
237 views
Submitted Feb 26, 2010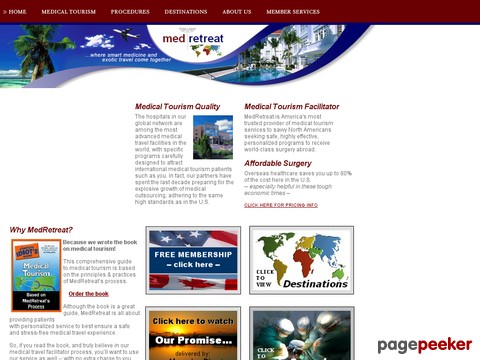 MedRetreat is the leading, American owned and operated, medical tourism service agency facilitating the healthcare needs of North Americans seeking all forms of medical treatments abroad.
404 views
Submitted Feb 26, 2010
PlacidWay is the leading online destination for health tourism, alternative medicine, and guided medical tourism.
334 views
Submitted Feb 26, 2010
BBB member Medical Tourism company based in Plano, TX USA.
144 views
Submitted Feb 26, 2010
MedicalTourism.com is a free, confidential, independent resource for patients and industry providers. Our mission is to provide a central portal where patients, Medical Tourism providers, hospitals, clinics, employers and insurance companies and information come together - easily, independently and confidentially in the area of medical tourism, dental tourism, and health tourism.
95 views
Submitted Apr 30, 2010
information about medical tourism and related links from answers.com
417 views
Submitted Feb 26, 2010
The Medical Tourism Association (Medical Travel Association), also known as the Global Healthcare Association, is the first international non-profit association made up of the top international hospitals, healthcare providers, medical travel facilitators, insurance companies, and other affiliated companies and members with the common goal of promoting the highest level of quality of healthcare to patients in a global environment.
95 views
Submitted Apr 30, 2010
Forerunners Healthcare are the pioneers and leaders of medical tourism to India and have provided services to more than 400 International patients across the globe.
264 views
Submitted Feb 26, 2010

About Dave's Pick
Category Stats
Listings:
30
Regular:
30
Last listing added:
Apr 1, 2016