Military Travel
Travel options for the armed forces
the Armed Forces Vacation Club
205 views
Submitted Dec 20, 2014
Effective travel management is our specialty at CWTSatoTravel. As the U.S. military and government division of Carlson Wagonlit Travel, the largest provider of global corporate travel services, we have access to resources and innovations that enable us to deliver the best services in the industry. Our products and services provide optimal solutions for our customers, ultimately helping them travel more economically.
214 views
Submitted Dec 20, 2014
the DoD Center for travel excellence
157 views
Submitted Dec 20, 2014
GovArm provides leisure and vacation travel services for government and military personnel, including retirees. With services ranging from condominium rentals, cruises, car rentals, hotel reservations, and vacation packages, there is something for everyone.
194 views
Submitted Dec 20, 2014
We are a website devoted to helping military families with the latest advice in travel. We started as columnists for military newspapers. Now, we offer a central location where our military can find travel deals and discounts and recommendations on what to do, where to go, what to see and what NOT to leave home without!
152 views
Submitted Dec 20, 2014
lists various military flight fares
154 views
Submitted Dec 20, 2014
Military Flight Travel transforms large dollar travel expenses to affordable payment plans that allow you to customize and control your travel spend, reducing the up-front burden on you and your family.
159 views
Submitted Dec 20, 2014
Since 2002, MilitaryHops.com has been dedicated to being the premier index of information about Space Available (Space-A) Military Flights that qualified people can travel on.
161 views
Submitted Dec 20, 2014
The Ultimate website for Military Travel! And the largest database of travel companies offering Military Discounts.
544 views
Submitted Dec 20, 2014
We search over 400 airlines for the best military discount airline tickets deals all in one place. If you are looking for the best military airfare discounts for you as an active military, or your immediate family, your search is over.
157 views
Submitted Dec 20, 2014
Since 2002 MilitaryTravel.com has helped military families find actual Military Discount travel bargains.
165 views
Submitted Dec 20, 2014
Military Travel Exchange provides military members and their families with full travel services and military travel loans. We understand that many military members are short on time and money so its our goal to make your military travel as affordable and easy as possible.
165 views
Submitted Dec 20, 2014

The Military Travel Services Organization (MTSO) was established to provide military personnel and their families with low cost travel services. We do this through a combination of service and technology.
166 views
Submitted Dec 20, 2014
Since 1999, the Military Travel Store has provided travel financing for over 10,000 Personnel and their Dependents. We deliver the lowest financeable fares, industry leading customer support and the peace of mind that your travel plans were arranged by the most experienced travel professionals
159 views
Submitted Dec 20, 2014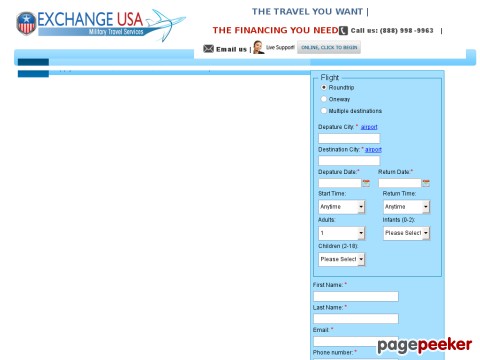 Exchange USA Military Travel Services was founded in 2009. We are a locally owned and operated company based in the heart of Norfolk, Virginia. Because of the good fortune of our location, we are extremely familiar with, and sensitive to the needs, demands and desires of our military customers.
160 views
Submitted Dec 20, 2014
Poppin' Smoke is for retired and soon-to-be retired members of the military community who want to learn how they can take advantage of their retirement benefits to travel.
148 views
Submitted Jan 16, 2017
Special Military Active & Retired Travel Club (SMART) brings military veterans (active, retired, & honorably
170 views
Submitted Dec 20, 2014
Spacea.net's Pages and FAQ are unofficial web pages developed as a volunteer service to the members of the uniformed services/military community.
159 views
Submitted Dec 20, 2014
United Military Travel is an American owned company that specializes in 100% military travel financing for all Military and Government Personnel. We finance both Active Duty and Career Retired Military members, as well as government employees. We can get most applicants approved with NO DOWN PAYMENT!
162 views
Submitted Dec 20, 2014

About Dave's Pick
Category Stats
Listings:
19
Regular:
19
Last listing added:
Jan 16, 2017