Podcasts
These are podcasts devoted to travel
The topic of the blog and podcast is smart budget travel tips: Everything I
122 views
Submitted Apr 19, 2010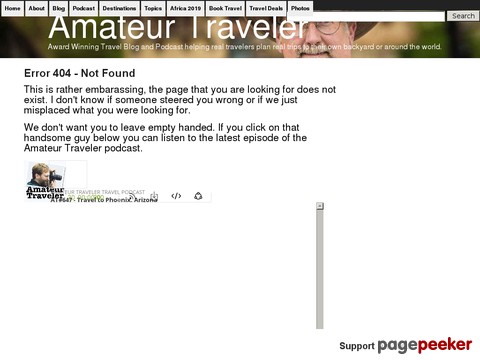 Amateur Traveler - The Amateur Traveler is a travel show that helps you find the best places to travel. It includes both a weekly audio podcast and a twice monthly video podcast. It also includes travel news and resources.
108 views
Submitted Feb 26, 2010
Around the World is an informative, entertaining and dynamic sixty-minute travel talk show. It was launched in 1998 and has consistently gained a growing listenership
103 views
Submitted Dec 16, 2013
Daily interviews with inspiring world explorers and travel experts to help you travel further and more often for less, and get inspired to find life-changing experiences.
91 views
Submitted Jun 11, 2014
The Indie Travel Podcast is all about travel, especially independent travel. It?s run by Craig and Linda ? full-time travellers ? and aims to bring you some tips and topics from the world of independent travel. We normally give some travel advice, but each month we also review a product or service that we?ve found useful or we bring you an interview from someone we?ve met along the way.
123 views
Submitted Mar 25, 2010
Are you trying to get the most out of travel with your limited vacation time? With my Journey Journal podcast, I guide travelers to places where they can have fun, self-directed vacations by sharing my experiences traveling on a budget around the country and the world.
87 views
Submitted Dec 18, 2014

international travel podcasts and charity work
95 views
Submitted Jul 31, 2010 We are your co-hosts of this podcast. It is the world as seen through our eyes. Our light hearted sense of humor abounds in each of our podcast episodes, at least we like to think so.
81 views
Submitted Jul 3, 2016
Travel writer and videographer Robert Reid has written about a far-range of travel destinations and topics for outlets including The New York Times, Wall Street Journal, ...
95 views
Submitted Oct 2, 2013
A podcast about traveling the world - Hosted by Britton Perelman
75 views
Submitted May 1, 2016
An audio and video podcast of my trip hitchhiking around the world by sea
119 views
Submitted Apr 19, 2010
travel podcasts, often updated
100 views
Submitted Mar 14, 2010
Comedian and TV host Mike Siegel (TBS, HGTV) sits down to a lighthearted chat with his friends to hear their best (and worst) international travel stories. Every week Mike welcomes a different guest (some famous, some not) to hear their true tales from lands far away.
96 views
Submitted Feb 7, 2013
internationally focused travel podcasts
80 views
Submitted May 1, 2016
audio chronicles of their travels
90 views
Submitted Dec 9, 2014

About Dave's Pick
Category Stats
Listings:
15
Regular:
15
Last listing added:
Jul 3, 2016