Sailing
Sites about sailing as well as travel companies offering sailing trips. Also visit our Crewing Links
One Family&#39
31 views
Submitted Feb 3, 2013
a minimalist life by sea and land
8 views
Submitted Apr 3, 2016
Luxury yacht vacation specializes in mediterranean charter yachts for unique, private and personalized boating vacations in european waters.
8 views
Submitted Oct 10, 2016
good photography site focusing on Maratime images
160 views
Submitted Feb 26, 2010
intimate trips on the Maple Leaf - off the British Columbia and Alaskan coasts
91 views
Submitted Feb 26, 2010
We are Mary & Tharon Rodriguez. In August 2015, we got married. What started out as a wedding website has now turned into our small corner of the internet to share whatever we please. We're currently cruising on our sailboat, Tipsy Gypsy along with our two Chihuahuas – Jake & Elwood.
9 views
Submitted Dec 18, 2016
Welcome to Matt & Jessica Johnson's sailing page. We are a couple of Michiganders (Grand Rapids) had grown up without ever setting foot aboard a sailboat, but decided to take it up as a hobby one summer in 2008 when we had nothing better to do. Although that's putting it lightly for my husband Matt. For him, it's an obsession.
20 views
Submitted Jun 11, 2014
Yacht charter and sailboat rental company
28 views
Submitted Mar 31, 2010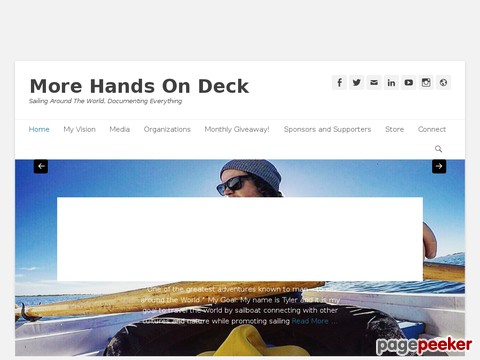 We travel the world by sailboat connecting with other cultures and nature promoting sailing as a viable means of travel.
21 views
Submitted Oct 3, 2013
An epic sailing adventure of surfing, skateboarding, kiteboarding, and exploration aboard the "Natural Mystic"
25 views
Submitted Nov 19, 2012
We offer thousands of charters in both sail and power vessels to destinations world wide. Search our new website for your perfect charter with the world image map or with the advanced search. We are continuously adding new boats and destinations online
26 views
Submitted Jul 21, 2010
A completely unique Greek sailing experience, tailored for your adventure
17 views
Submitted Mar 6, 2014
Our present day adventures while we plan our sailing adventure
23 views
Submitted Jul 27, 2013
Verena and Mike met while working aboard a research vessel in Alaska. After freezing in Alaska for two years and getting rained on in Portland, Oregon for five, we have finally realized our dream of buying a sailboat and heading south. Thanksgiving 2011 we moved aboard Camille. We are currently cruising Mexico with plans to head west.
29 views
Submitted Dec 14, 2012
Follow our journey to buy, refit and sail The Atticus around the world
17 views
Submitted Jun 15, 2014
the world's first adaptable kayak
257 views
Submitted Feb 26, 2010
a demanding hard core adventure around the world sailboat race
37 views
Submitted Jul 15, 2012
their mission is to promote the growth of the sailing industry
292 views
Submitted Feb 26, 2010
need email access in specific remote watery parts of the globe - check out Sail Mail!
225 views
Submitted Feb 26, 2010
Riley and Elaynas sailing blog
10 views
Submitted Dec 23, 2015

About Dave's Pick
Category Stats
Listings:
58
Regular:
58
Last listing added:
May 1, 2018