Student Travel
Get more for your dollar. Also visit our Hostels Links page
Spring Break vacation and party packages for college students.
503 views
Submitted Feb 26, 2010
student travel experts are waiting to make your next class trip, field trip, graduation trip, or student cruise a success. We provide band trips, festival and performance opportunities for bands, choirs, dance teams and more
893 views
Submitted Feb 26, 2010
Present in over 110 countries and territories and with over 60,000 members, AIESEC is the world's largest student-run organisation. Focused on providing a platform for youth leadership development, AIESEC offers young people the opportunity to be global citizens, to change the world, and to get experience and skills that matter today
147 views
Submitted Sep 7, 2012
specializing in college spring break packages
804 views
Submitted Feb 26, 2010
providing Spring Break, Graduation Trip and Custom U-Design packages. Specializing in high school, college/university students and family/alumni travel
777 views
Submitted Feb 26, 2010
Contiki Holidays offers budget student travel tours for 18 - 35 year olds including destinations to Europe and the UK, Asia, Latin America, United States, Africa, Canada, Australia and New Zealand.
689 views
Submitted Feb 26, 2010
international travel for teachers and students
161 views
Submitted Apr 30, 2010
student tours and educational travel
183 views
Submitted Apr 30, 2010
GapGuru is a gap year specialist offering a wide range of exciting volunteer, travel and internship opportunities across Asia, Africa, South America and Europe. With GapGuru you could be doing anything from teaching orphans in Tanzania to working as a medical intern in India!
147 views
Submitted Aug 10, 2013
Global Citizens Travel is a US-based travel provider that offers customized, budget-conscious travel for independent students studying abroad.
154 views
Submitted Jun 3, 2012
is the leading international education and experiential travel resource
626 views
Submitted Feb 26, 2010
Since 1976 - The Official Grad Week Senior and Graduation Trips Company! USA Student Travel & Invasion Tours have joined to form Grad Week - The Worlds Largest Student Tour Operator!
520 views
Submitted Feb 26, 2010
Abroadplanet is a community of international students studying in the USA. It provides comprehensive and free information about everything international students need to know about studying and living in the USA.
944 views
Submitted Feb 26, 2010
NomadHead is a digital magazine for gap year travellers.
94 views
Submitted May 30, 2015
American Tours and Travel expert coordinators plan student trips for bands, choirs, youth groups and others to Orlando. Come to Walt Disney World, Universal, Sea World, Busch Gardens, Kennedy Space Center and enjoy the benefits of an Orlando based agency. No one can match our buying power.
388 views
Submitted Feb 26, 2010
Oyster Worldwide is a well regarded gap year travel and responsible travel specialist. Most of our projects were founded in 1999 and have been nurtured and supported by us ever since. We are known for giving you the opportunity to make a genuine contribution to your chosen project and for the first class support you receive.
140 views
Submitted Jul 21, 2012
With over 40 years of experience working with Canadian youth, S-Trip! is Canada
124 views
Submitted May 2, 2010
SpringBreakDirect.com is your one stop shop for planning and booking your college spring break trip.
372 views
Submitted Feb 26, 2010
specializing in Spring Break Cancun vacations, Spring Break Cancun packages, Spring Break Cancun for 2005, Spring break travel and Spring Break trips
629 views
Submitted Feb 26, 2010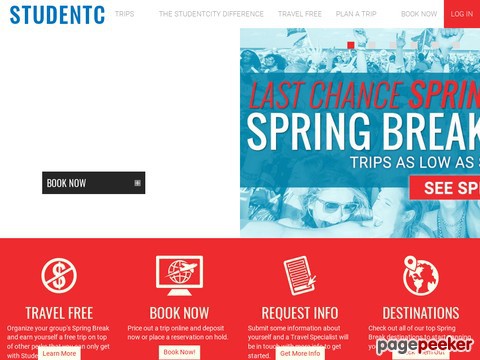 college Spring Break at Spring Break Travel. Specializing in spring break vacations, spring break cruises, Cancun spring break and spring break trips
548 views
Submitted Feb 26, 2010

About Dave's Pick
Category Stats
Listings:
38
Regular:
38
Last listing added:
Nov 26, 2017