39 matching results for "adventure travel":
Oz Adventures offers gap year and
adventure
packages and stopover flights to Australia and New Zealand. Visit Oz Adventures today and book your next
adventure
holiday.
369 views
Submitted May 16, 2013
Australian based
adventure
company, offering International trips
70 views
Submitted Dec 11, 2012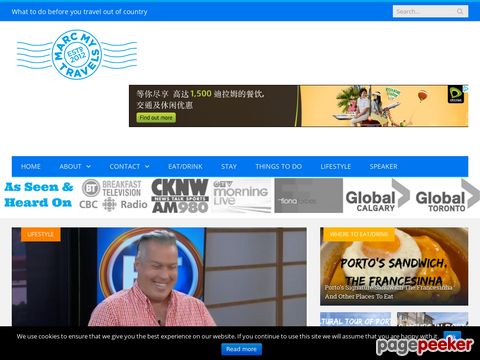 Marc Smith is the Founder and Editor in Chief at 30 Day Adventures. Marc is passionate about building community and engaging in authentic communications.
69 views
Submitted Nov 10, 2014
Get great ideas for your Africa holiday or African safari.
Travel
with African Sands, a complete South Africa
travel
service with detailed safari information, maps, South Africa hotels, lodges & tours on our website.
62 views
Submitted Mar 31, 2010
Austin Adventures is the true essence of active
adventure
travel
and vacations. With 38 years of experience, you"™ll have the perfect vacation with us.
61 views
Submitted May 26, 2017
Guided expeditions to the worlds' most amazing summits. Join a team of professional rock climbing guides as you summit some of the world's most beauitufl
58 views
Submitted Jun 3, 2013
G Adventures is home of "the great
adventure
people", and it is on our site where visitors can find their next great destination. In addition to offering tours all around the world, G Adventures also houses plenty of free resources such as
travel
tips, guides, and The Looptail -- G Adventure's blog. Their tour packages range from relaxing to rigorous, with options available for solo
travel
, families, or big groups. Whether your aim is to find a nice beach to relax on or to feel like a survivalist in extreme conditions, G Adventures can help get you there.
56 views
Submitted Mar 12, 2014
Africa guide information on kenya tanzania safari, gorrilla trekking, car leasing services, mombasa beach holiday, budget camping and lodge safaris vacation, climbing mount kilimanjaro,
adventure
travel
, camping on the cheap
46 views
Submitted Dec 14, 2012
A collection of outdoor lodging and
adventure
destinations in North America. Offers
travel
guides about the ideal places for
adventure
travel
and the best lodging and activities in those areas.
46 views
Submitted Feb 22, 2011
Were Jason and Nikki Wynn, a couple of perpetual travelers, RV'ers (for now) and modern day documentarians. This is the home of our discoveries and adventures all depicting the unscripted tale of the quirky couple who traded in everyday life to satisfy their wear-out-your-shoes sense of
adventure
.
45 views
Submitted Nov 8, 2013
We are the
Adventure
Travel
Trade Association (ATTA), a global membership organization and home to a thriving community of more than 800 responsible, profitable businesses, destinations and media who transform customers and businesses alike into advocates for sustainability and justice worldwide.
45 views
Submitted May 24, 2013
several west coast usa hostels along with
adventure
travel
services
44 views
Submitted May 27, 2015
Digital Nomad
Travel
Magazine is a fountain of inspiration for independent
adventure
travelers and photographers.
36 views
Submitted Oct 21, 2014
Let'sBeWild.com is an online
adventure
travel
magazine, inspiring you to leave the comfort of the known for the excitement of the unknown.
36 views
Submitted Dec 5, 2012
I'm Kristin, a Texan born to an American father and English mother. I'm a 20-something American expat who is currently living in (and loving) the land down under. I've been traveling since I was three weeks old when my poor mother flew with me from Maryland to Texas, and I've been hooked ever since
30 views
Submitted Feb 2, 2013
Bali Tour Organize, Bali tours and
travel
guide site. We offers best Bali Tour Package services for your holiday and vacation in Bali. Very flexible tours itinerary and very much based on your interest and it will be a great pleasure to organize your accommodation, tours itinerary, We cover from cultural tours, adventures, spas, trekking, cycling, water sport activities.
29 views
Submitted Dec 16, 2012
The intent of MBSB is to chronicle my path and sub sequentially stimulate others to follow theirs. It also serves as a guide and a community for travelers, nomads and those interested in training muay thai in Thailand. At the very least, it's meant to offer some interesting anecdotes. And some pretty pictures.
28 views
Submitted Dec 10, 2013
Stories, photos, tips and tricks from adventures around the world
27 views
Submitted Oct 18, 2014
Since the day I was old enough to remember, Ive always had a desire to venture to new places, experience new things and explore (sometimes getting myself in plenty of trouble doing so). As I got older, I didn't get much smarter in that department, but I did gain a bit more experience over the years.
26 views
Submitted Jun 13, 2014
The purpose of this site is to just present, humbly, an edited view of the world. At least mine. Sounds pretentious, but its not intended to be. Traveling is what I love to do and whenever my friends are heading somewhere, they ask Im going here, what should I do? Where should I stay? Where should I eat? After sending hundreds of cut-and-paste emails of suggestions, I just decided to create this site.
25 views
Submitted May 27, 2015