79 matching results for "backpacking":
Everything about tents and outdoors equipment and gear for camping, hiking,
backpacking
and anything outdoors, we have got you covered!
235 views
Submitted Aug 24, 2016
A blog with tips for digital nomads, location independent professionals, slow travelers and all who work digitally while they travel
161 views
Submitted Aug 5, 2010
Born in 2013, A World to Travel is a travel blog with a focus on Round the World experiences. We are a photography and travel writing team willing to deliver quality content and inspiring stories.
158 views
Submitted Feb 8, 2013
Welcome to the award-winning Cheapest Destinations Blog, up since the dawn of the blogosphere and written by an expert on where and how to travel well for less money.
145 views
Submitted Nov 8, 2013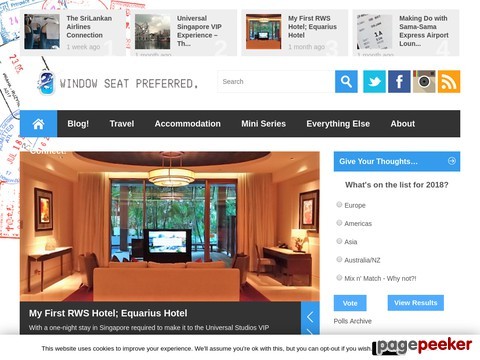 Round-the-world #traveller, renowned cheapskate, #tech & #internet addict
144 views
Submitted Jun 17, 2014
Im Katie. I like veggies, I like travel, and I like to eat veggies while traveling! My blog covers vegetarian and vegan travel, general travel tips, and my personal veggie recipes
141 views
Submitted Dec 12, 2014
a person who stays briefly in one place
133 views
Submitted Jan 25, 2013
Find your hostel, restaurant, museum or attraction and get a discount up 50%! Deals all over Europe
124 views
Submitted Feb 7, 2016
Welcome to my site that's all about sharing my adventures from around the world through fun and entertaining travel documentaries.
123 views
Submitted Dec 26, 2015

outdoor and hiking travel blog
121 views
Submitted Sep 2, 2016
My name is Anna, I am the person behind the scenes of Abroad and Beyond.net and an obsessive compulsive traveller. I was born and raised primarily in Siberia, that faraway place where you consider sending your misbehaving children and all annoying people
119 views
Submitted Dec 1, 2016
oung traveler hoping to inspire others to create their own adventures around the world.
110 views
Submitted Jun 5, 2016
My name is Dennis Kopp and I am not only the author of what you are reading, but also the eyes in which you are seeing this website. It seems strange now, but for most of my life I was actually never much of a traveller. In fact, I never really liked to be away from home and for many years I did not even go anywhere when I had vacation time…
109 views
Submitted Mar 9, 2013
A modern day nomad, social media enthusiast and marketing consultant
105 views
Submitted Feb 24, 2013
A blogging traveling twosome - adventure seekers who cannot resist the pull of vegan restaurants and farmers markets
103 views
Submitted Jun 1, 2015
Browse our great selection of adventurous greenland tours including
backpacking
, skiing, & expeditions. experience greenland travel with help from the pros!
98 views
Submitted Dec 15, 2012
So here is where your usual travel blogger will tell you all about themselves and their amazing adventures travelling the world. Well my travel blog isn't quite like that, well not yet anyway. That's because I'm currently stuck in a boring 9-5 office job and feeling like there must be more to life.
97 views
Submitted Feb 25, 2013
We are two Pacific Northwest natives with a passion for slow travel and leading a nomadic lifestyle, both on and off the grid.
96 views
Submitted May 31, 2015
Stories, photos, tips and tricks from adventures around the world
96 views
Submitted Oct 18, 2014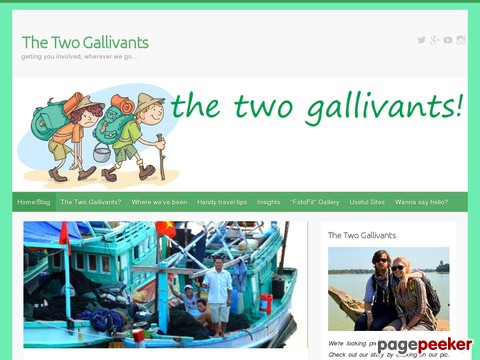 We are Emily Toyne and Declan Bradley, a couple who got together in London, left our jobs and are now gallivanting around die Welt!
94 views
Submitted Jun 15, 2014