95 matching results for "backpacking":
A blog with tips for digital nomads, location independent professionals, slow travelers and all who work digitally while they travel
92 views
Submitted Aug 5, 2010
Everything about tents and outdoors equipment and gear for camping, hiking,
backpacking
and anything outdoors, we have got you covered!
69 views
Submitted Aug 24, 2016
a person who stays briefly in one place
63 views
Submitted Jan 25, 2013
Born in 2013, A World to Travel is a travel blog with a focus on Round the World experiences. We are a photography and travel writing team willing to deliver quality content and inspiring stories.
57 views
Submitted Feb 8, 2013
Welcome to the award-winning Cheapest Destinations Blog, up since the dawn of the blogosphere and written by an expert on where and how to travel well for less money.
47 views
Submitted Nov 8, 2013
My name is Dennis Kopp and I am not only the author of what you are reading, but also the eyes in which you are seeing this website. It seems strange now, but for most of my life I was actually never much of a traveller. In fact, I never really liked to be away from home and for many years I did not even go anywhere when I had vacation time…
43 views
Submitted Mar 9, 2013
Im Katie. I like veggies, I like travel, and I like to eat veggies while traveling! My blog covers vegetarian and vegan travel, general travel tips, and my personal veggie recipes
40 views
Submitted Dec 12, 2014
A blogging traveling twosome - adventure seekers who cannot resist the pull of vegan restaurants and farmers markets
36 views
Submitted Jun 1, 2015
A modern day nomad, social media enthusiast and marketing consultant
36 views
Submitted Feb 24, 2013
We are Taran and Hannah and our aim is to provide advice on saving for your ultimate travel experience. Follow our adventures and see the places we visit, share the knowledge we gain and help prepare yourself for your own dream adventure!
35 views
Submitted Mar 3, 2014
Wel­come to Cor­rer Es Mi Des­tino! I hope you will enjoy com­ment­ing on the arti­cles, read­ing, and brows­ing. Grab a cup of tea or a cof­fee and let me intro­duce myself. I promise I'll keep it short and sweet.
35 views
Submitted Mar 9, 2013
I'm an avid traveller and I often wish I could somehow drink beer and coffee at the same time. I live in rural Newfoundland, but call the world home.
32 views
Submitted Dec 24, 2016
oung traveler hoping to inspire others to create their own adventures around the world.
30 views
Submitted Jun 5, 2016
I am a Canadian currently studying engineering. My passion is traveling (currently South America) and doing videos. My GoPro allows me to share what I see. One image is worth a thousand word so... videos are 24000 words / second.
30 views
Submitted Dec 19, 2014
Find your hostel, restaurant, museum or attraction and get a discount up 50%! Deals all over Europe
29 views
Submitted Feb 7, 2016
I've been traveling since just after I finished my degree; a month in Thailand soon turned into 2 years across Thailand, Australia, New Zealand, Hong Kong, Fiji, Indonesia, Iceland etc etc. The more I see the more I want to see. And at the moment I've got no reason to stop, no ties to the UK or to a permanent job. Over the years I've worked as a waitress, barmaid, telesales person, web content writer, painter, customer services representative, fruit picker, the list goes on but almost every job I've had has been temporary and low paid. You really don't need to be rich to travel you just need to want it badly enough. So I've decided to give this whole blog thing a go, update you on my whereabouts, tell some stories and convince you that you can travel on a budget just as I've done.
29 views
Submitted May 25, 2012
the first travel show for the
29 views
Submitted Apr 2, 2014
Roam if you want to, roam around the world
29 views
Submitted Dec 17, 2013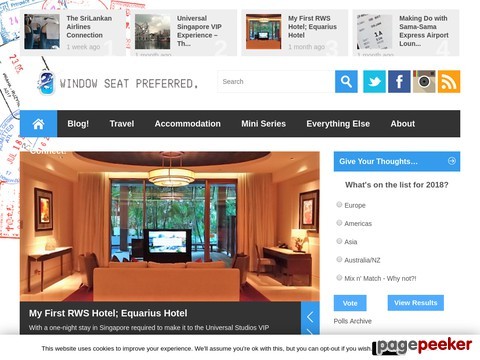 Round-the-world #traveller, renowned cheapskate, #tech & #internet addict
27 views
Submitted Jun 17, 2014
We are Mark & Katie, a newlywed couple from the Detroit area whove been bitten by the travel bug in a serious way. Follow us on our journey across America — and soon the world — as we build a location-independent lifestyle
27 views
Submitted Mar 12, 2013