56 matching results for "beach":
Lakefront cottage rental in eastern ct, close to mohegan sun casino, with a million dollar view. perfect for vacation, short term stay/temporary rental, or romantic getaway.
161 views
Submitted Jul 8, 2013

worlds most complete
beach
guide
143 views
Submitted May 22, 2013
A luxury California oceanfront resort in Palos Verdes near Los Angeles featuring a spa, fitness center, golf course and fine dining. Also features meeting facilities and wedding locations.
54 views
Submitted Feb 17, 2011
We are Michael & Melissa Harlow and we have explored the world filming, photographing, diving, hiking and much more in search of adventure.
47 views
Submitted Sep 29, 2013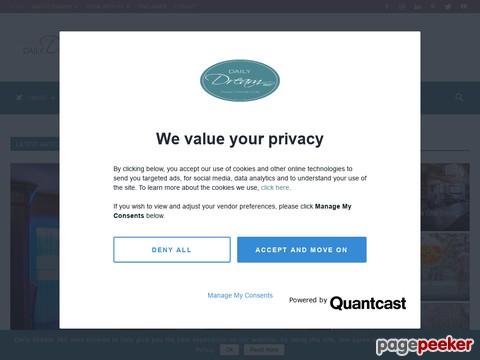 Dream Travel Magazine is an online travel magazine filled with travel tips, hotel and excursion reviews, favourite destinations and dream vacation destinations. Our mission is to provide the best travel information, tips, reviews and resources to help our readers turn their dream vacations into reality.
46 views
Submitted Jun 3, 2013
The Hotel Astoria Hotel is a comfortable accommodation in Caorle, Italy. Directly overlooking the western
beach
and a short walk from the picturesque old town, is the ideal destination for your next summer holiday in Caorle.
46 views
Submitted May 3, 2011
We met by chance one night in Toronto and have never looked back. Shadi is an animator/motion graphic artist and Im a social worker... but we're considering making traveling our full-time job! We began our vacation adventures with a trip to the Mayan Riviera for Valentines Day in 2012. We love Mexico and will be returning there for our next adventure, so stay tuned!
38 views
Submitted Jun 15, 2014
Sri Lanka holidays tour packages, Sri Lanka tours,
beach
hotels, accommodation and Ayurveda in Sri Lanka by Leisure Tours, Sri Lanka tour operator.
37 views
Submitted Oct 18, 2012
where travel and shopping meet
33 views
Submitted Oct 5, 2013
Located near the coastal road between Abidjan and Accra, in Western region, you can discover a luxurious and historically rich area. You have many opportunities to travel around the area by foot, by car or by taxi
32 views
Submitted Dec 15, 2012
Hi there! I'm Christina Gmyr: travel addict with a passion for great food and living adventurously. I recognize that this life is so brief, and I aim to make the most of it.
31 views
Submitted Dec 3, 2012
We created allthiswandering to share our desire to travel the world and reach far off places. You will find a collection of the places we have been, our great experiences and things that have ignited the fire that pushes us to pursue every corner of the world.
30 views
Submitted Jan 26, 2015
Were the Island Runaways, which simply means that we love nothing more than to run away to a beautiful island. Maybe Jamaica, or Key West, Martinique, or why not somewhere a little farther from (our) home, like the Orkney Islands off the coast of Scotland? (Theres one spot you wont want to wear a bikini...or board shorts.)
28 views
Submitted Dec 9, 2014
Jeana S writes about travel, gadgets, tech, entertainment and weddings.
28 views
Submitted Mar 22, 2013
Having caught the travel bug somewhere along the line, I've attempted to travel as much as possible and I've lived in Goa, Bangalore, Singapore, Jakarta, Nairobi, Georgetown (Guyana) and New Delhi. Things finally came a full circle and I find myself back in Goa again.
25 views
Submitted May 10, 2016
Our Caribbean
beach
resort, Kalinago, is ideal for families and couples, with privacy as well as warm, calm water in our sheltered bay, which is shallower than most beaches on the island
25 views
Submitted Dec 15, 2012
A jewel among Roatan Resorts, Turquoise Bay provides a secluded and quiet setting in its own protected bay overlooking Roatan's reef. The resort has 26 beautifully decorated rooms situated in 5 duplex bungalows, each with an unobstructed view over the
beach
and the ocean. Whether you are scuba diving or just want to relax, come and spend your vacation at Turquoise Bay Resort and enjoy the friendly service, the relaxed atmosphere and the beautiful views.
24 views
Submitted Mar 21, 2010
Sipadan Water Village is a resort beautifully constructed with Bajau architectural design. Part of the Mabul Island is also home to groups of Bajau fishermen who have built their traditional palm thatched houses.
23 views
Submitted Dec 17, 2012
Bali Surf Advisor is your surf tour guide offering comprehensive ranges of surfing, tours and adventures activities in Bali that is supported by fully dedicated teams to create the most memorable experiences during your holidays in Bali. We are also proud to provides complete information about surf in Bali, tourist activities, accommodations, places of interest and all about Bali that make it as your one stop shopping on your lovely vacation in the island of god.
23 views
Submitted Dec 16, 2012
Dora the Explorer, a Nickelodeon animated show with the main character embarks on a trip in every episode to find something or help somebody. This is where I got the concept of this blog that aims to document all my wanderings whether it be checking out century old churches or museums, meeting locals, eating exotic dishes, staying at backpacker guesthouses or sometimes resorts/hotels, traveling solo etc. My tagline is "iWander. iExperience. iKwento", a way of discovering what the world offers, experiencing it first-hand and by the use of internet, share these experiences to others.
22 views
Submitted Jan 26, 2016