23 matching results for "flights":
Adventure generator for spontaneous fellows - the intelligent search engine for the cheapest tickets of low-cost airlines
139 views
Submitted May 13, 2012
search and compare airfare
52 views
Submitted Feb 5, 2013
We are government licensed Tour Operator Specializing on handling incoming tours within Indonesia and the member of Association of Indonesia Tour & Travel.
35 views
Submitted Dec 16, 2012
Flightsite is south africa's first online travel agency offering a wide selection of travel services.
34 views
Submitted Jan 13, 2014
Since 2002, MilitaryHops.com has been dedicated to being the premier index of information about Space Available (Space-A) Military
Flights
that qualified people can travel on.
24 views
Submitted Dec 20, 2014
Offering UK and Ireland travelers holiday packages and deals on
flights
, hotels and activities in Dublin, Spain, Paris, Berlin, Dubai and other city destinations. Features specials on spa, golf and seasonal getaways to Marriott hotels and resorts worldwide.
24 views
Submitted Apr 21, 2011
Welcome to Nicks Travel Blog, where Ill be blogging about hotels,
flights
, road trips and more.
21 views
Submitted Mar 8, 2013
ADVENTURE INDONESIA, a registered trademark and licensed Indonesia tour operator. We are member of Pacific Asia Travel Association (PATA
20 views
Submitted Dec 16, 2012
Ghana Safari Tours was set up by Swedish nationals and their Ghanian patrner who has first hand experience in Ghana Safari and other adventure tours which he holds with high merit certificate awards as he emerged the best guide in the department of Kwabarksa tours not forgetting the number of recommendation letters received from clients.
20 views
Submitted Dec 15, 2012
Generic travel blog with Ideas, Motivation, Information and downright Inspiration to get you to Travel Overseas Now. What are you waiting for?
18 views
Submitted Jul 2, 2016
Online travel guide for hotels, restaurants, attractions, and entertainment in Nairobi. Includes news, events, weather, photos, and travel help.
16 views
Submitted Jun 18, 2010
oung traveler hoping to inspire others to create their own adventures around the world.
15 views
Submitted Jun 5, 2016
This is the blog of independent traveler.
13 views
Submitted May 5, 2016
Hello there, my name is Aaron Williamson, Im originally from Australia and I currently live in New York City. I got the travel bug early and as soon I had saved enough money I took off on my first European adventure.
13 views
Submitted Jun 12, 2014
The location of Budapest Hotel Charles is ideal. The city center with the shopping area and business world, or historical buildings like the Royal Palace lie only few hundred meters away from our hotel. Budapest features lots of exciting sights, the most are within minutes to reach with the excellent public transport facilities available at the hotel. Budapest Hotel Charles offers fully equipped studios and apartments.
13 views
Submitted Dec 14, 2012
Pick 'n Pay Travel is a leading South African online travel agency, providing the best travel deals on South African
Flights
, Cars, Hotels, Holidays and Travel Packages.
11 views
Submitted Jan 19, 2014
We are a family of 4 who live a normal life most of the time, work, school, home. But we love to travel and have traveled Europe on a few occasions and hope to ramp up out travel adventures in the coming years and months.
10 views
Submitted May 27, 2015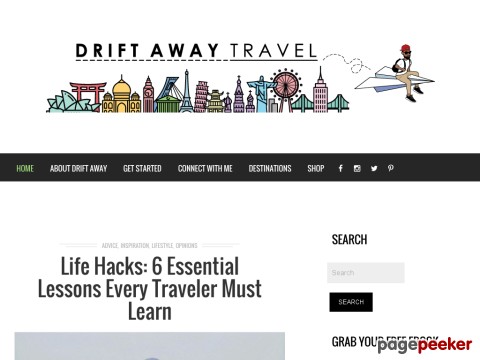 I'm Kyle, and over the past few years, I fell in love with travel. I was born in Trinidad, but raised in Montreal (Quebec), Canada. I'm not sure why it took me so long to finally realize how amazing traveling is, but let's chalk it up to me being a late bloomer.
9 views
Submitted Jan 11, 2016
Go anywhere you want in Iceland with the Helicopter Service of Iceland You don't need roads to get there and we don't need airports to land in the most remote locations.
8 views
Submitted Dec 16, 2012
Providing worldwide luxury travel within any budget. contact us today to plan your dream vacation.
6 views
Submitted Jan 19, 2017