85 matching results for "food":
David & Veronica are experiencing the collision of Baby Boomer and Empty Nester. We decided to grab life by the horns, sell the nest and become GypsyNesters!
71 views
Submitted Jul 25, 2014
Stuart Foster regularly travels and this is his blog
54 views
Submitted Jun 12, 2014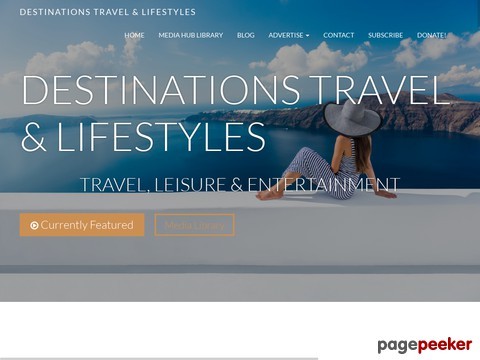 articles about beautiful destinations
45 views
Submitted Apr 8, 2013
My name is Dennis Kopp and I am not only the author of what you are reading, but also the eyes in which you are seeing this website. It seems strange now, but for most of my life I was actually never much of a traveller. In fact, I never really liked to be away from home and for many years I did not even go anywhere when I had vacation time…
43 views
Submitted Mar 9, 2013
I am a freelance writer and author specializing in lifestyle and travel, with a heaping spoonful of culinary curiosity on the side.
40 views
Submitted Nov 10, 2012 global community of travelers
39 views
Submitted May 1, 2016 Travel blog featuring humorous and informative reviews of events, activities and eats in Northern California
36 views
Submitted Mar 30, 2013
Founder of BaldHiker.com and avid hiker, climber and trekker. never liking to sit still and always seeking new adventures around the world
35 views
Submitted Feb 10, 2013
Welcome to our
food
& travel blog! We consider ourselves to be a spicy and sporty couple who feel there is some room for a bit more fun in restaurant reviews, travel highlights and life experiences. Our names are chosen for the diversity of the spices, the areas of the world we have explored and the long history associated with these specific plants. Nutmeg in particular loves the hot humid climates and has a special love for the caribbean.
Food
for Ginger and Nutmeg is the ideal medium for learning about different cultures and understanding the deep history associated with the places they have travelled. However, possibly the most compelling reason for this blog is a little bit of adventure and the desire to create a community around the world of
food
and a passion for travel.
34 views
Submitted May 15, 2013
Carol left a career in public relations and became a girl gone travel with a goal to inspire and share her discoveries where ever her travels may take her.
33 views
Submitted Sep 25, 2013
weekly webisodes about traveling and living living life outside
33 views
Submitted Dec 13, 2012
adventurers hunting for hidden travel and cultural treasures
32 views
Submitted Feb 7, 2013
I'm Laure, a french who loves travelling, cooking and learning
31 views
Submitted Jan 31, 2016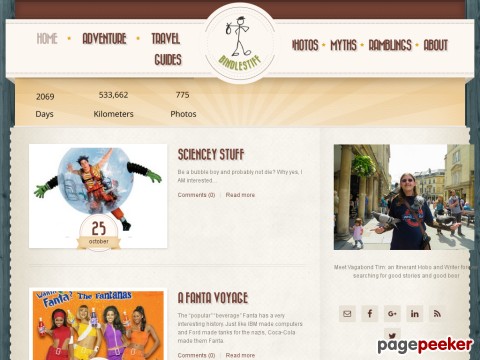 Meet Vagabond Tim: an Itinerant Hobo and Writer forever searching for good stories and good beer
31 views
Submitted Jun 13, 2014
where travel and shopping meet
31 views
Submitted Oct 5, 2013
Im Katie. I like veggies, I like travel, and I like to eat veggies while traveling! My blog covers vegetarian and vegan travel, general travel tips, and my personal veggie recipes
29 views
Submitted Dec 12, 2014
Exploring Tourism "Connecting Tourists with Tourism" is building international tourism network by launching worldwide travel destinations website and working with local operators to explore local tourism opportunities and offer unique and reliable travel services to global tourists.
29 views
Submitted Nov 10, 2013
accurate travel news and advice from Bob Payne
29 views
Submitted Feb 10, 2013
Living by my motto "see the world through a different set of glasses" I aim to help people vision the world in a different way than what we are accustomed to. The world talks to us in many different forms
26 views
Submitted Jul 6, 2013
So who are we? We are an American and Australian husband and wife who met over 10 years ago in a dingy hostel in Bruges, Belgium, while each traveling alone. We were both fresh out of college and both happened to be heading to Amsterdam within 2 days. So we decided to meet up again there. Little did we know that 6 years later we would end up living there together, married to each other!
26 views
Submitted Feb 19, 2013