41 matching results for "holidays":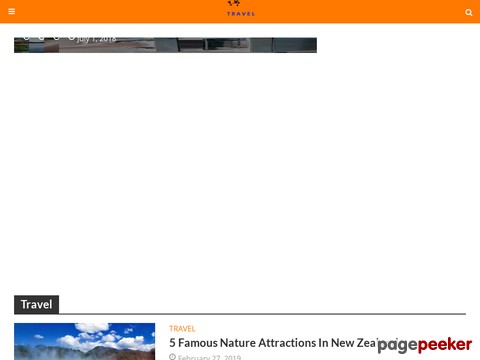 Great vacation holiday offers in Kenya, Tanzania and Uganda for family, beach and lodge, bird watching and special interests, mountain climbing and camping safaris.
216 views
Submitted Sep 9, 2010
My name is Tom and together with Kate (my most loving wife), we started 2bearbear.com – a Singapore Travel Blog where we can share our travel experiences and create an online avenue for ourselves to remember all our trips. Basically when we want to review our trips or share travel itineraries with our friends, we just ask them to head here.
91 views
Submitted Jun 19, 2014
travel tips and advice
54 views
Submitted Dec 5, 2012
Advisortravelguide , is a blog dedicated to YOUR TRAVEL DESTINATIONS. Whatever destination you are taking as a traveler, a holiday, an intrepid adventurer or an organized tourist destination, we are going to give you some advices for every single step of yours.
51 views
Submitted Feb 23, 2013
Travelog, as I understand, is a fusion of two words travel + dialog, a conversation about one's travel. It also means travel + log, logging your travel into a journal or something. Because I don't want anything or anyone to be left out, Travelog with Jem (TwJ, read T with J) takes both definition.
49 views
Submitted May 8, 2016
The Hotel Astoria Hotel is a comfortable accommodation in Caorle, Italy. Directly overlooking the western beach and a short walk from the picturesque old town, is the ideal destination for your next summer holiday in Caorle.
49 views
Submitted May 3, 2011
Offering UK and Ireland travelers holiday packages and deals on flights, hotels and activities in Dublin, Spain, Paris, Berlin, Dubai and other city destinations. Features specials on spa, golf and seasonal getaways to Marriott hotels and resorts worldwide.
42 views
Submitted Apr 21, 2011
Sri Lanka
holidays
tour packages, Sri Lanka tours, beach hotels, accommodation and Ayurveda in Sri Lanka by Leisure Tours, Sri Lanka tour operator.
40 views
Submitted Oct 18, 2012
We met by chance one night in Toronto and have never looked back. Shadi is an animator/motion graphic artist and Im a social worker... but we're considering making traveling our full-time job! We began our vacation adventures with a trip to the Mayan Riviera for Valentines Day in 2012. We love Mexico and will be returning there for our next adventure, so stay tuned!
39 views
Submitted Jun 15, 2014
Located near the coastal road between Abidjan and Accra, in Western region, you can discover a luxurious and historically rich area. You have many opportunities to travel around the area by foot, by car or by taxi
33 views
Submitted Dec 15, 2012
Hi there! I'm Christina Gmyr: travel addict with a passion for great food and living adventurously. I recognize that this life is so brief, and I aim to make the most of it.
33 views
Submitted Dec 3, 2012
Bali Surf Advisor is your surf tour guide offering comprehensive ranges of surfing, tours and adventures activities in Bali that is supported by fully dedicated teams to create the most memorable experiences during your
holidays
in Bali. We are also proud to provides complete information about surf in Bali, tourist activities, accommodations, places of interest and all about Bali that make it as your one stop shopping on your lovely vacation in the island of god.
26 views
Submitted Dec 16, 2012
Look, technically were two grown adults who quite frankly refuse to grow up! Our nicknames have always been Peter Pan & Tinks and very fittingly so. We have this incredible urge to travel the world for a living someday when all our kids are grown up and out the house, but have started our great adventures when and wherever we can. This is where well share them with you, give you handy travel tips and advice and help you to start ticking off your bucket lists too!!
24 views
Submitted May 27, 2015
ADVENTURE INDONESIA, a registered trademark and licensed Indonesia tour operator. We are member of Pacific Asia Travel Association (PATA
24 views
Submitted Dec 16, 2012
Quality Madrid apartments for short stays and luxury apartments in central Barcelona free reservation service and full assistance.
23 views
Submitted Oct 13, 2011
Economy Booking is a website where one can find budget hotels and make online booking. We offer a wide range of discount hotels worldwide at the best prices.
23 views
Submitted Jul 30, 2011
travel mgazine
23 views
Submitted Dec 10, 2013 Top Bali Tour offers a cheap Bali Holiday packages by provide Bali Tours, Bali Adventure Tours, Bali Packages Tour, Overland Tours and many other activities.
20 views
Submitted Dec 16, 2012
WELCOME TO BALI, hi..My name is Agung Rahtut you can call me Agung. I am Balinese, a professional tour organizer in Bali and English Speaking Bali Tour Driver Provider.
20 views
Submitted Dec 16, 2012
Hidden Bali Vacation Tours was designed for you to get the best out of your
holidays
in Indonesia:
20 views
Submitted Dec 16, 2012