7 matching results for "house sitting":
We help home and pet owners find trusted sitters to care for their home and pets while away
186 views
Submitted Dec 14, 2012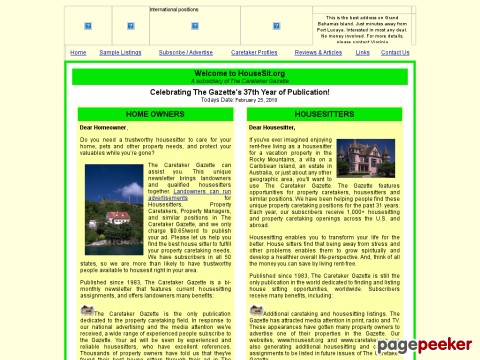 Do you need a trustworthy housesitter to care for your home, pets and other property needs, and protect your valuables while you're gone?
160 views
Submitted Dec 14, 2012
Welcome to HouseSittersAmerica.com - connecting home owners and
house
sitters throughout America.
160 views
Submitted Dec 14, 2012
The
House
Sitting
service matching owners with sitters across America
160 views
Submitted Dec 14, 2012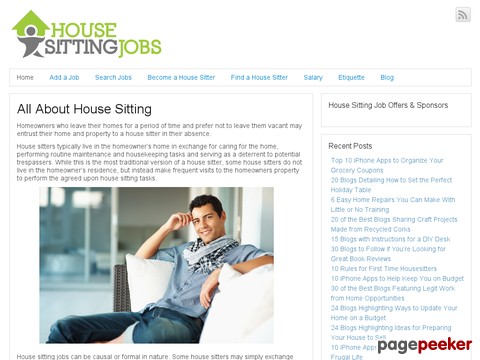 Homeowners who leave their homes for a period of time and prefer not to leave them vacant may entrust their home and property to a
house
sitter in their absence.
157 views
Submitted Dec 14, 2012
You have invested time, money and love in your estate or manor or mansion or humble home. It requires care and attention, and when you travel or are elsewhere, you want to be able to trust responsible people to stay in your abode. Whether it includes pet care or simply providing a presence, working with estate sitters can give you peace of mind.
Whether you have a vacation home that could use some off-season occupancy or you're traveling and want to arrange for care of your
house
and pet, we can help. Our
house
sitters have a wealth of reviews, testimonials and experience. They work online, so your
house
is truly home base.
90 views
Submitted Feb 3, 2019
Hopefully while we are experiencing life in the corners of the world we never meant to go to, we might inspire you to visit somewhere you never thought or maybe even heard of.
23 views
Submitted Dec 4, 2014