11 matching results for "luxury hotels":
Famtripper.com is the place to learn all about the worlds great destinations. Researching a cool new resort or hotel? Need the pros and cons of a popular hot spot? Congratulations, youve come to the right site. You won't find more helpful travel content anywhere.
116 views
Submitted Oct 5, 2013
The purpose of this site is to just present, humbly, an edited view of the world. At least mine. Sounds pretentious, but its not intended to be. Traveling is what I love to do and whenever my friends are heading somewhere, they ask Im going here, what should I do? Where should I stay? Where should I eat? After sending hundreds of cut-and-paste emails of suggestions, I just decided to create this site.
110 views
Submitted May 27, 2015
this travel blog is a personal selection of our best experiences, our favorite spots and secret places around the world curated by Debbie & David
105 views
Submitted Mar 16, 2014
ADVENTURE INDONESIA, a registered trademark and licensed Indonesia tour operator. We are member of Pacific Asia Travel Association (PATA
103 views
Submitted Dec 16, 2012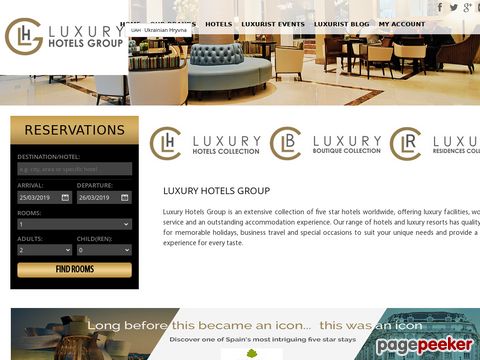 Book
luxury
hotels
for business trip or leisure holiday,
luxury
hotels
group has a great selection of boutique
hotels
and resorts that suit your travel needs.
82 views
Submitted May 17, 2016
We're a freelance travel writer and photographer working as partners in crime for several newspapers and magazines worldwide
71 views
Submitted Feb 3, 2013
Rosewood
Hotels
& Resorts features a distinctive collection of
luxury
hotels
and resorts throughout the world. Rosewood offers 5 star
hotels
, vacation villas, beach resorts and residences in North America, the Caribbean and the Middle East.
65 views
Submitted Jul 13, 2011
Hotel Puri Ayu is a new
luxury
city hotel, built in the city center of Denpasar Bali, in land of 40 acres. Offers the comfortable and high quality of accommodation, very suitable for domestic and international traveler
54 views
Submitted Dec 17, 2012
Located in one of Hong Kong's hip and lively areas – Tsim Sha Tsui / Jordan, the Madera Hong Kong (Madera) is a nature-inspired hotel offering a relaxing ambiance and is a soothing sanctuary to chill and relax. The best of Hong Kong is just on your doorstep and you could even feel the city pulse. Madera Hong Kong is Hip Shing Hong Group of Companies' first hotel project which marks a new milestone for the Group.
52 views
Submitted Dec 14, 2012
Ideally located in Brussels city centre near many area attractions, this
luxury
hotel offers guest rooms and suites, meeting and event facilities and several on-site restaurants.
38 views
Submitted Jan 31, 2011
This site is a collection of stories about my passion for
hotels
, food and travel.
19 views
Submitted Dec 16, 2018