23 matching results for "luxury travel":
When Alfred Kuoni launched his
travel
agency over 100 years ago, he was a total visionary. An adventurer and explorer, he was seeking out new places, new experiences and easing the path for fellow travellers to share all he discovered. At today's Kuoni, we're pleased to say that little has changed.
349 views
Submitted Feb 20, 2013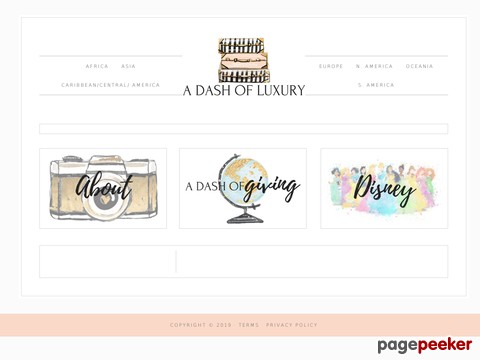 Travel
Reviews, Tips & Recaps - My name is Lauren, and I run A Dash Of
Luxury
. I'm a born and raised New Yorker, where I currently reside with my husband, …
199 views
Submitted Nov 30, 2015
Born in 2013, A World to
Travel
is a
travel
blog with a focus on Round the World experiences. We are a photography and
travel
writing team willing to deliver quality content and inspiring stories.
185 views
Submitted Feb 8, 2013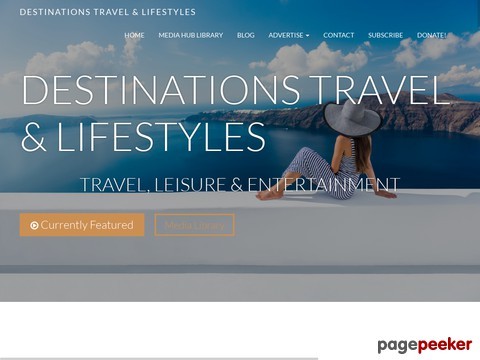 articles about beautiful destinations
183 views
Submitted Apr 8, 2013
Train Chartering, now in its 13th year, has provided private train charters and carriage hires to an extraordinary range of clients. Train Chartering operates mainly in the UK, Europe and North America - though we can arrange
travel
almost anywhere in the world.
170 views
Submitted Aug 29, 2013
Our
travel
site provides information related to
travel
all over America. We provide city and country guides, destinations for all budgets (including
luxury
& backpacker), inspiring
travel
photos and lists on top attractions. We hope to inspire you to explore this wonderful region of the world and beyond.
123 views
Submitted Feb 24, 2013
Famtripper.com is the place to learn all about the worlds great destinations. Researching a cool new resort or hotel? Need the pros and cons of a popular hot spot? Congratulations, youve come to the right site. You won't find more helpful
travel
content anywhere.
116 views
Submitted Oct 5, 2013
The purpose of this site is to just present, humbly, an edited view of the world. At least mine. Sounds pretentious, but its not intended to be. Traveling is what I love to do and whenever my friends are heading somewhere, they ask Im going here, what should I do? Where should I stay? Where should I eat? After sending hundreds of cut-and-paste emails of suggestions, I just decided to create this site.
110 views
Submitted May 27, 2015
this
travel
blog is a personal selection of our best experiences, our favorite spots and secret places around the world curated by Debbie & David
106 views
Submitted Mar 16, 2014
As you explore our website you'll find useful information about walking and hiking that was created for people who enjoy being outside and active just like you.
104 views
Submitted Mar 3, 2014
The
Travel
Curator is the only resource savvy travelers will need for the inside scoop on inspiring destinations.
Luxury
travel
expert Melanie Brandman opens up her little black book and shares her tried and tested favorites, the latest trends, and word-of-mouth
travel
tips from her globetrotting friends and tastemakers.
91 views
Submitted Mar 23, 2013
We are a Sandy and Vyjay, a
travel
blogger couple . Travelling has been our passion and we love exploring world cultures, seas, mountains, nature, food, art, history and urban places.
90 views
Submitted May 1, 2016
First Class
Travel
is an Icelandic Destination Management Company (DMC) focusing on corporate
travel
and tailor made
luxury
tours to Iceland. Our staff has extensive experience organizing incentive trips, conferences, meetings and other events (MICE), as well as organizing
luxury
private tours for individuals and groups.
85 views
Submitted Dec 16, 2012
Holiday Runway is a fine photography
travel
and lifestyle blog. Founded by Jybby Monchumas Punnakitti together with her boyfriend, Patrick Gouret. The blog is established upon our principle of "Don't wait for holiday. Make holiday. The World is our Runway".
82 views
Submitted Dec 24, 2016

Join
Travel
Indochina, the experts in Asia
travel
, on one of our Small Group Tours to Vietnam, Cambodia, Laos, Thailand, China, Tibet, India or Japan.
77 views
Submitted Jan 2, 2012
Ive been traveling the world for over 30 years. I started as a budget traveler, though now
luxury
is more my style.
76 views
Submitted Aug 4, 2015
We're a freelance
travel
writer and photographer working as partners in crime for several newspapers and magazines worldwide
71 views
Submitted Feb 3, 2013
Carlos Melia ( 41) Argentinean born, citizen of the world, now living in New York for the last 10 years. From very young age, I was exposed to the world of
luxury
travel
and lifestyle. Bachelor Degree in Hotel & Restarurant Management. Have worked for all ends of the
travel
and hostpitality industry. From my current postion as a
travel
agent and blogger, to a succesfull background in working for restauratns, hotels, airlines, cruises among a few others.
66 views
Submitted Feb 21, 2016
I caught a case of the
travel
bug early in life. Even the business
travel
required by my first job in corporate communications sealed my incurable state. Many times I thought, "They're really paying me to travel?"
65 views
Submitted Nov 21, 2015
With a severe case of wanderlust, Leah lives by the motto, "Life's too short to live with a someday mentality." When she's not in Houston dreaming about
travel
, she's being groped by airport security, getting her passport stamped, seeking out street food that won't make her sick, and writing all about it on LeahTravels.
64 views
Submitted Dec 12, 2012