23 matching results for "solo travel":
I am CLAIRE, TRAVELER and PHOTOGRAPHER whenever I can, which turned me into a
TRAVEL
PHOTO-BLOGGER. I want to get people out of their own little world to discover the beauty of Earth
184 views
Submitted Jun 15, 2014
My name is Anna, I am the person behind the scenes of Abroad and Beyond.net and an obsessive compulsive traveller. I was born and raised primarily in Siberia, that faraway place where you consider sending your misbehaving children and all annoying people
125 views
Submitted Dec 1, 2016
I'm Kate. My website is about
travel
,
travel
stories, news, tips and views for female
travel
50+ or people at any age. I love seeing the world, meeting new people, and doing new things. My stories are about my journey and the people I meet.
122 views
Submitted Jan 30, 2017
Stories, photos, tips and tricks from adventures around the world
102 views
Submitted Oct 18, 2014
Since the day I was old enough to remember, Ive always had a desire to venture to new places, experience new things and explore (sometimes getting myself in plenty of trouble doing so). As I got older, I didn't get much smarter in that department, but I did gain a bit more experience over the years.
99 views
Submitted Jun 13, 2014
I was irreversibly bitten by the
travel
bug during a 3 week trip from Copenhagen, Denmark to UlanBaatar in Mongolia – by land! Me and a buddy decided to take the trans-mongolian railroad from Moscow to UlanBaatar but instead of flying to Moscow we hitchhiked from our doorsteps in Denmark to Warsaw, the capitol of Poland and then took the train onward through Minsk in Belarus to Moscow, Russia.
96 views
Submitted Dec 20, 2015
Just Short of Crazy is a lifestyle,
travel
and food blog, edited and created by Deb Thompson.
95 views
Submitted Aug 4, 2014
Itchy Heels is a
travel
and photography blog created by a
solo
female traveller. Being pescatarian and allergic to almost everything adds to the adventure. And she is a huge fan of
travel
lists.
92 views
Submitted Dec 24, 2014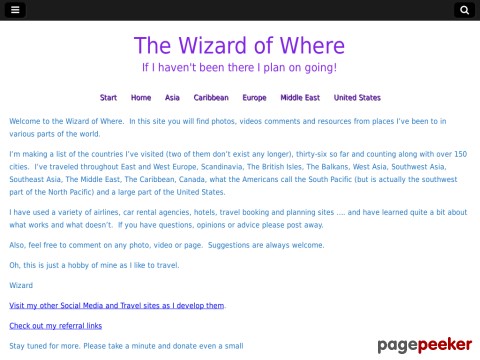 Welcome to the Wizard of Where. In this site you will find photos, videos comments and resources from places I've been to in various parts of the world.
88 views
Submitted Dec 23, 2015
I am a 30+
solo
female
travel
blogger. If you are looking for budget
travel
advice,
travel
hacks and itineraries with a few funny stories thrown in, then you are in the right place my friend.
87 views
Submitted May 1, 2016
my name's Elisabeth but you can call me Liz. I'm a twenty-something Detroiter teaching and living abroad in France and soon Germany. Sharing my passion for adventures with honesty to inspire other to get out of the comfort zone!
78 views
Submitted Mar 26, 2017 Exploring the unknown - there exist loads of
travel
guides to almost any point on earth. But they mostly focus on the same must see activities. I want to look behind the scenes. And get to know the places from an authentic perspective.
77 views
Submitted Dec 23, 2016
London based
travel
company geared towards
solo
travelers
69 views
Submitted Sep 27, 2015
By some wanderlust, youve stumbled upon our little domain in this vast world. For that, we welcome you, and we thank you! Get There | Get Lost is a call to action! It is a
travel
philosophy weve come to have over the years. As sisters living on opposite sides of the country, weve managed to build independent lives, yet still remain bound by our common love of literature, history, culture and curiosity (though evidently more by our common genes). In the lives we live with families, responsibilities and aspirations all rolled into one giant ball of ADVENTURE, traveling and feeding our inquisitive minds - and definitely, bellies!
67 views
Submitted Jun 1, 2015
I am on a constant quest for adventures, laughter and good stories. I consider myself a jack-of-all-trades and enjoy learning by setting and accomplishing goals.
62 views
Submitted Jun 12, 2014
See the world through our lens! Our
travel
club is FREE! Join Us!
56 views
Submitted Dec 12, 2012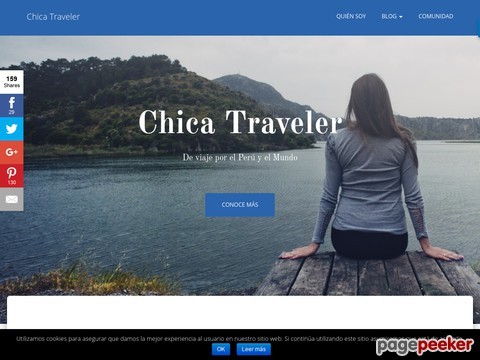 traveling around the world on a shoestring. Empower yourself to
travel
53 views
Submitted Dec 17, 2014
A traveller disillusioned by the familiar and fascinated with the unknown.
52 views
Submitted Jan 26, 2014
I happily moved from the Midwest to San Francisco. This blog documents my worldly travels and my home, San Francisco.
51 views
Submitted Aug 7, 2013
I'm Crystal. I've visited twenty-three countries, every nation of the UK, and thirty US states. This blog also details my adventures during the 2014-2015 academic year studying abroad in London and travelling throughout eighteen European countries. I currently work as a figure skating coach in Reykjavik, Iceland.
47 views
Submitted Feb 21, 2016