24 matching results for "south america":
Cameron L. Martindell is a freelance adventure and expedition writer and photographer who is always "Off Yonder: Seeing the world for what it is."
172 views
Submitted May 10, 2013
A leading provider of fully customized travel experiences to destinations throughout Central and
South
America
.
163 views
Submitted Jun 10, 2012
We are Brock and Tangerine, husband + wife, who cant stay in one place for too long. Our goal is to see at least 100 countries in our lifetime and we are halfway there! We document our expat lifestyle through photographs - big or small, even the mundane or the extraordinary details of our travels, with our dogs Spud and Oreo.
136 views
Submitted May 27, 2015 A couple of digital nomads with phds working remotely as medical writers while slowly exploring the world. A nerdy couple with an insatiable wanderlust
134 views
Submitted Mar 9, 2013
Let'sBeWild.com is an online adventure travel magazine, inspiring you to leave the comfort of the known for the excitement of the unknown.
115 views
Submitted Dec 5, 2012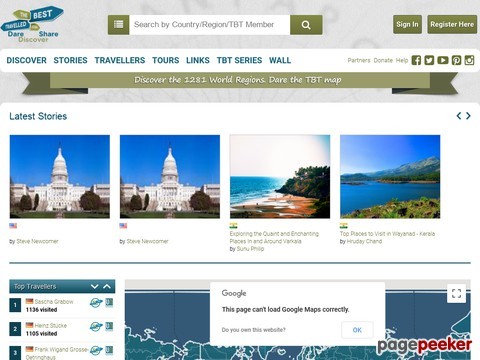 The Best Travelled is a community of people interested in travel, who dare to explore the 1281 regions of the world, to discover their gems and to share their experiences with fellow Travellers.
106 views
Submitted Sep 12, 2016
I want to inspire you to get out of your comfort zone and understand the world - and yourself - a little better.
103 views
Submitted Nov 19, 2015
Adventure travel addicts and photographers bringing you the best adventure activities this globe has to offer by land, water and air.
103 views
Submitted Oct 4, 2015
I am a 30+ solo female travel blogger. If you are looking for budget travel advice, travel hacks and itineraries with a few funny stories thrown in, then you are in the right place my friend.
99 views
Submitted May 1, 2016
My name is Michelle and I started this blog not because I want to make money, get free things or become famous. I have met some of the nicest people and friends through blogging over the past six years. I also simply needed a creative outlet besides Facebook to discuss my travels and share some of the photographs I have taken while traveling around the world.
98 views
Submitted Oct 1, 2014
Welcome to American in Vienna! I'm Michelle. I come from Connecticut, USA, but am currently living in the beautiful city of Vienna, Austria.
92 views
Submitted Nov 20, 2015
As a traveling couple, were a dynamic duo, but as individuals were also pretty awesome. Each with our own strengths, weaknesses and passions.
88 views
Submitted Oct 1, 2014
A photo diary of my last 12 months travelling through North,
South
and Central
America
, it will continue with my next twelve months traveling through Europe and
South
East Asia as well.
78 views
Submitted Jun 1, 2011 I write travel stories, articles, profiles, even ad copy and the occasional book.
77 views
Submitted Nov 14, 2012
We left home in November 2014 with a one-way ticket to
South
America
, a backpack and no real plans. This is our travel blog to share our globe trotting adventure's with our family and friends, as well as share tips, advice and reviews with other travellers out there.
73 views
Submitted Dec 22, 2015
We are Jozef, Arthur, and Ben, three soon to be university students from the UK who have decided to see a bit more of the world before heading back into education.
72 views
Submitted Dec 7, 2014
I'm Debs, a writer, traveller and fitness lover from Devon, UK. I'm here to inspire and motivate you to create the life that you have always dreamed of.
69 views
Submitted Dec 27, 2015
I'm Katy and can be found eating cakes, writing novels, travel blogging or backpacking around the world. The aim behind NotWedorDead is to inspire you with my journey from a jilted bride to a travel addict.
67 views
Submitted Sep 30, 2015
It all starts with a couple from Aus,Completing a travel blog simply because.This time a year ago it seemed only dream,For both LJO and JLO distant they seemed.As time past they called each other mate, A relationship beckoned it must have been fate.
56 views
Submitted Nov 12, 2015
We are a dynamic traveling duo who are making a conscious choice in life to travel. We travel for experience, to meet amazing people and enjoy life.
52 views
Submitted Dec 17, 2016