23 matching results for "spain":
Follow a modern nomad around the world. Having an innate thirst for adventure, Martin Patrick Schroeder has been travelling the world since 2007, covering most distances on bicycle. Crossing the Alps and Andes, the Sahara and Atacama deserts, the Amazon and Borneo jungles are just tiny parts of this trip of a lifetime.
164 views
Submitted May 27, 2015 Odyssey365 is a super casual trip around the world in 365 days, which will be recorded and edited all the stories and adventures on video and posted on our website and social networks.
156 views
Submitted Jul 27, 2013
I have ducked, dived, bungeed, burned, skydived, surfed, volunteered, volcanoed, crossed continents, conquered mountains, got robbed, got sick and got drunk and I hope this website will inspire you to do the same.
142 views
Submitted Jan 7, 2014
linking tourism professionals with the digital market
142 views
Submitted Jun 24, 2013
We are Mike and Gayla, natives of south Louisiana, who met while we both were attending the University of Louisiana at Lafayette. We share a passion for travel and since 1995, we've spent the majority of our vacations traveling around Europe. We loved Europe so much, we moved here in 2008.
96 views
Submitted Feb 23, 2013
a locals guide to Madrid
92 views
Submitted Jun 4, 2013
My name is Melanie and I am the writer for Eat Well Travel Everywhere. Im an individual who loves to explore new things, both at home and overseas. Ive also started dabbling in photography, so I thought what better way to combine my passions then to start my own travel blog.
89 views
Submitted Jun 15, 2014
Were Jill & Curtis. Were on a quest to seek adventure while traveling the world forever!
89 views
Submitted Jun 14, 2014
Besides being travel obsessed, I have an incredible love for food, wine, family, friends and fun conversation. My hobbies include cooking, politics, reading, volunteer work for charities, oenophile endeavors, staying fit, and just trying to make myself a better person. I am always up for dancing too!
88 views
Submitted Sep 28, 2013
I am a traveler. This means that I explore a place from the inside out.. Sometimes I am travelling alone, sometimes with company…
87 views
Submitted Jul 3, 2016
As you explore our website you'll find useful information about walking and hiking that was created for people who enjoy being outside and active just like you.
86 views
Submitted Mar 3, 2014
Traveling the world – 49 cities in 16 countries, and counting. Finding treasures, taking photographs, meeting characters, having adventures, being inspired…and writing about it on Just One Suitcase.
86 views
Submitted Nov 8, 2013
Ten more minutes – originally Tea and cake, please – was a place where I blogged adventures during my year abroad in New Zealand (and elsewhere) – basically, an efficient way of keeping everyone in the loop. Now that I am long back, it's a decent souvenir from an incredible year of road trips, cave parties and all-round awesomeness.
84 views
Submitted Sep 30, 2015
Culture Vixen is an online travel + culture magazine. Launched in October of 2008, the site features new articles between 1-5 times per week and attracts a diverse group of devoted, design-conscious, and fiercely adventurous readers from all across the globe.
83 views
Submitted Dec 17, 2012
YOU ONLY LIVE ONCE, SO MAKE IT COUNT
71 views
Submitted Dec 12, 2012
food, travel and other pleasures of the good life
70 views
Submitted Jan 27, 2013
So who are we? We are an American and Australian husband and wife who met over 10 years ago in a dingy hostel in Bruges, Belgium, while each traveling alone. We were both fresh out of college and both happened to be heading to Amsterdam within 2 days. So we decided to meet up again there. Little did we know that 6 years later we would end up living there together, married to each other!
67 views
Submitted Feb 19, 2013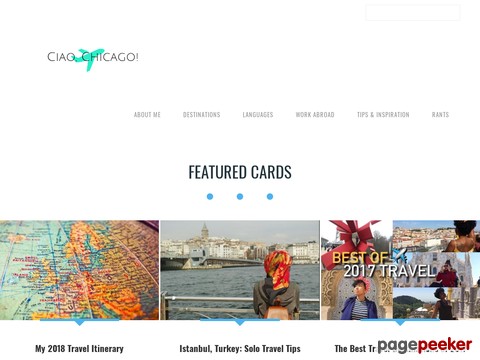 Six months ago I decided I would quit my job to pursue teaching English overseas. This website is my personal travel diary, of sorts.
64 views
Submitted Dec 22, 2015
Im Phebe, the author of this blog. I fell in love with India at a tender age of 19, when I lived there for six months. Ever since, Ive been trotting across the globe with my trusty backpack sometimes alone and at times with friends, albeit with a questionable sense of direction
53 views
Submitted Oct 22, 2014
I'm Crystal. I've visited twenty-three countries, every nation of the UK, and thirty US states. This blog also details my adventures during the 2014-2015 academic year studying abroad in London and travelling throughout eighteen European countries. I currently work as a figure skating coach in Reykjavik, Iceland.
47 views
Submitted Feb 21, 2016