10 matching results for "train":
Cheap bus tickets to boston, new york, ny, washington dc, philadelphia &
train
schedules. wanderu - faster, cheaper ground travel.
152 views
Submitted Jan 10, 2013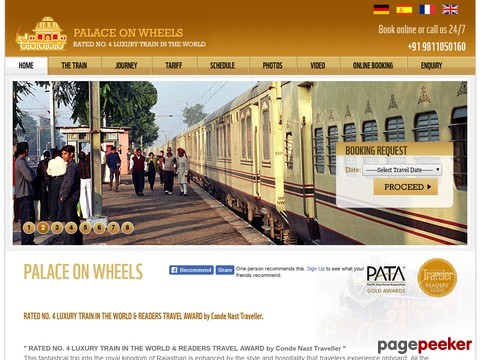 Enjoy a royal experience aboard the 4th best luxury
train
of the world; the
train
is dedicated to promote tourism in Rajasthan with its signature journey.
63 views
Submitted Feb 15, 2013
Train
Chartering, now in its 13th year, has provided private
train
charters and carriage hires to an extraordinary range of clients.
Train
Chartering operates mainly in the UK, Europe and North America - though we can arrange travel almost anywhere in the world.
50 views
Submitted Aug 29, 2013
With a passion for adventure and social justice, I have been able to create a hybrid business which allows me to live my dreams while supporting others. Though it is a risk, it is a risk worth taking.
49 views
Submitted Oct 18, 2014
My name is Dennis Kopp and I am not only the author of what you are reading, but also the eyes in which you are seeing this website. It seems strange now, but for most of my life I was actually never much of a traveller. In fact, I never really liked to be away from home and for many years I did not even go anywhere when I had vacation time…
44 views
Submitted Mar 9, 2013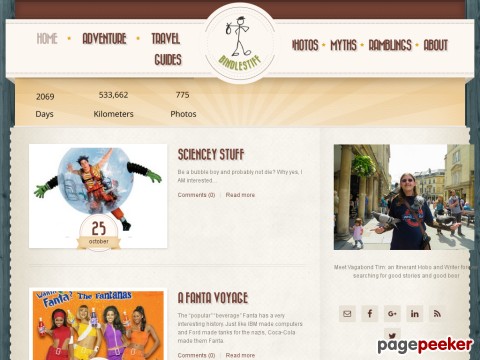 Meet Vagabond Tim: an Itinerant Hobo and Writer forever searching for good stories and good beer
32 views
Submitted Jun 13, 2014
The Travel Junkie is a popular travel blog that shares the idea of creating a two-way dialogue about the world of travel, design, fashion, music and its relationship to daily life, curated by Bowie Holiday.
24 views
Submitted Dec 12, 2014
We offers advance Kenya
train
booking and seat reservations for first and second class for passengers traveling between Nairobi to Mombasa.OUR MISSION: Is to provide quality and satisfying Nairobi - Mombasa | Mombasa - Nairobi
train
bookings to our clientele both locally and internationally. OUR GOAL: To satisfy our customers by giving the best services according to their demands. Why Kenya
Train
Booking? - Personalized care and attention. Individualized booking, matching your interests.
20 views
Submitted Apr 28, 2013
From the delicious delicacies on the backstreets to the sensational sights at home and abroad, Jennifer Campbell will take you on a journey that will leave you wanting to call your travel agent. So grab your passport and get ready for the new edition of the mouth-watering, mind-boggling blog that's sure to create a buzz: Jennifer's Journeys!
13 views
Submitted Nov 3, 2016
Tanya off the beaten path
11 views
Submitted Feb 9, 2017