137 matching results for "travel blog":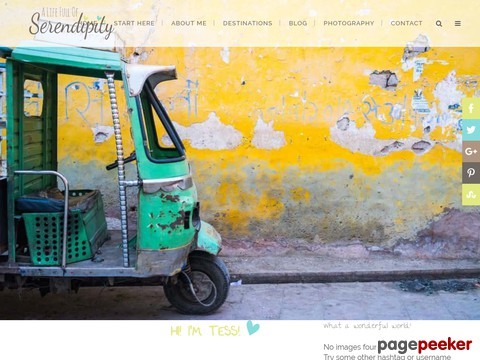 Like the princes, Ill be traveling led by serendipity and see what happens. I have left the Corporate world to fill up my life with what Im passionate about. With a one-way ticket in hand, I am going to
travel
the world on a budget and document my journey
216 views
Submitted Dec 4, 2014
My name is Tom and together with Kate (my most loving wife), we started 2bearbear.com – a Singapore
Travel
Blog
where we can share our
travel
experiences and create an online avenue for ourselves to remember all our trips. Basically when we want to review our trips or share
travel
itineraries with our friends, we just ask them to head here.
215 views
Submitted Jun 19, 2014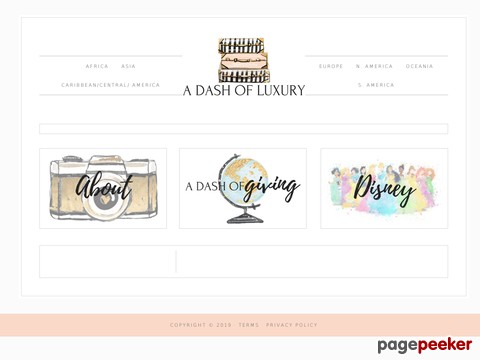 Travel
Reviews, Tips & Recaps - My name is Lauren, and I run A Dash Of Luxury. I'm a born and raised New Yorker, where I currently reside with my husband, …
184 views
Submitted Nov 30, 2015
I am CLAIRE, TRAVELER and PHOTOGRAPHER whenever I can, which turned me into a
TRAVEL
PHOTO-BLOGGER. I want to get people out of their own little world to discover the beauty of Earth
184 views
Submitted Jun 15, 2014
I had the
travel
bug long before I had a passport. When I was little I just wanted to be a "traveller" – whatever that meant to me at that age. I'm not one for extreme adventures – you won't read about me bungee jumping or eating insects. But you will get to tag along as I explore, meet people, learn, eat and have fun all over the world.
165 views
Submitted Dec 17, 2012
Follow a modern nomad around the world. Having an innate thirst for adventure, Martin Patrick Schroeder has been travelling the world since 2007, covering most distances on bicycle. Crossing the Alps and Andes, the Sahara and Atacama deserts, the Amazon and Borneo jungles are just tiny parts of this trip of a lifetime.
164 views
Submitted May 27, 2015
Joanne Miller is a photographer and published freelance writer of both fiction and non-fiction, with a background in corporate marketing and public relations
164 views
Submitted Feb 7, 2013
Chris and I were amateur globe trotters, the majority of whose adventures had taken place around Europe. But whether it was horse riding in the Slovenian countryside, or exploring Croatia's islands, no adventure was as great as the one we embarked on four years ago when we uprooted our lives and moved across the world to South Korea to begin our work as English teachers.
161 views
Submitted Jun 13, 2016
Cameron L. Martindell is a freelance adventure and expedition writer and photographer who is always "Off Yonder: Seeing the world for what it is."
156 views
Submitted May 10, 2013
We are normal people who were living a normal life– until we decided we wanted something more and began living deliberately.
154 views
Submitted Jan 24, 2013 global community of travelers
152 views
Submitted May 1, 2016
Advisortravelguide , is a
blog
dedicated to YOUR
TRAVEL
DESTINATIONS. Whatever destination you are taking as a traveler, a holiday, an intrepid adventurer or an organized tourist destination, we are going to give you some advices for every single step of yours.
150 views
Submitted Feb 23, 2013
A
Travel
Thing was created with the goal of being a place for travelers to find information about destinations and things to do while travelling. The articles published on the site are based on information from our own experiences or interviews, tips and guest posts from other travelers or relevant content and news curated from the web.
140 views
Submitted May 19, 2016
Life is an incredible journey and I love so many things about it : travelling, art, books, movies, photograhy, fashion, sport and food.
131 views
Submitted May 1, 2016
Your guide on how to
travel
the world and make money doing it!
131 views
Submitted Nov 22, 2015
Awesome
travel
videos from South East Asia
126 views
Submitted Oct 2, 2016
My name is Anna, I am the person behind the scenes of Abroad and Beyond.net and an obsessive compulsive traveller. I was born and raised primarily in Siberia, that faraway place where you consider sending your misbehaving children and all annoying people
125 views
Submitted Dec 1, 2016
see where
travel
can take you
124 views
Submitted Jun 15, 2014
Were a South African / Australian couple living in the paradise of Queenstown, New Zealand. Follow our journey as we share with you the hidden gems we discover, incredible activities we experience and our search for the most innovative
travel
related products out there.
123 views
Submitted Jun 6, 2015
We're Jamie and David. We met while living in Madrid, Spain in 2015 and were married in 2016, twice! We are currently living in Brisbane, Australia on a Work Holiday visa. Jamie teaches English to adults and David is an IT professional. We just bought a campervan, Hector, so once he's all fixed up we'll be heading on more adventures. Follow us to see how we spend our life abroad, 365 days a year!
123 views
Submitted Mar 6, 2017