24 matching results for "travel guide":
I am CLAIRE, TRAVELER and PHOTOGRAPHER whenever I can, which turned me into a
TRAVEL
PHOTO-BLOGGER. I want to get people out of their own little world to discover the beauty of Earth
201 views
Submitted Jun 15, 2014
your essential
guide
to the green
travel
scene
177 views
Submitted Jul 14, 2013
An innovative live view of the world for gastronomy, tourism, holiday, vacation, leisure, nightlife and
travel
planning. Watch your favorite venues all around the world via live webcams.
170 views
Submitted Jul 27, 2013
Advisortravelguide , is a blog dedicated to YOUR
TRAVEL
DESTINATIONS. Whatever destination you are taking as a traveler, a holiday, an intrepid adventurer or an organized tourist destination, we are going to give you some advices for every single step of yours.
166 views
Submitted Feb 23, 2013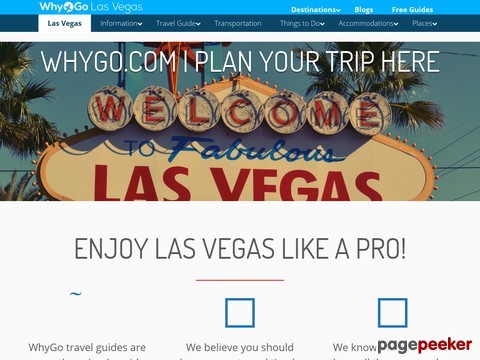 Daily updated info for Las Vegas shows, casinos, events, clubs, and entertainment to help you plan your vacation to Vegas.
157 views
Submitted Mar 15, 2011 This website is created to help travelers plan their vacations. It will also help you get genuine product reviews, that I really like and it could be beneficial to other travelers.
157 views
Submitted Dec 19, 2014
Famtripper.com is the place to learn all about the worlds great destinations. Researching a cool new resort or hotel? Need the pros and cons of a popular hot spot? Congratulations, youve come to the right site. You won't find more helpful
travel
content anywhere.
122 views
Submitted Oct 5, 2013
We are Mike and Gayla, natives of south Louisiana, who met while we both were attending the University of Louisiana at Lafayette. We share a passion for
travel
and since 1995, we've spent the majority of our vacations traveling around Europe. We loved Europe so much, we moved here in 2008.
109 views
Submitted Feb 23, 2013
Look, technically were two grown adults who quite frankly refuse to grow up! Our nicknames have always been Peter Pan & Tinks and very fittingly so. We have this incredible urge to
travel
the world for a living someday when all our kids are grown up and out the house, but have started our great adventures when and wherever we can. This is where well share them with you, give you handy
travel
tips and advice and help you to start ticking off your bucket lists too!!
105 views
Submitted May 27, 2015
This
travel
website is my way to share with you all of the amazing adventures I have had, with the goal of helping to make your own travels more enjoyable.
101 views
Submitted Nov 15, 2012
Welcome to American in Vienna! I'm Michelle. I come from Connecticut, USA, but am currently living in the beautiful city of Vienna, Austria.
92 views
Submitted Nov 20, 2015
My name is Tom Bourlet, a keen traveler, who realised while having a road-trip across America that the one thing I missed the most from my home country was a nice tin of spaghetti hoops on some cheese on toast. I then decided to combine both my passions, through eating spaghetti hoops in every country in the world!
89 views
Submitted Feb 4, 2013
Welcome to IntrepidWanderer.com – my personal
travel
blog that aims to help travelers to
travel
more to see and experience the world, one culture at a time.
78 views
Submitted Dec 24, 2016
With a severe case of wanderlust, Leah lives by the motto, "Life's too short to live with a someday mentality." When she's not in Houston dreaming about
travel
, she's being groped by airport security, getting her passport stamped, seeking out street food that won't make her sick, and writing all about it on LeahTravels.
69 views
Submitted Dec 12, 2012
I am a Boston-based life-long world traveler with a passion to research the best, most cost effective and fun ways to experience the most interesting places the world has offer.
68 views
Submitted Feb 23, 2013
The location of Budapest Hotel Charles is ideal. The city center with the shopping area and business world, or historical buildings like the Royal Palace lie only few hundred meters away from our hotel. Budapest features lots of exciting sights, the most are within minutes to reach with the excellent public transport facilities available at the hotel. Budapest Hotel Charles offers fully equipped studios and apartments.
65 views
Submitted Dec 14, 2012
Welcome to Gpbalitour.com, Bali Tours - Bali Trekking Adventures - Bali
Travel
Guide
- Diving Adventures It is about what we feel and see in our island, the beautiful Bali, Consisting of images and stories about people, Bali culture and nature, art and performance, Balinese ceremonies and daily life, Bali landscape as well as what we can offer you to experience. Able to share the beauty and uniqueness of Bali always make we proud.
61 views
Submitted Dec 16, 2012
Every time I
travel
I end up with memories, stories, and lessons that would stay with me forever. These are the things that make the whole experience of travelling fun and enriching
57 views
Submitted Dec 4, 2014
the official tourism website of Reykjavik
55 views
Submitted Dec 16, 2012
My name is Beatriz – most just call me B =) and I currently live in a stunning country in the middle of Europe: Switzerland. Traveling has always been a big part of my life. My mom is originally from Paraguay and my dad is Swiss. When I was a kid we often flew back and forth. I grew up with a passion for languages, diverse cultures and most of all --> TRAVEL! Inspired to explore the beauty of the Earth, I've made my passion my career as a Flight Attendant.
54 views
Submitted Jan 6, 2018