14 matching results for "traveler":
Cameron L. Martindell is a freelance adventure and expedition writer and photographer who is always "Off Yonder: Seeing the world for what it is."
172 views
Submitted May 10, 2013
site detailing fruit picking jobs from around the world
166 views
Submitted Feb 10, 2013
Hi there! I'm Christina Gmyr: travel addict with a passion for great food and living adventurously. I recognize that this life is so brief, and I aim to make the most of it.
116 views
Submitted Dec 3, 2012
Diary of two passionate tourists!
114 views
Submitted Mar 11, 2013
Karen. American expat from New York City living in Amsterdam. Part-time
traveler
. I love adventure, off the beaten path places, good food, learning about other cultures, and seeing new things. - See more at:
http://www.wanderlustingk.com/#sthash.ftaYh5sW.dpuf
99 views
Submitted May 8, 2016
This Boundless World is an online travel publication providing you with the best in travel related articles and guides. We're definitely backpackers at heart, but that doesn't mean we can't appreciate a little luxury from time to time. So whether you're a grizzled backpacker or just thinking about booking your next package tour, we can give you the information to help make the most out of your next trip.
95 views
Submitted Dec 23, 2015
My name is Piyush, I have always been a drifter and never find solitude by being settled, maybe it is linked to my past. I have been a roaming profile and I have seen a lot of places and met people of different kind however never paid much attention. I think I would like to change that.
90 views
Submitted Dec 17, 2016
Tanya off the beaten path
87 views
Submitted Feb 9, 2017
Welcome to HappyTravelers.org! On this site you can find online travel resources including travel guide, desination guide, articles, links and more! We hope our travel resources can help you to have a great trip!
81 views
Submitted Dec 11, 2012 MERGE is a lifestyle magazine that inspires and unites full-time travelers worldwide with engaging stories, insights for your next journey, stunning photographs, remarkable worldwide events, and even more: aims to incite you to make a transformation towards a life fueled by these rich experiences if you aren't living it already.
69 views
Submitted Apr 4, 2013
I want to help the business
traveler
have some fun, the families save some money, the single girls enjoy some hot spots, and the couples put the most amount of romance into their dream vacation.
58 views
Submitted Jul 27, 2013
Hi. Im Deborah Shadovitz. Friends, clients and readers call me Deb.
53 views
Submitted Oct 5, 2013
The purpose of UnwearyTraveler.com is to tell stories
50 views
Submitted May 1, 2016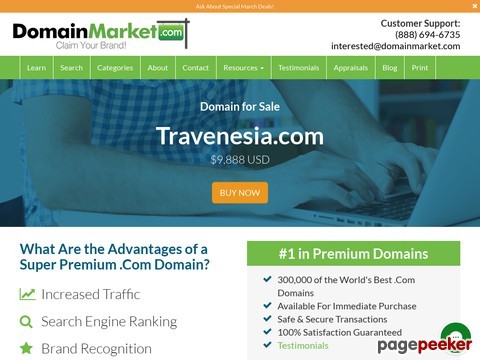 Here we are, Hamka and Jenny, a travelmate who always dream and learn, think and wish, feel too much. Have lots of passion to travel around the world. It is a very big place, we saw only small part of it, might not finished in one life journey, and we're dying to see more about it.
49 views
Submitted Mar 6, 2013