53 matching results for "trip":

worlds most complete beach guide
147 views
Submitted May 22, 2013
An innovative live view of the world for gastronomy, tourism, holiday, vacation, leisure, nightlife and travel planning. Watch your favorite venues all around the world via live webcams.
47 views
Submitted Jul 27, 2013
My name is Dennis Kopp and I am not only the author of what you are reading, but also the eyes in which you are seeing this website. It seems strange now, but for most of my life I was actually never much of a traveller. In fact, I never really liked to be away from home and for many years I did not even go anywhere when I had vacation time…
43 views
Submitted Mar 9, 2013
take a ride through history
41 views
Submitted Jul 14, 2013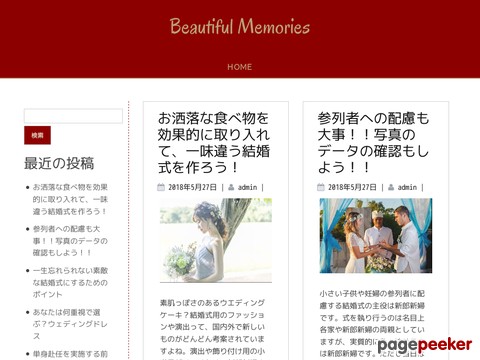 BASEDtraveler provides comprehensive, amusing, and diverse information for creating the most delightful life as an expatriate living internationally in port cities, industrial hubs, academic villages, or military locations.
31 views
Submitted Aug 23, 2015
Diary of two passionate tourists!
28 views
Submitted Mar 11, 2013
Kiss From The World is a unique online magazine packed with videos and photos taken all over the world, extraordinary journeys and one-of-a-kind encounters
24 views
Submitted Mar 9, 2014
The main reason I started the
Trip
Experiences site is to document my trips and for sharing destination experiences. My purpose is to write about my experiences and include photos so I provide people information about a place I have been and post pictures I've taken. Like me there's many more who would like to get recommendations on places.
23 views
Submitted Dec 20, 2015
Special organized tours to Komodo, Flores and Lesser Sunda island based on Eco
trip
and travel packages discovering Komodo Dragons and wild life in Komodo national park, nature, local peoples, way of life, culture and tradition to east part of Bali Island
23 views
Submitted Dec 16, 2012
After circling the globe and living around the world backpacking through more than 90 countries and territories, I have decided that it is the time to share all of this experience to help others so that they, like me, can have the same feeling of living the adventure of a backpacking
trip
.
22 views
Submitted Jul 6, 2014
We are Bali's leading Gay and Lesbian professional travel specialists, established in 1999, with years of experience organizing both individual and group tours
22 views
Submitted Dec 17, 2012
Haupt Germany Tours offers hosted tours to Germany and Austria during the Spring, Summer, Fall, and Winter as well as during custom dates which may be more suitable for your travel plans. Ask us for a quote.
21 views
Submitted Dec 15, 2012
This travel website is my way to share with you all of the amazing adventures I have had, with the goal of helping to make your own travels more enjoyable.
20 views
Submitted Nov 15, 2012
Our Package Tours and Eco-adventure tour package are carefully designed with the big consideration on Eco-tourism, causes minimal impact to the environment, local people and we do responsible travel. Our top-quality service focuses on personal attention, safety, comfort and environmental responsibility
19 views
Submitted Dec 16, 2012
Who are you and Ewan? We are Canadians who are food, music and cat lovers. Oh, and we are hooked on traveling. We are embarking on a world adventure.
19 views
Submitted Jun 12, 2014
My name is Ellen Keith. I am 23 years old and from Alberta, Canada. In March 2012, I traded in my office cubicle and apartment for a camera and a backpack and set off on a solo, budget
trip
across Europe and South America
19 views
Submitted Mar 22, 2013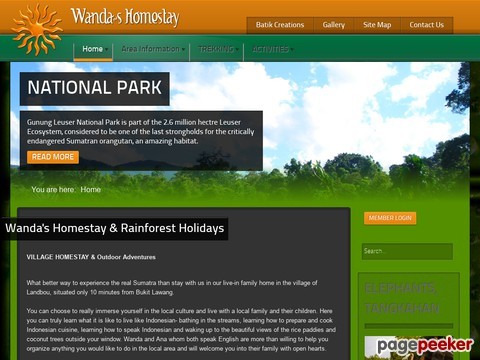 What better way to experience the real Sumatra than stay with us in our live-in family home in the village of Landbou, situated only 10 minutes from Bukit Lawang.
19 views
Submitted Dec 17, 2012
promoting cultural and environmental awareness about this island nation
19 views
Submitted Dec 14, 2012
This site has been made as part of a hobby, it is a travel diary constructed by myself, providing fellow travellers with key information for a successful and fulfilling
trip
. Within this site, I share my personal experiences for those that may find it of interest or are simply looking for new countries to explore.
18 views
Submitted Jun 19, 2016
The Occasional Traveller was started in 2010 by Jac, the eponymous deskbound wanderluster who dreams of sandy beaches and carefree holidays. The website is a collection of her occasional travels past and present, and a curation of things that inspire her to travel. She hopes TOT will make others like herself get up and travel!
18 views
Submitted Mar 10, 2013