Tours Trips & Treks
Put some adventure into your life. These companies offer organized trips to many International destinations. Companies offering Tours, Trips & Treks to more specific locations are listed in our Continent specific sub-categories. Also visit: Guided Mountaineering
Africa

(6)

These are tour companies that offer trips to Africa. Also visit:

African Safaris

Asia

(21)

These are tour companies that offer trips to Asia

Europe

(11)

These are tour companies that offer trips to Europe

Local Tours Guide Companies

(19)

North America

(11)

These are tour companies that offer trips to North America

South America

(9)

These are tour companies that offer trips to South America. No country specific listings here.
over 350 unique trips on all seven continents
210 views
Submitted Feb 26, 2010
discover the world with Sita
341 views
Submitted Feb 26, 2010
Skip leads expeditions all over the world - has led people to the top of the world's highest summits in each continent
164 views
Submitted Feb 26, 2010
Over 30 years of leading small groups of adventurous travelers to the worlds most far-flung corners
187 views
Submitted Feb 26, 2010
the largest, most diverse museum-based educational travel program in the world, our commitment to excellence is unrivaled. Smithsonian Journeys is a product that exemplifies our dedication to discovery. We invite you to join the adventure
130 views
Submitted Feb 26, 2010
wildlife tours in Bulgaria, parts of Europe and beyond
26 views
Submitted Jul 21, 2012
Spotted By Locals is a series of cityblogs for travelers who like to experience cities 'the local way'. On every cityblog, passionate locals ("Spotters") write about spots they visit.
19 views
Submitted Feb 28, 2010
When you feel as passionate about wildlife as we do it is not enough to offer exceptional wildlife holidays without giving something back. By joining forces with local research projects and carefully chosen wildlife charities, Steppes Discovery is able to give privileged insight into the natural world while supporting conservation and local communities.
796 views
Submitted Feb 26, 2010
Some 85 years later, Tauck World Discovery is the world's leading escorted travel operator. The company has been named the ?#1 Tour Operator & Safari Outfitter? three times by the readers of Travel & Leisure magazine, and it enjoys the travel industry's highest return-guest rate.
70 views
Submitted Mar 25, 2010
Cultural Walking Vacations Worldwide
18 views
Submitted Jun 17, 2010
OUR 10,000TH TRAVEL LINK!!!!!!! We love travel and we love to inspire you to see and experience the world doing the things you love! Many of us are no longer satisfied with the usual sightseeing trips with a side activity.
40 views
Submitted May 1, 2010
As a worldwide travel expert, we currently operate in 60 countries, with over 35 offices and more than 4,000 team members, serving over 1 million customers annually. And as a 4th generation, family-owned business that is financially independent, we pride ourselves on taking a long-term view, with an ethos of attention to detail in all areas of the company.
16 views
Submitted Jun 21, 2012
The Travel Lab is a think tank, a laboratory that fuels and funds travel experiments and turns ideas and far fetched visions into real life experiences. Imagine travelling with no bounds, imagine exploring with every sense, and imagine what you can't even imagine... imagine The Travel Lab
45 views
Submitted Jun 22, 2010
We have over 20 years of traveling experience and have visited over 40 countries (and counting). Our travel expertise will help guide you to the best trip possible
15 views
Submitted Mar 11, 2010
small group treks in North & South America
325 views
Submitted Feb 26, 2010
Trekeffect is here to help you travel alone or with friends and family. Manage everything from attractions and hotels to your return trip. Start planning now!
17 views
Submitted Sep 13, 2015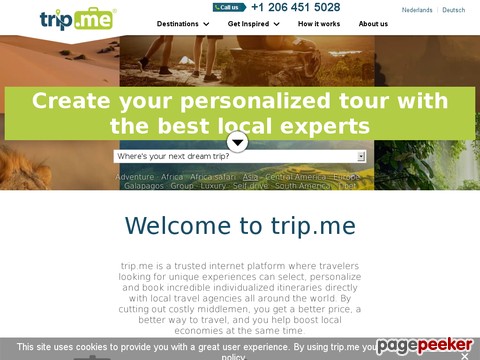 trip.me is a trusted internet platform where travelers looking for unique experiences can select, personalize and book trips directly with our hand-picked local agencies worldwide. By cutting out costly middlemen, travelers with trip.me get a cheaper, faster and better way to travel - and help boost local economies at the same time. Thanks to our unique payment method your money is totally secure, so you can book your trip worry-free.
36 views
Submitted Feb 10, 2014
We started Tripovo because we were frustrated with the current way of booking tour packages. Having worked many years in a travel agency, we saw their inflexibility and slowness in responding to requested changes to an itinerary. We also saw people trying to book online, but with difficulty in combining multiple parts of a trip or getting support from online companies.
13 views
Submitted Dec 20, 2015
journeys of a lifetime, luxury travel with casual elegance
17 views
Submitted Mar 31, 2010
offering unique photo tours to many worldwide destinations
271 views
Submitted Feb 26, 2010

About Dave's Pick
Category Stats
Subcategories:
6
Listings:
114 (191 counting subcategories)
Regular:
114
Last listing added:
Aug 19, 2018