Travel Agencies North America
These are travel agencies that specialize in travel to a *majority* of North American countries. If your business serves one or two countries, please list it under Countries of the World
Save time and $$. Book flights, hotels, cars, cruises, attraction tickets, etc. at tock-bottom rates!
503 views
Submitted Feb 26, 2010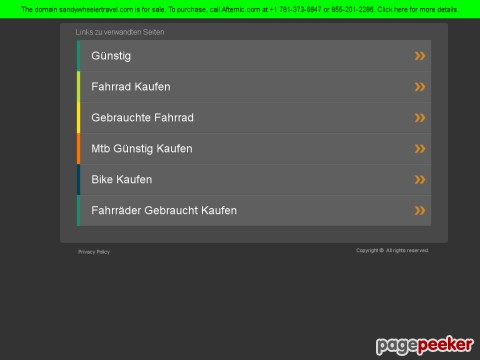 My name is Sandy Wheeler and I am a specialty travel consultant
16 views
Submitted Jun 24, 2010
After more than 10 years of experience in business strategy consulting, Alyssa decided to make the interesting
12 views
Submitted Jun 24, 2012
Superior Cruise & Travel has been helping people save money and travel the world since 2000. Our expert travel agents are conveniently located throughout the US in larger metropolitan cities like Boston, Dallas, Miami, and New York will assist with any and all travel planning no matter the situation. Whether planning a family trip to Disney, a destination honeymoon getaway, or a weekend trip to Vegas; Superior Cruise & Travel will find the best travel deals possible. Backed by our price match guarantee, we offer a variety of all inclusive cruises and luxury vacation packages at affordable rates; usually beating any competitors price by $100 on average. In addition, we are the only top travel agency that offers payment plan options with low deposits and no additional service fees. Our numerous online 5 star reviews, A+ BBB rating, and loyal customer base is what makes us proud providers in the travel industry. Visit superiorcruiseandtravel.com for more info.
10 views
Submitted Nov 25, 2017
Suzi Davis Travel is a leader in leisure travel packages. Our highly-trained travel professionals are ready to handle your vacation requests to anywhere in the world. We offer air, hotel, car rentals, custom-planned vacations or tours, discounted cruises worldwide, anywhere in the world you want to go. Due to our business volume and industry experience, we are able to bring value added services to our clients.
15 views
Submitted May 27, 2015
We are specialists in travel to the Celtic countries, UK, the British Virgin Islands, Europe, Alaska & Hawaii. We have experience in planning Destination Weddings, Family Reunion trips to Ireland, and in preparing custom itineraries for individuals and groups
16 views
Submitted Jun 18, 2010
your passport to adventure with the trip chicks
18 views
Submitted Feb 28, 2010
offering trips to Asia - based in the Bay Area, California
762 views
Submitted Feb 26, 2010
Escorted, Hosted Tours to Europe and beyond, Hotels, Car Rentals, Honeymoon Packages, Religious Tours, Group Travels to Greece, Italy, Turkey, Spain, Portuga, Germany, Switzerland, Israel, Egypt, Jordan, India, Dubai, South Africa.
117 views
Submitted Feb 26, 2010
Booking travel to Australia, New Zealand, South Pacific, Hawaii and Europe since 1978. Based in Seattle, WA we can help you with all aspects of your travel from booking flights, tours and accomodations to processing your visa and travel insurance. One-stop shop for all your international travel!
713 views
Submitted Feb 26, 2010
As vacation specialists we work with the world's finest companies, cruise lines and resorts to bring you travel specials and exclusive travel offers, expert advice and personal service, the best value for your vacation dollar.
480 views
Submitted Feb 26, 2010
TripsyDaisy is your travel advocate. We can help you go places.
14 views
Submitted Jul 20, 2012
Vacation Passes allows you to experience an extensive range of the region's most popular sites and attractions at a discounted rate.
29 views
Submitted Aug 28, 2013
"the power of access" - high end travel agency based in New York
11 views
Submitted Mar 25, 2010
As an Oklahoma city travel agency with several agents we specialize in destination weddings, honeymoons, anniversary trips, cruises, group travel and more! we are located centrally within the u.s. and can handle your requests!
8 views
Submitted Mar 28, 2016

About Dave's Pick
Category Stats
Listings:
35
Regular:
35
Last listing added:
Jun 20, 2018