Travel Directories
Planning a trip? Need hotels, flights, reservations, restaurants etc? These are directories that are *not* country specific. They generally provide travel information regarding attractions, hotels, restaurants and flights.
this is without a doubt the ultimate resource for the independent traveler - this is one of the travel sites that we look UP to
1117 views
Submitted Feb 26, 2010
hip & current - an excellent source of travel links & other travel information
825 views
Submitted Feb 26, 2010
an insiders guide to a perfect day in your favorite city or town
297 views
Submitted Feb 26, 2010
the passionate pursuit of art and travel
155 views
Submitted Sep 2, 2010
Triple A travel
843 views
Submitted Feb 26, 2010
a listing of travel sites from around the world
737 views
Submitted Feb 26, 2010
a trend towards people taking more weekend breaks and short breaks throughout the year, rather than (or as well as) the traditional summer break
176 views
Submitted Apr 29, 2010
Formed in 2008 as an alternative to large adventure travel websites and magazines, Adventure Insider is for those looking to get away from civilization as well as the crowds. Our goal is to find little known trips and share them with you. In addition we review the gear we use as well as tips and tricks for use in the field. Adventure Insider staff writers are very experienced in their fields
183 views
Submitted Mar 11, 2010
serving Independant world travelers since 1999
169 views
Submitted Mar 27, 2010
Welcome to AnitaVacation.com! This web site is published by Anita Dunham-Potter, a writer based in Pittsburgh, Pennsylvania. Our mission at AnitaVacation.com is to empower travelers with the skills necessary to travel throughout the world. In addition, we inform you on current events and issues relating to the growing world of Internet travel web sites. Ultimately, we believe travel is a powerful tool to fully understand the world in which we live.
178 views
Submitted Apr 20, 2010
a search engine with an excellent travel section
815 views
Submitted Feb 26, 2010 cruises, Flights, Cars, Hotels, and Vacations. Book Online and Save!
742 views
Submitted Feb 26, 2010
besttraveldeals.net, an easy and ideal place to search for hotel deals from all over the world.
267 views
Submitted Feb 26, 2010
give you Priceline bidding tips to make an informed bid that has the greatest chance of being accepted. And our service costs you nothing
163 views
Submitted Apr 24, 2010
the travel search part of Bing, Microsoft's backed search portal
207 views
Submitted Feb 26, 2010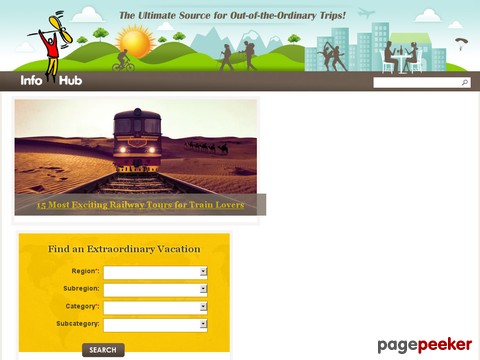 travel guide
673 views
Submitted Feb 26, 2010
travel search engine
267 views
Submitted Feb 26, 2010
vacation deals and travel specials
186 views
Submitted Feb 26, 2010
Holidays are the best thing that can happen to you. And it does happen trust me. If you like hiking, biking or having a beach holiday or celebrating a vacation with the kids, your family or enjoying a get together with friends or relatives. We want to provide you the possibility to find all this here at Bookitnow
159 views
Submitted Jul 11, 2010
Cheap flights, cheap tickets, and more at BookingBuddy.com. The fastest way to search your favorite travel sites.
149 views
Submitted May 25, 2010

About Dave's Pick
Category Stats
Listings:
155
Regular:
153
Reciprocal:
2
Last listing added:
Apr 2, 2016